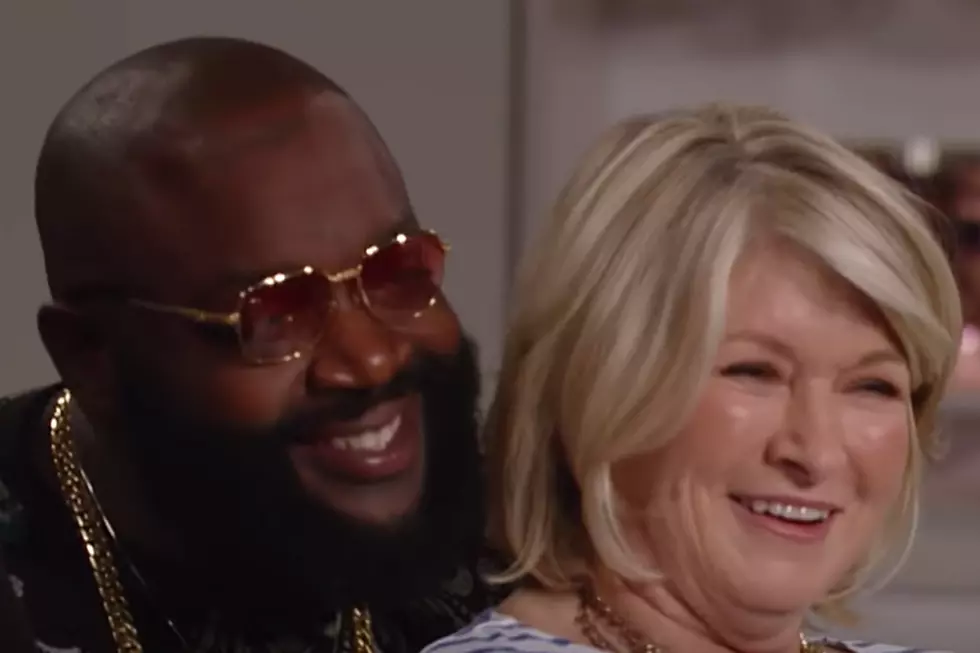 Martha Stewart Debuts Rick Ross' 'Rather You Than Me' Album Cover on Instagram
VH1 via YouTube
Rick Ross' flirtation with Martha Stewart on the VH1 show Martha & Snoop's Potluck Dinner Party apparently produced a legitimate friendship. The Bawse teamed up with Stewart to unveil the cover artwork for his highly anticipated album Rather You Than Me. Stewart debuted the cover on a cake, which she shared on social media.
"Here's the world premiere of the artwork of @richforever's album #RatherYouThanMe," Stewart wrote on Instagram today (March 8). "Its available March 17th and the pre-order will be going live this Friday on iTunes!"
Ross posted his own picture of the album art and a shot of the cake with a slice cut out of it. The Maybach Music Group founder has said that his new LP is one of the most important releases of his career. The Miami rapper touched on its meaning to him in an open letter to his fans.
"This album is more than just another project for me. It's a product of strength, perseverance, and determination," Ross wrote. "Rather You Than Me is a testimony. My testimony, and if you a real nigga, no matter where you from, you can relate to this."
Rather You Than Me will be Ross' first solo album since 2015's Black Market. If you simply cannot wait until next week to hear some new material from Ross, listen to his "Buy Back the Block" remix. The new posse cut features Nipsey Hussle, E-40, Slim Thug and Fat Joe.
20 Hip-Hop Albums Turning 10 in 2017