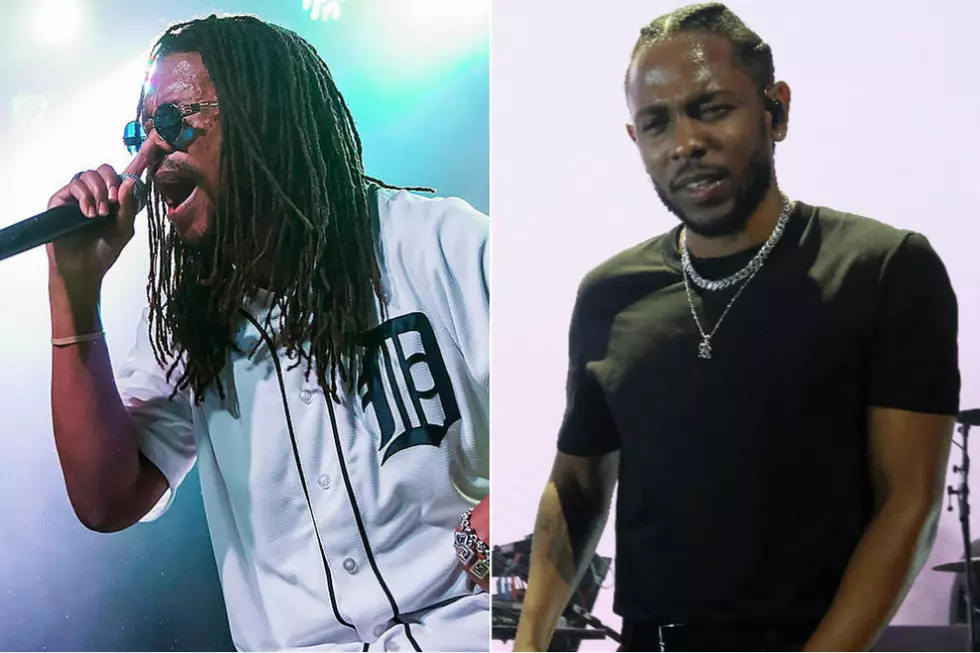 Lupe Fiasco Thinks Kendrick Lamar's "All the Stars" Artwork Is Too Similar to His 'Drogas Light' Cover
Scott Legato/Dimitrios Kambouris, Getty Images (2)
Yesterday (Jan. 5), the Chicago rapper presented evidence to his Twitter followers in a couple of since-deleted tweets. Comparing the cover art for one of the variations of his Drogas Light  album covers he presented in April 2016, and the artwork for K. Dot and SZA's new single, "All the Stars," from the Black Panther movie soundtrack, he noted, "Even I admit this is a little too close for comfort…. damn now I guess I need a new album cover… thanx @TheBlackPanther," adding a sad emoji. He added, "All black covers, backwards albums. Now this...I'm getting suspiciously delicious hahahha."
TDE president, Dave Free heard Lupe's allegations loud and clear. He responded on Twitter this morning, telling the Windy City MC to dead that noise. "@LupeFiasco go kick & push yourself into a tree with these wild allegations. 😂," he posted.
Lupe replied jokingly. "I see what you did there," he typed. "However it's rather impossible to skate into a tree because most trees are located in grass where skateboards don't actually work to well due to the wheels not really being optimal for traversing across such terrain. Now a car or say a well placed gate."
Does Lupe have a point or is he bugging?
Check out the exchange below.
See New Music Releases for January 2018