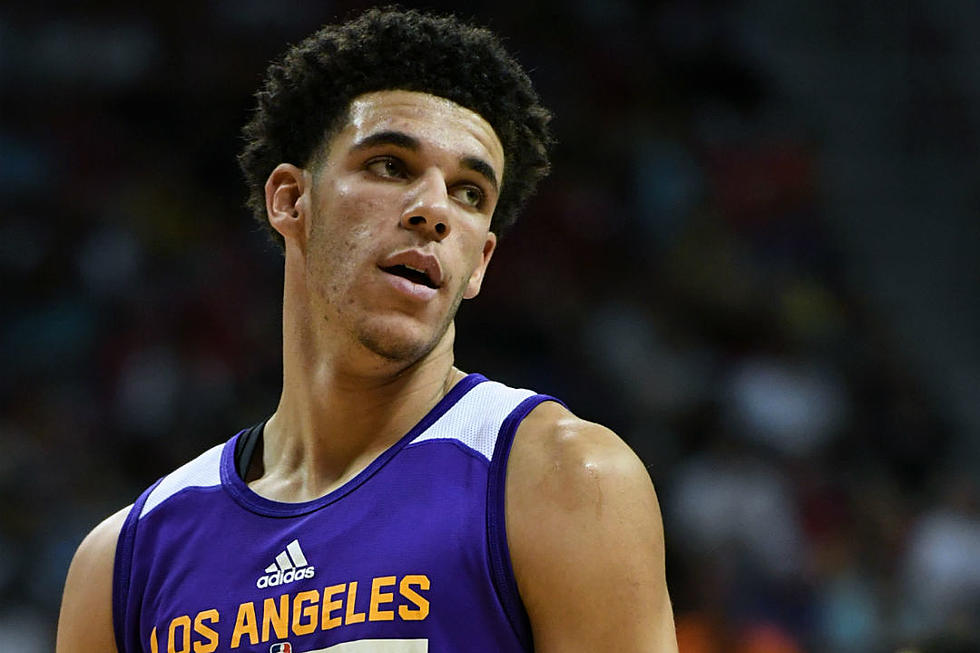 Lonzo Ball Has More New Music Dropping on Family-Owned Record Label
Ethan Miller, Getty Images
NBA rookie Lonzo Ball is considered one of the next phenoms in the league. But besides his play on the court, the No. 2 pick in the 2017 NBA Draft has made a name for himself as part of the Ball family—in particular, alongside his braggadocios dad, LaVar Ball, who has made plenty of headlines this summer with his antics and outlandish comments.
Regardless of the criticism he's received, LaVar's love and support for his kids is admirable, and to showcase a different side of the Ball family that folks aren't used to, the family recently launched a reality show exclusively on Facebook. Ball in the Family follows the basketball-loving family as LaVar and Tina's three kids—Lonzo, LaMelo and LiAngelo—prepare for the NBA. While Lonzo is the only Ball son heading to the pros as a player for the Los Angeles Lakers this year, LiAngelo and LaMelo are not far behind. LiAngelo is seen on the show gearing up for his first year of college at UCLA. The youngest of the brothers, LaMelo, appears on the show as the energetic, fun Baller who's a star on his high school team in Chino Hills.
However, 'Zo's comments on the show wasn't the first time that the Lakers player caused controversy in the hip-hop world. In July, the 19-year-old tweeted his thoughts on 21 Savage's Issa Album being better than JAY-Z's 4:44.
Besides sharing his opinion on hip-hop-related topics, Lonzo has also proved he has skills on the mic. Under the alias ZO2, he dropped a remix to Drake's "Free Smoke," showcasing he had some potential with his bars. More recently, the Baller released his first official rap single "Melo Ball 1," an ode to his youngest brother's first signature shoe, Melo Ball 1. Now available on iTunes, the single was released under the Big Baller Music Group/80's Baby Entertainment imprints.
As the first season of Ball in the Family comes to a close—there's only a few more episodes left—XXL caught up with Lonzo Ball to discuss a series of topics including his family's reality show, the future of his rap career, his rookie season with the Los Angeles Lakers and the hip-hop albums he's currently got in rotation.
XXL: How did you and your family become interested in doing the reality TV show? And was it your dad's idea or did Facebook approach you about the show?
Lonzo Ball: They approached my dad about the show and then my dad and the family had a little meeting about it and we thought it was a good thing to do and we just went ahead and did it.
How is your family reality TV show different from other family reality TV shows that are out right now?
I think our show is different because nothing is fake. It's all real. Nothing is planned ahead of the show. We're just being ourselves. It's really just a bunch of cameras following us and filming what we're doing. We just do what we've always done so nothing is fake.
During the filming process of the show, did you learn anything new about your family that you didn't know beforehand?
Nah, I didn't. My family and I are really close so we pretty much know everything about each other, so when we watch the show nothing really surprises us. I'm just glad it all came together into a TV show.
What do you want your basketball fans to take away from seeing you on the Ball in the Family reality TV show?
I just want them to see another side to my life and my family's life. You know a lot of people always see me playing basketball and stuff and the media they don't always see my other side, so I feel like it's a new way for them to tap into my life and a way for fans to get to know me more.
Will the reality show be taped during your NBA rookie season or will it come to an end before the season starts?
To be honest, I'm not sure. I know that the first season is completely finished and we did 10 episodes, so I'm not too sure.
What's it like to have the cameras follow you all the time during this filming process?
At first it felt a little weird, but than after we got to know the crew we just became friends and stuff so it was way more easy after that.
Besides doing the reality TV show and prepping for your NBA rookie season, you've been making headlines in the rap world and recently, you released a new song, "Melo Ball 1," for your younger brother LaMelo's debut shoe. When did you start rapping and what sparked your interest in rapping?
I started rapping a little bit, you know, last year, but obviously it's always been there my whole life. I've always been a fan of rap music. I've always liked it growing up so now that I have a lot of stuff going, whenever I have the time and lay something down, I'll go ahead and put something down, and a good opportunity came for me to actually take it serious with Melo's shoe so I took advantage of it and laid a few verses for the sneaker rollout.
So being that you've been a fan of rap music since you were young, who did you grow up listening to?
When I was little I definitely listened to a lot of DMX and 50 Cent. Those were probably the two main rappers I was listening to when I was young, but my favorite rapper has always been Lil Wayne.
Why is Lil Wayne your favorite rapper then?
Man, Wayne has been doing this for so long and has always been consistent with his music. Lyrically, he's definitely one of my favorites to do it. I need him to be free so he could put that other album out for me, but he's already put a lot towards the game.
You mentioned earlier that you grew up listening to rap music, so who put you on to hip-hop? Was it your dad or was it your friends at the time?
It was definitely my dad who put me on. I remember going to pre-school, you know, rolling out in the Suburban and my dad bumping all types of rap, so he introduced me to it and from there I just loved it ever since.
Who are some of your dad's favorite rappers? And who does he listen to?
Oh, my dad listens to a lot of 2Pac, Ice Cube and WC. That's what he was listening to a lot when we were growing up. He's always been a fan of hip-hop.
So now that you're starting to rap, what does your dad think about your skills on the mic?
[Laughs] He likes them. I see him vibing to the records but I feel like he'll support whatever I want do, so that's cool.
And what about your brothers? Have they attempted to rap and are they fans of hip-hop?
They both like rap music, but they don't try to rap. They just support me with anything I do, so that's cool.
Now that basketball and rap fans know you can rap, is there a mixtape or a project on the way? Or what's the plan you have in mind?
Yeah, so we actually set up a label and there's definitely stuff coming in the near future. I can't really talk about the upcoming stuff, but more is to come.
Oh, so there's a Big Baller Brand record label then?
Will you be the one running the record label or is that something that your dad will handle?
I won't be able to to do so since I'm focused on the NBA season ahead, but definitely one of my dad's close people that he works with will handle the record label [Big Baller Music Group].
Have you gotten a chance to work with any rappers in the studio or even hung out with any rappers in their studio?
No, I just been working by myself.
Back in May of 2016, you tweeted out a list of your top five rappers of all time. Has that list changed with any newcomers or is it the same?
No, my list hasn't changed at all. I still consider Wayne, Future, DMX, 2Pac and 50 Cent my top five favorite rappers of all time.
As you know, a lot of athletes have tried to rap, and a few have shown that they have real skills on the mic. In your opinion, who do you think is the best athlete that can rap and why?
I would probably have to say Damian Lillard of the Portland Trail Blazers. I think he sounds the most fluent on the mic and I think lyrically he's actually really good.
A few weeks back you said you were listening to 21 Savage's Issa Album a lot. Are you still pumping that album, and what other projects have you checked out that you like?
Yeah, so I'm still playing that Issa Album a lot. But I'm definitely still listening to that last Future album—although its a bit old now. Lil Uzi's Luv Is Rage 2 is another album I've been playing that has grown on me a little bit and then I've been playing a lot of Nav and Metro Boomin's Perfect Timing project.
So when you're getting ready for a practice session, or gearing up for one of your games, who do you listen to, to try to get you in the zone? Or do you have a set playlist to get you amped for games?
To be honest with you, for practices or for any games, my playlist usually consists of nothing but Future. I listen to him a lot before my games. I would say his music and 21 Savage's music get me going.
The start of your NBA career is right around the corner. What are you looking forward to during your rookie season in the league?
I'm just looking forward to playing in the league. I'm really looking forward to that first game and putting on that Los Angeles Lakers uniform and just being out there in front of all of the fans.
Do you have big expectations for your rookie season in the league?
I really just want to help my team win and get to the playoffs. That's the ultimate goal and I'm hoping we can make that happen.
See 10 Rappers Name Their Favorite Basketball Team in Lyrics