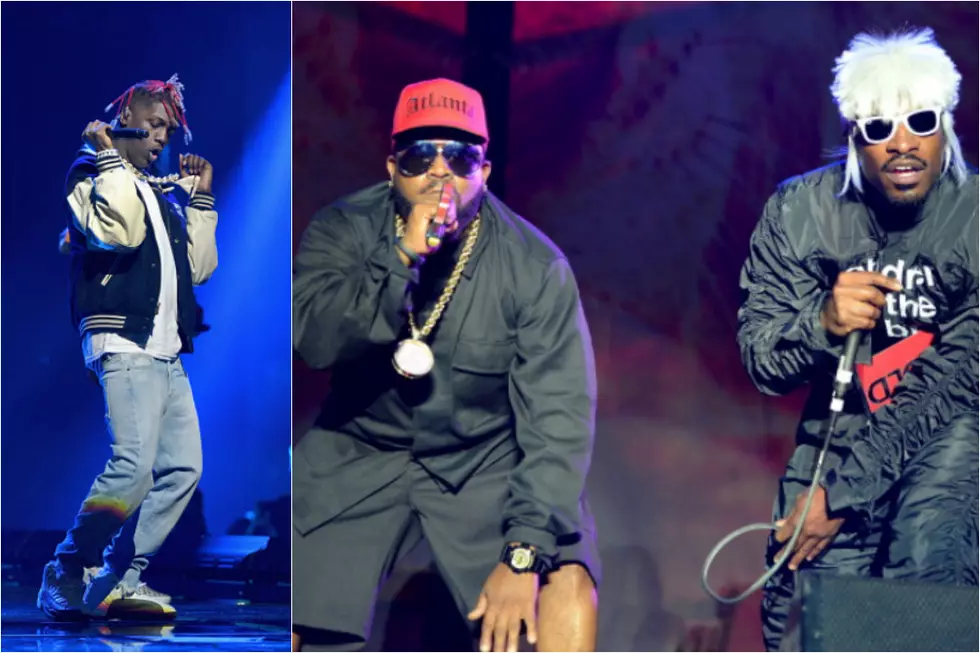 Lil Yachty Kicks It With Andre 3000 and Big Boi
Bryan Bedder/Theo Wargo, Getty Images
The young rapper posted evidence of the encounter on his Instagram page. In the pic, the trio poses in what looks to be a clothing store.
3K stands cheesing, while Boat looks at the camera with his arms crossed. Big Boi throws up a peace sign, while rocking a jacket that is sure to get the attention of PETA.
Sleepy Brown stands in the background.
Lil Yachty has been labeled as the anti-golden era rapper for his elementary rapping style and some of his statements made about the old school.
Last year, he had a short-lived beef with Hot 97 after he was called out by Ebro for having "high school ass bars."
Later on, he got some heads hot after he downplayed rap that has substance. "It's just fun, it's not serious," he said about his own music. "I hate serious rap. It's boring. Serious rap music puts me to sleep," he added.
He also caused a stir when he said The Notorious B.I.G. was overrated and mentioned in another interview that he couldn't name five songs by the late rap icon or Tupac.
If this picture is any indication, Boat has love for hometown heroes OutKast.
In related news, Yachty recently announced he is embarking on a European tour. Starting on Feb. 24, the tour will make nine stops in major cities like London, Amsterdam, Paris and Brussels, before closing out on March 5 in Stockholm, Sweden. Check out the full list of dates here.
Go Behind the Scenes With Lil Yachty at 2016 XXL Freshman Cover Shoot