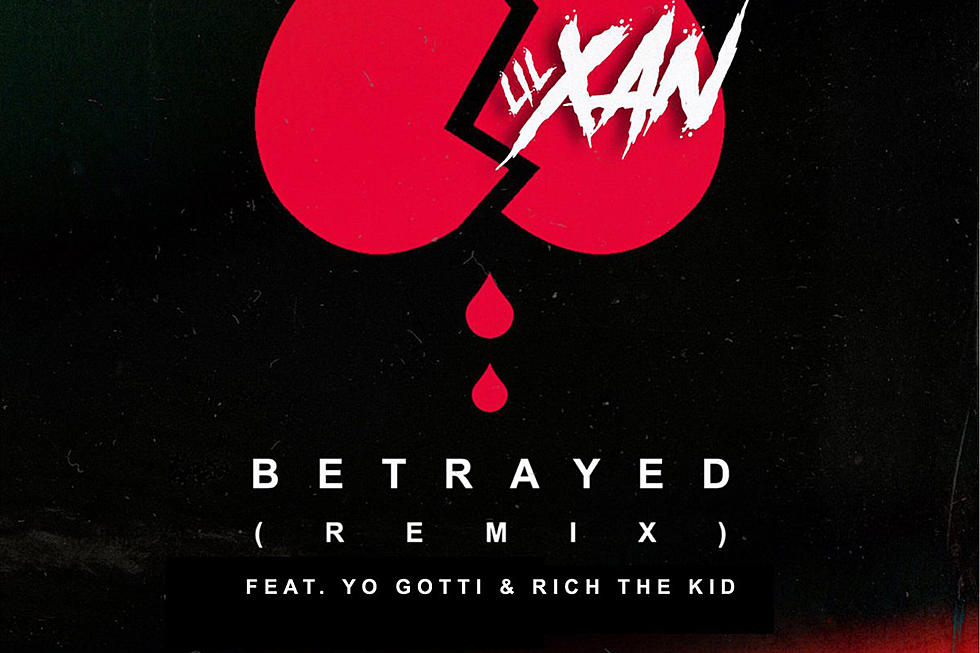 Lil Xan Taps Yo Gotti and Rich The Kid for "Betrayed (Remix)"
Columbia Records
Floating over an icy Bobby Johnson Beats-produced instrumental, Rich The Kid sets things off and definitely doesn't disappoint, hitting us with an aggressive flow that you'd think would be at odds with the calm beat. It's not, though, as the jarring contrast makes for a memorable feature.
"She pop a pill and go cuckoo/She'll ride on a dick like a new coupe/Hit a hoe with a stick like a bamboo (bamboo)/I'm the shit, got it lit like a candle (what?)," Rich spits midway through his verse.
For his part, Xan pulls up with a verse that finds him revisiting the start-off topic of the first bars on the original version of the track. "And she still tastes like Skittles (ayy)/And her friend still tastes like Skittles (what)/Put me right up in the middle (ayy)/You know I had to go and solve the riddle (ayy)," a calm Xan spits.
From there, Gotti takes us to the to the trap and contextualizes all the reasons he's glad he made it out. "Shit I was selling coulda sent me to the feds/Shit I was doing could've left a nigga dead/Only got one motto: get to the bread/Doing fuck shit, put a bullet in your head," he raps.
Xan's just completed his Xanarchy Tour, but he's already planned more shows ahead of his debut album, Total Xanarchy. That project will include features from Diplo, YG, Rae Sremmurd, 2 Chainz and Charli XCX, and it's all set to drop on April 6.
Check out Lil Xan's "Betrayed (Remix)" for yourself below, and if you're feeling it, cop it on iTunes.
Lil Xan's Additional Tour Dates
March 21—Los Angeles, Calif.—The Novo
March 22—Orange County, Calif.—The Observatory
March 23—Las Vegas, Nev.—Brooklyn Bowl
March 25—San Diego, Calif.—House of Blues
March 30—New York, N.Y.—Brooklyn Steel
March 31—New Jersey, N.J.—Starland Ballroom
See New Music Releases for March 2018