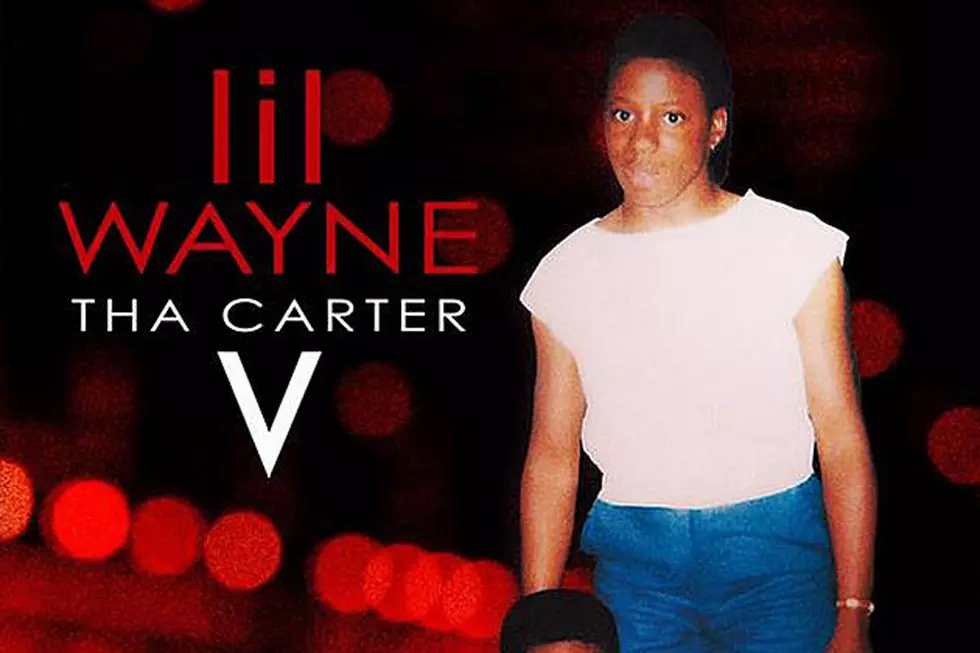 Lil Wayne 'Tha Carter V' Album: 20 of the Best Lyrics
Young Money
At long last, Lil Wayne's Tha Carter V album, an LP fans have been waiting for since at least 2012, is here. And if you're looking for vintage bars from Weezy F., you won't be disappointed.
Checking in at 23 tracks, the long-awaited release is a heavy dosage of confidence, nimble rhyming and adventurous one-liners only the great Dwayne Carter could conjure up. After having suffered seizures and a seemingly interminable legal battle with Birdman and Universal on his way to being released from his Cash Money Records contract, Weezy delivers bits of vulnerability along with the bluster that makes you feel silly for ever doubting whether he'd survive the turmoil.
Tackling an eerie Z3N and Ben Billions-produced track for his XXXTentacion-featured "Don't Cry," Weezy jumps right into the bars as he summarizes the bumpy roads he's traveled since dropping Tha Carter VI seven years ago."Don't call it a comeback/It was dark, now the sun back/Hit me hard, but I punched back/The wheels fell off, I rode the hubcap," he raps on track.
The "Mona Lisa" collaboration with Kendrick Lamar—whose Lil Wayne fandom has been apparent since he paid homage to Weezy via his Tha Carter III-inspired mixtape C4 in 2009—is an early standout. As is the nostalgic "Uproar," which samples G. Dep's 2001 song, "Special Delivery" (which Wayne and J. Cole previously hijacked for Dedication 4's "Green Ranger" in 2012).
With lots of time, much to say and a variety of ways to say it, Weezy delivers the project that fans have been awaiting—and not a moment too soon. XXL takes a look at 20 of the best lyrics from Tha Carter V.
"Don't Cry"

Lil Wayne Featuring XXXTentacion

"Don't call it a comeback/It was dark, now the sun back/Hit me hard, but I punched back/The wheels fell off, I rode the hubcap/Is it suicide or it's do or die/It's newer days and it's bluer skies/I told myself 'It's just you and I'/Then the breeze came and it blew my mind" —Lil Wayne

"I started this shit, you just part of this shit/I'm the heart of this shit, and the heart doesn't skip/Take the heart of your bitch/'Cause like Bart, you a simp/And your water don't drip so your garden ain't shit/You just countin' the money, I'm drownin' in money/Like 'Where the fuck is the lifeguard in this bitch?'/I go Mars in this bitch, watch me orbit and shit/For the art of this shit, Andy Warhol and shit" —Lil Wayne


"Get the fuck though, I don't bluff, bro/I come out the scuffle without a scuff, bro/Puff, puff, bro, I don't huff though/Yellow diamonds up close, catch a sunstroke/At your front door with a gun stowed/'Knock-knock, who's there' is how it won't go/This the jungle so have the utmost/For the nutsos, and we nuts, so/What the fuck, bro?/It's where I'm from, bro/We grew up fast, we rolled up slow/We throw up gang signs, she throw up dope/Dreadlock hang down like a bando"—Lil Wayne

"Let It Fly"

Lil Wayne Featuring Travis Scott

"And keep in mind, we do not mind losing our minds/Free your mind, read your mind, read your mind/Body take a week to find, the cops gon' be like 'never mind'/What's on your mind, put the pistol to your mind and blow your mind/Control your mind, mind, freak no sober mind, I'm so behind/Front line, you crossed the line and you better know your lines/And if you gettin' out of line, I hang you with a clothing line" —Lil Wayne

"They can do all they can do but they can't break unbreakable/They scared to face the truth because they hate the view/They taste the juice, I hope it make 'em puke, I'm breaking loose/Should I throw up the deuce or should I wave the deuce/In 1982, my momma take me to a space shuttle/Say, 'Now I'm raising you and ain't no baby food unless you go and take the neighbors' food'/And be afraid of who? I made the loot/When money went from army green to navy blue/I said salute, bulletproof, I gave 'em proof" —Lil Wayne

"Mona Lisa"

Lil Wayne Featuring Kendrick Lamar

"Nigga, turn around, I ain't here to fuck around, I ain't here to fuck around, caught you with your pants down/You know what it is, put your fucking hands up/Liz, that's enough, you can put your hands down/And then he dead looked at her and he shook his head at her/She a good actress and you a dead actor/You'll be dead after we get what we're after/If Liz call you daddy, she about to be a bastard" —Lil Wayne

"Mona Lisa"

Lil Wayne Featuring Kendrick Lamar

"Tell me who love you, I bet I love harder/Forgot all the shit that I did for your daughter?/The pampers, the Pedialyte and my momma daycare after school/And she never did charge her/You scandalous as fuck, and I hope you blow up/You know what, I get buck, let me go get my gun, I got one in the chamber/I'm plannin' on aimin', God dammit, you know the damage is done/Bitch I'm emotional 'cause I'm in stress/I'm not supposed to go through this, I guess/So in conclusion, since you like rappers that's killing that pussy I'm killing myself" —Kendrick Lamar

"I'm a angry lion hangin' by a string I can't describe it/Feel like a anchor tied to my finger/Got me sinkin' to the bottom of my drink/I know a lotta niggas think I got a lotta niggas/There's strength in numbers but there's honor over strength/I talked to God the other day, he said he got a nigga/So, I look death up in her eye and then I wink
It's way too real" —Lil Wayne

"Psychopath/Blunt big/Big as Mama June off the diet plan/Smoking science lab/I should have tattoo that say 'I'm not like my dad'/Jesus Christ amen/My hand in the second hand/She see righteous plans/I see business plans then I lose my mind and my attention span" —Lil Wayne

"Dope Niggaz"

Lil Wayne Featuring Snoop Dogg

"I got killers on the front line/You're on the sideline/Follow the guidelines or you be in the skyline/Killas on the inside, and on your blindside" —Lil Wayne

"Dope Niggaz"

Lil Wayne Featuring Snoop Dogg

"Yeah, I grew up around dope niggas and cold killers/Most nigga was both nigga/Two sports niggas/I was no different from those niggas/But I was chose nigga" —Lil Wayne

"I got hittas and they not kidders/That's my niggas/You got niggas but they not hittas/They got jitters, they get hit up/I'm placin' figures on your niggas" —Lil Wayne

"Where the paper and the drugs though/At your neighbor with the snub-nose/I be seen with the unseen, you be seen with the unknowns/All your bitches in the done zone, all my bitches in the fun zone/Swallowin' all my unborns, say it taste like a love song/In the cut like a cutworm, keep it cool, keep the cup warm/Rum bum bum bum bum if they come for 'em, I tell 'em" —Lil Wayne

"I come from where they come at ya, in a way you can't come back from/I attack from every crack, while you been chillin'/I been activeI been still inside the action, you been actin' I been buildin'/You been blabbin', you been bickerin'/I been black and I been sippin' like the Dracula/I been feelin' like electors, got a million in the mattress, a bazillion in the pantry/If you don't know why I'm not answering you should kill who you been askin'" —Lil Wayne

"New money, call it cake, fresh-baked nigga/Hungry, bullets eating off your chest-plate nigga/I hope that they gon' think that I'ma have faith in her (no-no)/Bitch screamed when the dick was halfway in her/When the dick was halfway in her/Damn, you ain't dead yet? I'm amazed, nigga/Guess what? I'm coming back with that gauge, nigga" —Lil Wayne

"But I'm sorry baby, but I gotta let go/Now she feel like she on death row/She don't believe in ghosts till I get ghost/And I can hear teardrops echo/Her teardrops turn into X-O/Put yourselfs in my shoes, but you gotta tip-toe" —Lil Wayne

"Dope New Gospel"

Lil Wayne Featuring Nivea

"Bitches wanna come play the lead role/And end up with nothin but B-roll/Sit in the dick in a C-4/Then I come back with a cheap coat" —Lil Wayne

"I used to know you niggas, I don't know you niggas/I just ignore you niggas, I don't bro you niggas/With my bros, smoke them niggas, like we dro you niggas/Kill your hoe too nigga and your go-to niggas" —Lil Wayne

"Let It All Work Out"

Lil Wayne Featuring Sampha

"Tunechi, you a monster/Looked in the mirror, but you wasn't there, I couldn't find ya/I'm lookin' for that big old smile, full of diamonds/Instead, I found this letter you ain't finished writin'/It read, 'I'm sorry for even apologizing/I tried comprising and went kamikaze'" —Lil Wayne

"Let It All Work Out"

Lil Wayne Featuring Sampha

"I found my momma's pistol where she always hide it/I cry, put it to my head and thought about it/Nobody was home to stop me, so I called my auntie/Hung up, then put the gun up to my heart and pondered/Too much was on my conscience to be smart about it/Too torn apart about it, I aim where my heart was pounding/I shot it, and I woke up with blood all around me/It's mine, I didn't die, but as I was dying/God came to my side and we talked about it/He sold me another life and he made a prophet" —Lil Wayne