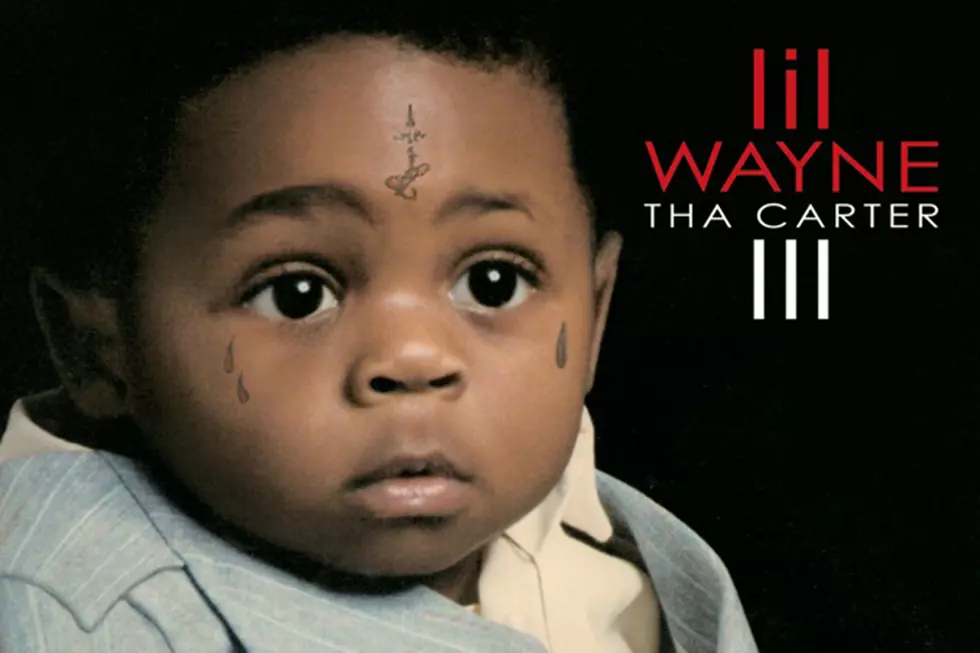 A 10-Year Update on Everyone Who Featured on Lil Wayne's 'Tha Carter III'
Cash Money/Universal Motown
His catalog runs long with a grand total of 12 solo albums being released over the past 19 years, not to mention mixtape run that changed the way rappers tackled beats, rhymes and life.
The pinnacle of Lil Wayne's career was set between 2004-2008—from Tha Carter to Tha Carter III—when he dominated both the rap world and pop airwaves with nothing but slick rhymes and an undeniable work ethic. His run of free mixtapes, including his Dedication series with DJ Drama and his own Da Drought series, along with jaw-dropping guest features, propelled him into a position of rap royalty with only a classic album left to conquer. That classic album would become Tha Carter III.
The third installment to his acclaimed Carter series was the culmination of one of hip-hop's most impressive and all-encompassing runs. Lead by the singles "Lollipop" and "A Milli," Tha Carter III influenced rappers of that time and today's spitters.
Wayne is obviously the star of Tha Carter III but just like with any album, teamwork makes the dream work. Weezy got a lot of strong assists on the album. Seeing as yesterday (June 10) marked the 10-year anniversary of his coveted classic, XXL breaks down all of the helping hands that made Tha Carter III possible and offers an update on what they've done since.
Alchemist

Producer, "You Ain't Got Nuthin'"

The Alchemist's menacing beat for "You Ain't Got Nuthin'" allowed Fabolous, Juelz Santana and Weezy to riff off punchline after punchline. Since, the legendary producer has stayed busy, producing full-length projects for Curren$y (2011's Covert Coup), Action Bronson (2012's Rare Chandeliers) and the late Prodigy (2013's Albert Einstein). In 2017, Alc laced Kendrick Lamar's Damn. standout, "Fear," earning him a Best Rap Album Grammy award.

Bangladesh

Producer, "A Milli"

Tha Carter III's colossal impact is largely thanks to the power of "A Milli." Bangladesh made the iconic beat out of a simple loop and trunk-rattling bass to which Wayne then proceeded to spazz. It's a shame he and Wayne didn't work together more due to unpaid debts from Cash Money, but the tag team linked up again for Tha Carter IV single "6 Foot 7 Foot." Since Tha Carter III, he's also produced for Beyoncé, Gucci Mane, Nicki Minaj and Rihanna.

Betty Wright

Featured Guest, "Playing With Fire"

Betty Wright's powerful vocal performance on the thundering chorus of "Playing With Fire" was show-stopping to say the least. While she has only assisted a small handful of rappers with choruses since 2008, she graced DJ Khaled's 2016 "Holy Key" cut with an identical vocal vigor.

Bobby Valentino

Featured Guest, "Mrs. Officer"

Bobby V. made cops sirens sound good on Tha Carter III. He kept the automobile onomatopoeias going with 2009's "Beep," yet his profile dwindled after parting ways with Def Jam and Disturbing The Peace, with his name sporadically popping up in gossip headlines (in 2017, he allegedly skipped out on paying a transgender prostitute). He dropped his most recent album, Electrik, in March.

Brisco

Featured Guest, "La La"

Brisco dropped one of his best verses on Tha Carter III. That propelled him to release another dozen mixtapes in the past decade. His own 2010 single "On The Wall" with Lil Wayne was supposed to appear on his debut album Street Medicine, but the project appears to have been indefinitely shelved.

Busta Rhymes

Featured Guest, "La La"

Busta Rhymes has been a close Cash Money affiliate for years—he even signed with the label for a short while in 2012. Post-C3, Busta has released two solo albums and featured prominently on A Tribe Called Quest's 2016 reunion album We Got It from Here... Thank You 4 Your Service. And the rap ironman has continued to defy age with feature appearances on Chris Brown's "Look At Me Now" in 2011, A$AP Ferg's 2013 track "Shabba (Remix)" and most recently, Ferg's "East Coast (Remix)" last year.

Cool & Dre

Producers, "Phone Home"

Cool & Dre have been serving up Cash Money anthems since the mid 2000s so naturally the production duo got a placement on Tha Carter III. "Phone Home" is an intergalactic banger that Weezy's Martian-like rhymes oozed over perfectly. The Miami production team has continued to lock in with Wayne over the years, but landed its first platinum plaque with Fat Joe and Remy Ma's "All The Way Up."

D. Smith

Producer/Featured Guest, "Shoot Me Down"

D. Smith may not be a very active member of the hip-hop community these days but his emotional chorus and production on "Shoot Me Down" will resonate with fans for years to come. Additionally, he's worked with the likes of Lloyd, Monica and Estelle.

David Banner

Producer, "La La"

David Banner is one of the most esteemed producers to have worked on Tha Carter III with his weirdly hoppy, beat for "La La". Although he has kept his guest production to a minimum since giving Wayne that unique instrumental, he has been focused on solo work with the release of three albums and two mixtapes since 2008.

Deezle

Producer, "Mrs. Officer," "Lollipop," "Let the Beat Build"

On "Let The Beat Build" Wayne rapped "OK, I'd like to thank Kanye/And my nigga Deezle/For giving me this Diesel/Like an F-350/Tank never empty," which was a huge nod to a relatively unknown producer. Deezle is Tha Carter III's most frequent contributor, helping to create three pivotal tracks. Since, he's worked with Rick Ross, Bun B and most recently produced seven songs for Master P's Al Capone.

Drew Correa

Producer, "Mr. Carter"

Drew Correa's producing career has been focused and short lived, but his work on the Jay-Z-guested "Mr. Carter" made the song a favorite amongst fans. Correa, who became Cash Money/Young Money's resident engineer in 2005, also worked on Birdman's Priceless, and Wayne's Rebirth and I'm Not a Human Being. In 2012, he sued Cash Money for stopping his royalty payments from the aforementioned albums.

Fabolous

Featured Guest, "You Ain't Got Nuthin'"

Wayne tapped long time collaborator and fellow rhyme slinger Fabolous to help him get a brigade of bars off on "You Ain't Got Nuthin'." He's since dropped two acclaimed solo albums (Loso's Way, The Young OG Project) and a collaborative album with Jadakiss (Friday On Elm Street), plus some pretty notable mixtapes (a S.O.U.L. Tape trilogy and two editions of Summertime Shootouts, among others). Earlier this year, he's come under heat for domestic abuse allegations.

Infamous

Producer, "Mr. Carter"

Infamous produced the triumphantly lavish beat for "Mr. Carter" alongside Drew Correa, since keeping Wayne close by producing a handful of cuts on Rebirth, Tha Carter IV and FWA. Last year, he laced G-Eazy and Kehlani's duet, "Good Life."

Jay-Z

Featured Guest, "Mr. Carter"

The almighty Jay-Z lent his rap stylings to the album's torch-passing moment, "Mr. Carter." The song is perfectly executed with Wayne's ascending perspective and Jay's voluntarily descending perspective intertwining around their shared last name. Jay of course has made plenty of monumental moves over the past decade, including being inducted into the Songwriters Hall of Fame and dropping one of his most personal albums last summer, 4:44.

Jim Jonsin

Producer, "Lollipop"

Tha Carter III would not be the cultural giant it is without the help of the smash hit "Lollipop." The album's lead single put Wayne at the top of the charts largely because of Jim Jonsin's catchy beat. He specializes in using simple keys to create unique pop-rap sounds that are usually destined for platinum status. Most recently he blessed A$AP Rocky with his 2015 fan favorite "L$D" but he also made Nelly's "Just A Dream" and Wiz Khalifa's "On My Level."

Juelz Santana

Featured Guest, "You Ain't Got Nuthin'"

Juelz Santana and Lil Wayne have worked on plenty of tracks together over the years—their rumored I Can't Feel My Face project was amongst one of the most anticipated projects back in the late 2000s. Juelz brought some more of those classic Harlem haymakers to Tha Carter III on crew cut "You Ain't Got Nuthin'." Since then, Juelz has shined on a few hit singles ("Back to the Crib" with Chris Brown in 2009, Lloyd Banks' "Beamer, Benz or Bentley" in 2010) but he's most recently fallen on legal trouble stemming from a gun possession charge this past March.

Kanye West

Producer, "Let the Beat Build"

Tha Carter III is filled with tons of contemporary beats that sound like pre-trap era club cuts, but "Let The Beat Build" brings a certain soulful boom-bap to the fold thanks to Kanye West. Chopped and pitched vocal samples with rattling 808s make it one of the album (and Wayne's) most iconic beats. Kanye has had a wild 10 years since the album's release—enough life sagas to warrant an entire post—but this year alone, he's doubled down on his support of Donald Trump, dropped a song in which he raps "poop" and "scoop" in a variety of ways and claimed American slavery was "a choice." Most recently he produced Pusha-T's Daytona album, dropped a collab project with Kid Cudi called Kids See Ghosts and released his own Ye album.

Kidd Kidd

Guest Feature, "Mrs. Officer"

Kidd Kidd adds another layer of strong technical rap to the sweet and smooth "Mrs. Officer." His laid-back flow works well with the serenading guitar and ultimately compliments the overall track. Kidd Kidd, who was once a Young Money member, signed to G-Unit back in 2011 and was even selected as a XXL Freshman for the class of 2015.

Maestro

Producer, "3 Peat"

Tha Carter III's explosiveness is largely thanks to the energy displayed on the album intro "3 Peat." Maestro is the producer who crafted the simple yet wildly effective beat that ushered in Wayne's outlandish rhymes. He has since got a few placements throughout hip-hop with the majority landing him spots with Dem Franchize Boyz and the soundtrack for Occupation: Hollywood.

Play-N-Skillz

Producers, "Got Money"

After "Lollipop" and "A Milli" had cooled off in the streets and on the radio, "Got Money" kept Wayne's airwave presence alive and well. Dallas duo Play-N-Skillz made the stadium style beat that truly gave Tha Carter III a serious party edge. They've managed to keep up the momentum with some solid placements on Akon's and Pitbulll's respective songs throughout the past 10 years.

Robin Thicke

Featured Guest/Producer, "Tie My Hands"

Tha Carter III benefits from the wide range of subject matter that Lil Wayne tackles. "Tie My Hands" features Wayne delivering an ode to New Orleans alongside Robin Thicke, who provides the chorus and production on the track. It was a nice dose of vulnerability and introspection. Since then, Thicke has both his biggest smash hit with 2013's "Blurred Lines," a high that quickly came crashing down after an appalling performance with Miley Cyrus at the 2013 MTV VMAs and a widely reported divorce from wife Paula Patton.

Static Major

Featured Guest, "Lollipop"

Static Major played an integral role on Tha Carter III's biggest hit "Lollipop." His additions were simple yet essential to the catchiness of record as a whole. The chorus, as in most hit songs, was smooth and easily digestible. Unfortunately Static didn't get to fully experience the success of the record as he passed away just seven months after its release.

Streetrunner

Producer, "Playing With Fire"

Streetrunner has made an arsenal of fire beats, including Tha Carter III deep cut "Playing With Fire." The beat is just as beautiful as it is menacing and allows Wayne to get some seriously emotional bars off. Streetrunner has continuously made beats for Wayne post-2008 but most recently worked with Eminem on the MMLP2 song, "Bad Guy."

Swizz Beatz

Producer, "Dr. Carter"

"Dr. Carter" is one of the simplest beats on Tha Carter III but by far one of Wayne's most creative tracks. By using simply jazz hit hats and rolling bongo drums, Swizz Beatz turned Wayne into hip-hop's saving surgeon. Swizz has been busy over the past 10 years with his own career milestones like winning a Grammy for Jay-Z's "On to the Next One." He rang in the 10-year anniversary of Tha Carter III by facing off against Timbaland for an iconic beat battle at Hot 97's Summer Jam in New Jersey.

T-Pain

Featured Guest, "Got Money"

T-Pain and Lil Wayne have made some classic records together, but none are as explosive as "Got Money." T-Pain's signature Auto-Tune made the song fresh and fierce. Since then, T-Pain continued to dominate the charts with guest features and solo tracks up until Jay-Z dropped "DOA (Death of Auto-Tune)" in 2009, effectively putting a pause on the trendy sound. Pain has endured though—his 2014 performance on NPR's Tiny Desk reminded fans of his singing talent. Fans ultimately rejoiced when Weezy and T-Pain's long-awaited T-Wayne album dropped last summer.

Rodnae

Producer, "Dontgetit"

Tha Carter III's outro might be half rap song, half candid spoken word piece but it's still the perfect cap to Wayne's most defining album. The 10 minute track was produced by Rodnae who ironically enough also produced Plies' "Somebody Loves You" on his Definition Of Real album released the same day as Tha Carter III. He has since made cuts for Rocko and Mr. Magic.