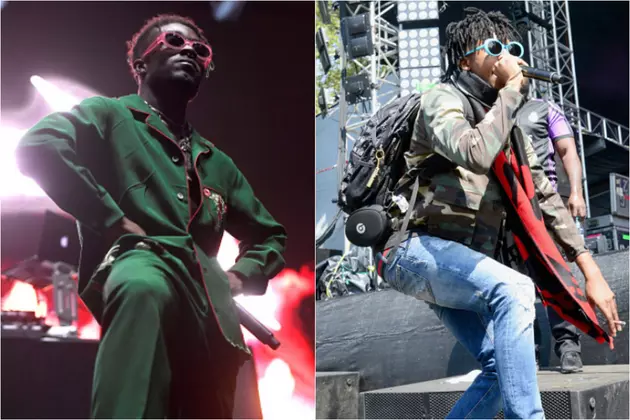 Lil Uzi Vert and Playboi Carti Talk About What It Means to Be Mumble Rappers
Frazer Harrison/Lisa Lake, Getty Images (2)
The mumble rapper tag has been stamped on a number of leaders of the new school. But instead of being pissed off by the stigma, some of them are embracing the label.
"A whole bunch of 'ayes' and a whole bunch of 'yeahs.' That's it," said Uzi describing his rap style. "That's all I do. I say yeah. I tell myself that I'm not gon' go over 80. I say like 79 yeahs and it works. We what you call a mumble rappers. So you say yeah after everything and make it rhyme no matter what it is."
After a quick break down of how mumble raps are put together, Vert added, "It's just lit. It's all about being lit."
Both of the MCs have used "mumble raps" to gain a considerable amount of success in the industry. Despite not dropping a project, Carti is one of the most buzzing new artists out.
A couple weeks back, during a meet and greet with fans, Uzi joked with Carti about his highly-anticipated debut project having yet to come out.
"Yeah, for real. I don't even know why you famous," LUV joked when an audience member asked when the tape was finally going to drop. "He don't even have a tape, how the fuck are you famous?"
Carti explained the delay, saying, "Honestly yo, I didn't come in the game trying to make a mixtape. My mixtape too fire. I just been listening to other dude's tapes and shit."
"That shit wack," Vert then hilariously interjected. "He won't drop it 'cause it's wack. That's what it is."
Check out the entire Uzi and Carti interview clip below.
See Behind-the-Scenes Photos of Lil Uzi Vert at the 2016 XXL Freshman Shoot