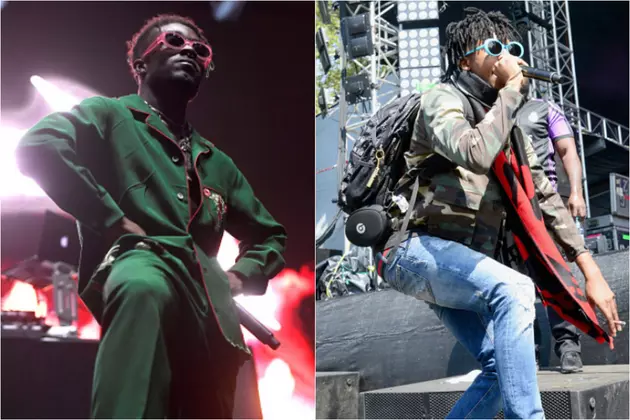 Lil Uzi Vert Jokes About Why Playboi Carti Hasn't Dropped a Mixtape
Frazer Harrison/Lisa Lake, Getty Images (2)
The buzz is there. The rapper's SoundCloud page is doing numbers. So what gives? A brave fan addressed the delays during a recent Q&A with the rapper and his boy Lil Uzi Vert, who took the opportunity to joke with his fellow MC.
"Yeah, for real. I don't even know why you famous," LUV joked when an audience member asked when the tape was finally going to drop. "He don't even have a tape, how the fuck are you famous?"
After gathering his thoughts, Carti explained the delay, saying, "Honestly yo, I didn't come in the game trying to make a mixtape. My mixtape too fire. I just been listening to other dude's tapes and shit."
"That shit wack," Vert then hilariously interjected. "He won't drop it 'cause it's wack. That's what it is." Watch the funny clip below.
Carti has built a sizable following, despite not dropping an official project, and even garnered a deal from Interscope Records in 2016. "I feel like niggas really be on my shit," the Atlanta rapper told XXL in January. "That's why I'm picky about what I put on my SoundCloud. That's why I'm taking time with my [first] mixtape. I'm going crazy. If you look on my tracks, bro, it shows you my progression."
There is an endgame to the drawn-out release. "I just want niggas to look at it and say, 'If this young nigga from Atlanta can do this, so can I,'" added Carti. "I want everybody to get money. My new mixtape is going to show niggas this is the way."
See Behind-the-Scenes Photos of Lil Uzi Vert at the 2016 XXL Freshman Shoot