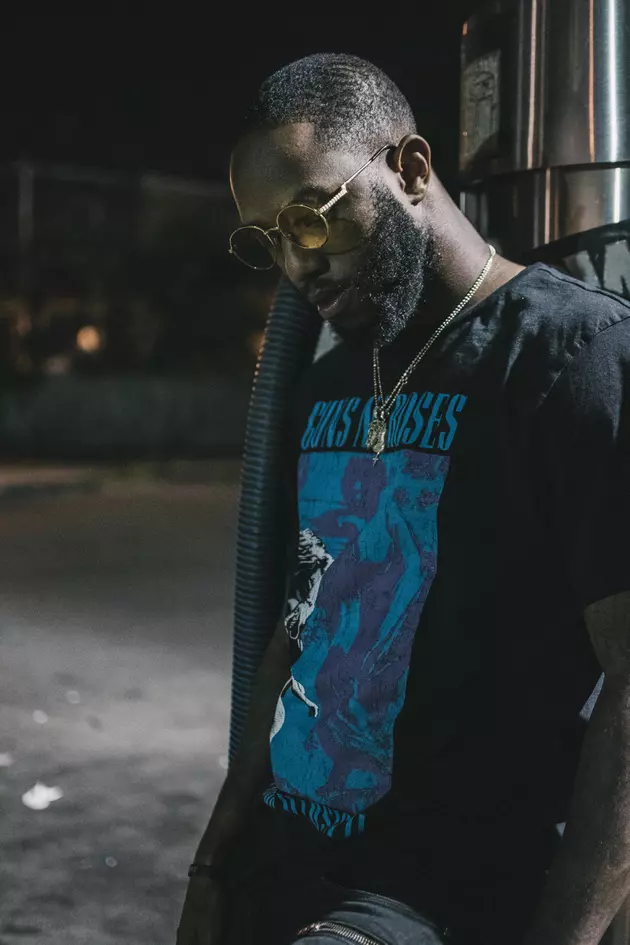 The Break Presents: Lihtz Kamraz
86hours (@86hours)
New rappers have been making some big waves in Philadelphia as of late. While the likes of Lil Uzi Vert have already commanded mainstream attention, people like Kur are making some noise of his own. Now the newest rhymer on the scene is Lihtz Kamraz, a 25-year-old spitta who made a huge splash when he was featured on Meek Mill's "Never Lose" off his Wins & Losses album.
His connection to Meek came after landing a gig on Fox's hit series Empire.
"I met Meek Mill probably like two years ago," he explains to XXL over the phone. "I was on Empire for like four or five episodes. Prior to me getting on Empire, I was just in the mix of getting on the show. So that little process of me going on the show and auditioning, people seen me. I was in Chicago probably like my second time filming and nothing had aired yet. Meek and them were like pull up. They were in L.A. so I went from Chicago to L.A. and I was out there cooking up with them, making a bunch of records and we were building. It was crazy because I ended up writing a record and they put Trey Songz on it, this was two years ago."
Without knowing what will become of the song, Lihtz quickly made a new record that eventually became the Meek's hit single "Never Lose."
"Earlier this year, they hit me up and asked can they use the record but I couldn't find the person that produced the record," he continues. "So since I couldn't find the person that produced the record, I made 'Never Lose.' So I'm like, I'm going to send them another record just to hope. Eventually we did find the producer but I still sent 'Never Lose.' So in March, they hit me and like Meek wants to use 'Never Lose' and then probably like two months ago they told me that he still using it. So we're still going through the process and I already know how this goes. Sometimes people may like a record but they got like a 100 tracks to choose from so they can narrow it down to 15 songs. So I wasn't sure it wasn't going to be on there until I saw the tracklisting. Once I saw that I was like, 'Oh, aight, it's official now.'
The song was a hit. Weeks later, video of NBA Superstar LeBron James singing the hook to "Never Lose" in a weight room went viral and everyone outside of Philly wanted to know who the other guy was on the track with Meek. With an impressive mixtape out, 2016's Switch Up, and a new song with Tory Lanez about to drop, get familiar with Lihtz in XXL's The Break.
I grew up listening to: "I grew up listening to a lot of different music. But some of the people that I like are JAY-Z, of course. Lauryn Hill, I listened to a lot of Lauryn Hill, my mom made me to. I grew up listening to that in the crib. State Property, Beanie, Freeway, just Philly, you couldn't escape that.
"Earliest memory of me making music is when I was 5. My uncle, he used to rap and he would and tell me to rap and I would just keep cursing. It really wasn't rap, it was just all his homies just siting there and they got a kick out of it. [My uncle] would tell me to just spit something and I would. It was hilarious but that really was just the beginning stage of me doing it to the level where I'm at now.
"I started taking things [as far rapping] seriously when I graduated high school. I was trying to figure out what I was going to do next. My mom wanted me to go to college but it wasn't something that I was interested in doing at that time. So I just shifted my focus on the music. That was probably six years ago. When I had my daughter I think that's when it shifted from being a hobby to life or death. This was five years ago. I was living in Atlanta then I moved back to Philly. When I was in Atlanta, it was more or less me trying to bump into somebody that could change my life but when I came back to Philly, I was up on my own grind. From one stage to one show to one person, it was more of a grind. I was coming to get that attention and I was trying to create my own opportunities."
My style has been compared to: "I think my sound evolves and I evolve with it too. It changes. Probably four, five years ago, I was being compared to Meek's sound, now I have the melodies. I've been on melodies though. You hear on a song from 2009, me doing what's relevant now. Now I get compared to artists like Future, Drake, Tory Lanez; these are all the people that are rapping with the melodies. But it's hard to box me in. Sometimes I'm with the melodic sound and sometimes I'm an all out rapper. Sometimes, I'm down South all-out-rap, turn up all-out-rap, hood rap, East Coast rap, like Lil Wayne and Beanie Sigel. So I got a lot different sounds into one that people will gravitate to."
Most people don't know: "I'm half African. That's something that people don't know that I kind of exploit to a certain extent. A lot of people don't know that. Half my family is from Sierra Leone. At the end of the day, I was born and raised in Philly but my bloodline and the people that are my family are still over there."
My standout moment to date has been: "It has to be 'Never Lose.' I saw LeBron James singing it on ESPN. That was crazy. Each year, it changes so might be next year something else. Maybe I look up one day and Barack Obama is riding around, banging one of my songs. But it got to be 'Never Lose' today. I woke up and the song was on Bleacher Report."
My goal in hip-hop is: "I'm trying to excel as much as I can. In the industry that we're in, you're only as good as what you've done lately. So just knowing how this works, you can be the man today and nobody tomorrow. So it's about how much you're really wanting to attack and try.
"In 2017, I feel like whatever you're doing right, you can't just do one thing. I don't care what line of business you're in. So for me, I might want to be a rapper and still do music but I also want to be a songwriter because I can do that. I might also want to be acting, starting my own clothing line. It's so many things that I can accomplish outside of music. I want a Grammy, I want a billboard and I want all of that."
I'm going to be the next: "I want to be so big that you're going to make a movie about me. I want to be iconic. That's what I'm looking for. One of those people when you hop off the plane in Japan, [fans] are waiting for you."
Standouts: Meek Mill's "Never Lose" Featuring Lihtz Kamraz
Kur's "Stay Strong" Featuring Lihtz Kamraz
PnB Rock's "Swimmin'" Featuring Lihtz Kamraz and Gillie Da Kid
See New Music Releases for September 2017