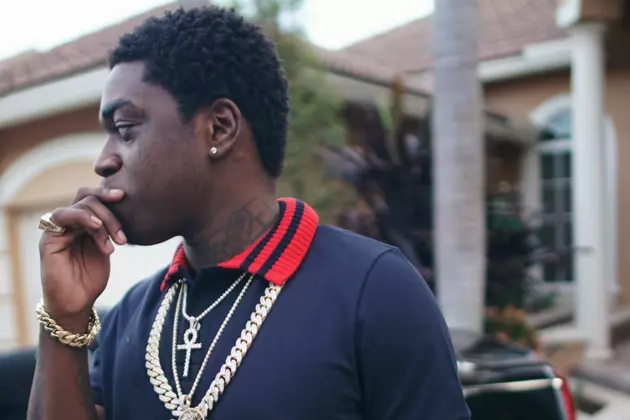 Uncover Kodak Black's Music When He Was Known as J-Black
Wavylord
When Dieuson Octave was 11 or 12 years old, he joined a rap group in Pompano Beach, Fla. called the Brutal Yungenz. He'd started rapping at the end of fifth grade, but didn't really take it seriously until he joined the squad. He was the youngest in the group by three years, but his high-pitched voice, denoting balls that had yet to drop, helped him stand out on early cuts from the crew like "What U Talkin Bout" and "Walk With Me." He went by J-Black, or Duffle Black, or sometimes just Black. The year was 2009.
Now you know him as Kodak Black, the 19-year-old rapper with multiple hit songs to his name, the latest one being a French Montana single. But before he changed his name, he was uploading freestyles to YouTube and soaking up game from his older group mates. That experience shows in his music today; the wisdom, the pain, the old soul. When he was 15, he tweeted a text he sent to his deceased friend Lou Scott, unable to come to grips with his buddy's death: "I Can't Believe You Gon Bra This Shit Ain't Real Bra Tell Me Its Just A Dream [...] Come Back Bra Stop Playing Forreal Forreal Bra I'm Done Wit This Hide And Go Seek Bra If Y'all Gone Forreal Bra Watch Over Y'all Lil Nigga Man See You On The Other Side."
The son of an immigrant Haitian mother who had no husband to help her out, Kodak grew up in the Golden Acres projects, a storied area that had been described as "unsalvageable," "a national tragedy" and "living in hell" since its creation in 1947. Instead of being in school, he was getting money any which way and performing with the Yungenz. He was kicked out of school for fighting in the fifth grade, arrested for carjacking in middle school and sent to juvie multiple times.
At some point, the group stopped functioning as a unit, and though their music was often more lighthearted and geared towards party crowds, Lil Black's solo music was somewhat darker. In one video from 2009, a member of the Yungenz calls him "the next Lil Bow Wow," but in a freestyle years later, he makes it clear that's not what he hoped to be: "Nah, I am not a Lil Bow Wow, I am not a fuckin' Justin Bieber/Get me outta here, I can't believe it, fuck your record deal, you can keep it/Where's Chief Keef and Young Jeezy? I won't let you do me like no Lil Weezy."
So in 2012, he started putting his own music on YouTube. One of the first songs was called "Diary of a Brutal Kid," detailing how harsh his haters have been on him. From there he'd go on to drop freestyles over songs by artists like Mac Miller, 2 Chainz, Wale and more.
So while the world waits to hear how Kodak's new charges will play out, we go back a couple years to revisit the early music he was making as J-Black.
"Diary of a Brutal Kid"

J-Black

One of the best things about Kodak's music is how much he talks about taking losses. Here, he touches on how everyone from girls to promoters shitted on him, even making their criticisms the hook for the song.

Over Wale's "Ambition" beat from 2011, Black flexes a style that's actually a little more lyrically dense than it is today. It's not that he's any less poignant nowadays, but he's developed his flow, slowed it down a bit and incorporated more of his own drawl than he used to. This serves as a nice contrast to the stuff on Institution or Lil Big Pac.

Young Duffle tackled Mac Miller's "Donald Trump" next, showing off a cache of different cadences over the lo-fi beat. It's pretty wild to hear a 14-year-old spitting as effortlessly as he does here -- and that hook is dope too.

Here you get a taste of Kodak's singing, which is far from perfect but an effective way for him to communicate the relentless hope that's a constant theme in his music.

"Crip in My Blunt"

J-Black

Kodak namedrops the Brutal Yungenz in this freestyle over Kirko Bangz's "Drank in My Cup," so clearly he was recording solo music while he was with the crew. More interesting is how he uses Auto-Tune on the hook, though.

There's often a stigma placed on Haitians in America, but Kodak's always been proud of his descent and he beats his chest with it on this freestyle over 2 Chainz's "I'm Different."