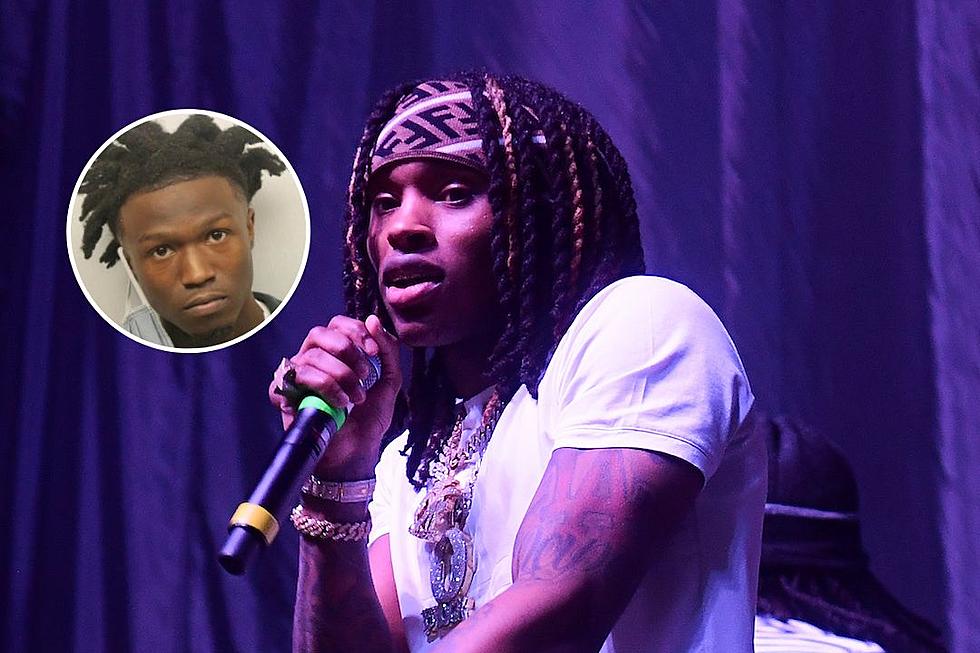 The Charges Against King Von Killer Lul Timm Are Dropped
Prince Williams/Wireimage/Fulton County Jail
Lul Timm's attorney has confirmed to XXL that charges against Lul Timm in the King Von murder case have been dropped.
Lul Timm's Murder Charge Has Been Dropped
In a statement to XXL on Sunday (Aug. 20), Lul Timm's attorney, Noah Pines, confirmed that felony murder charges were dropped against Lul Timm, born Timothy Leeks. "The case against Mr. Leeks was dismissed prior to ever being indicted," the statement reads.
As previously reported, Lul Timm was arrested and charged with felony murder in King Von's death on Nov. 6, 2020. Von, born Dayvon Bennett, was shot and killed following a fight that escalated into a shooting outside the Monaco Hookah Lounge in downtown Atlanta.
According to authorities, a fight broke out between a group of men Von was with and another group of people, including Quando Rondo and Lul Timm, in the parking lot around 3 a.m. The groups then exchanged gunfire. After the dust settled, six people were shot, three of whom died from their wounds. Two police officers reportedly attempted to intervene following the gun battle but were not injured.
The Atlanta Police Department would later release a statement confirming that King Von was one of the deceased victims.
In March of 2021, Lul Timm was released from Fulton County Jail after posting a $100,000 bond. Although he was set free in this case, Lul Timm still faces other pending charges. According to reports, the embattled rapper was hit with multiple drug and traffic charges back in October of 2022, after a high-speed car chase with police in Georgia.
Asian Doll and King Von's Family Upset Over Lul Timm's Charges Being Dropped in King Von's Murder
Asian Doll, King Von's ex-girlfriend, caught wind of the initial rumors that Lul Timm was no longer being charged and responded on her Twitter account. In a since-deleted tweet, she wrote, "Because the police said Tim ain't kill him the police did."
Meanwhile, King Von's family was on Instagram Live venting their frustrations over the reports that Lul Timm had been cleared of murder charges. In the video, a woman asked why prosecutors did not contact them first with the information.
Lul Timm Releases New Song "Left a Stain" After News Circulates That His Charges Are Dismissed
Several hours after news spread that the murder charge against Lul Timm was being dropped for his role in killing King Von, Timm released a new song, "Left a Stain," with an accompanying video.
"Left A Stain Out Now !!!! Linc N the bio @acetheshooter," he wrote in an Instagram post around 12 a.m. on Monday morning (Aug. 21).
In the video, Timm is seen in various clips: rapping in a stairwell outside, hanging out with Quando Rondo, smoking by the water.
"Just got a collect call from new Pluto yesterday/He said he on the way/We steady catchin' plays/I told him 'bout my good news, I'm 'bout to beat this case/I really came from the bottom/Feelin' like I'm Drake," Lul Timm raps.
Lul Timm did beat the charges against him in the King Von case.
Watch King Von family's heated reaction to the news of Lul Timm cleared of murder charges below.
Watch King Von's Family React to Lul Timm Being Cleared of Murder Charges in King Von's Death
Listen to Lul Timm's "Left a Stain"
See the Current Status of Every Murdered Rapper's Case
XXL takes a look at the current status of the cases of hip-hop murders that have occurred over the past 35 years.