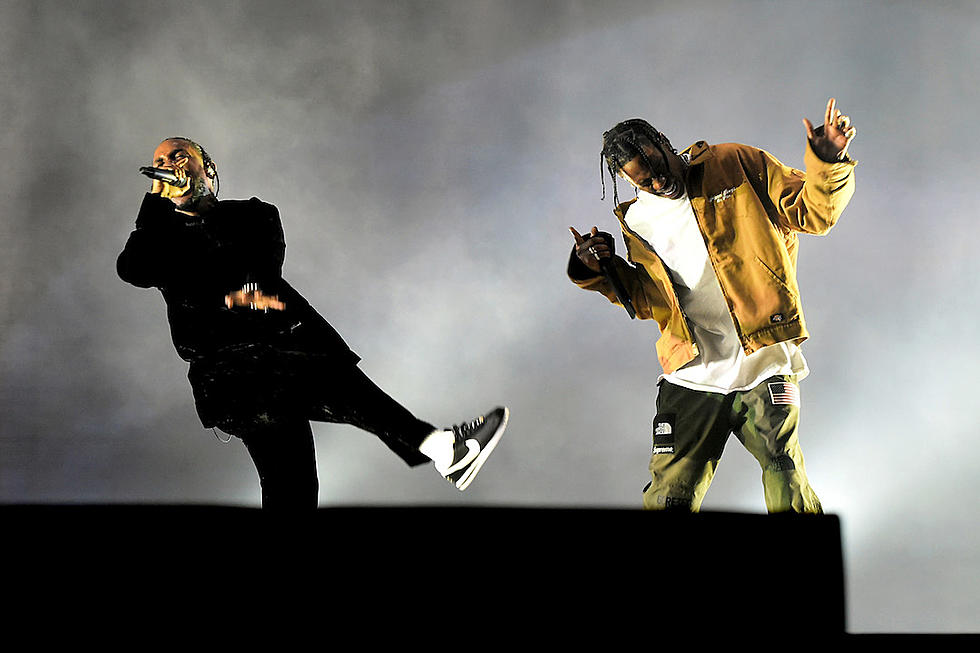 Listen to Kendrick Lamar and Travis Scott's New Song "Big Shot"
Kevin Winter, Getty Images
Black Panther arriving in theaters this month is not only good news for movie buffs, but it's also a great sign of new music from some of the game's best rappers. The soundtrack for Marvel's forthcoming film is out today (Feb. 9), which features a new collaboration between Kendrick Lamar and Travis Scott called "Big Shot."
The new track is produced by Cardo, and features the superstar rappers spitting some heated bars over the flute-infused instrumental. The Compton, Calif. hitmaker serves up some bold lyrics on the hook before kicking off the first verse by name-dropping Top Dawg Entertainment founder, as well as Puff Daddy.
"Serve that work for Kung-Fu Kenny/Got juice, got work, got weight, got plenty," he raps. "Got them, got her, got more, got Benji (yeah)/Top off, gettin' topped-off in the city/Big Top Dawg and I dance on 'em like Diddy/Pop off and I pop back like Fiddy (yeah)."
Elsewhere on the song, the Houston rapper comes through with some Auto-Tune vocals for his verse, where he gives a shout out to the late Pimp C, and uses a metaphor with Iggy Azalea.
"Purped up, syrup'd up, nigga, like Pimp C/Flight suit, 'bouta slide down Space City," Travis rhymes. "Top down, she down under like Iggy (yeah, it's lit)/Lockjaw when the night-call too litty/Knockoff, get your rocks off, got plenty/Got rocks, got Js, got 'Ye, got liney (yeah)."
Black Panther: The Album, which was put together by K. Dot and Anthony "Top Dawg" Tiffith, also contains tracks from The Weeknd, Mozzy, ScHoolboy Q, 2 Chainz, Swae Lee, Vince Staples, Ab-Soul, Anderson .Paak, Jay Rock, Future and more.
Check out "Big Shot" from Kendrick and Travis below to hear what they cooked up for the Black Panther soundtrack.
See Photos of Kendrick Lamar's Different Looks Over the Years