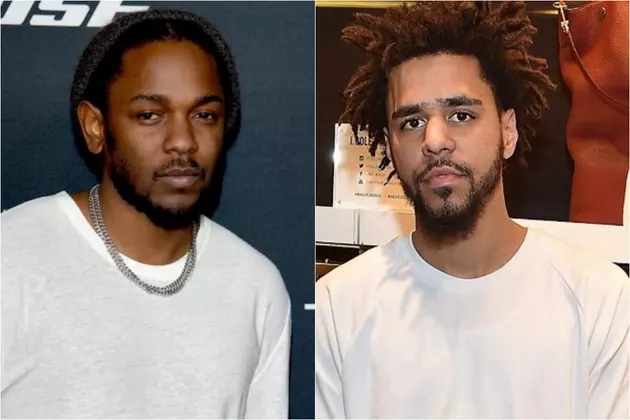 TDE's Punch Teases Kendrick Lamar and J. Cole Album
Tim Mosenfelder/Paras Griffin, Getty Images (2)
The highly-anticipated joint album with Kendrick Lamar and J. Cole is still a hot topic on people's minds. Will it drop? Is it even a real thing? One person recently decided to ask Top Dawg's Punch for the real deal on the proposed project and got an interesting answer from the label exec.
Last night (Aug. 19), one Twitter user posed the question to Punch, "When Cole And Kdot dropping that joint project[?]"
To the dismay of fans, Punch responded, "Probably never."
This clearly sent people who have been hoping and praying for a project from the two elite lyricists into a tizzy. Punch later had to retract his statement after the uproar got too loud, calming fans down with the tweet, "I was just playing about that dot and cole joint. It's coming for sure maybe. I don't know it might happen. Probably. Actually hit them 😂😂😂," he posted.
People have wanted a Kendrick and Cole album for a while now. After putting out their Black Friday remixes in 2015, it left fans wanting it even more.
Ab-Soul spilled the beans that a joint project is indeed in the works during interview on The Breakfast Club last December. "There is [an album]," Soulo told DJ Envy, Angela Yee and Charlamagne Tha God. "They got it. They got something in the works. They been working on that motherfucker for awhile."
We guess we have to wait and see.
Check out Punch's posts below.
See 25 of the Best Hip-Hop Projects of 2017 (So Far)