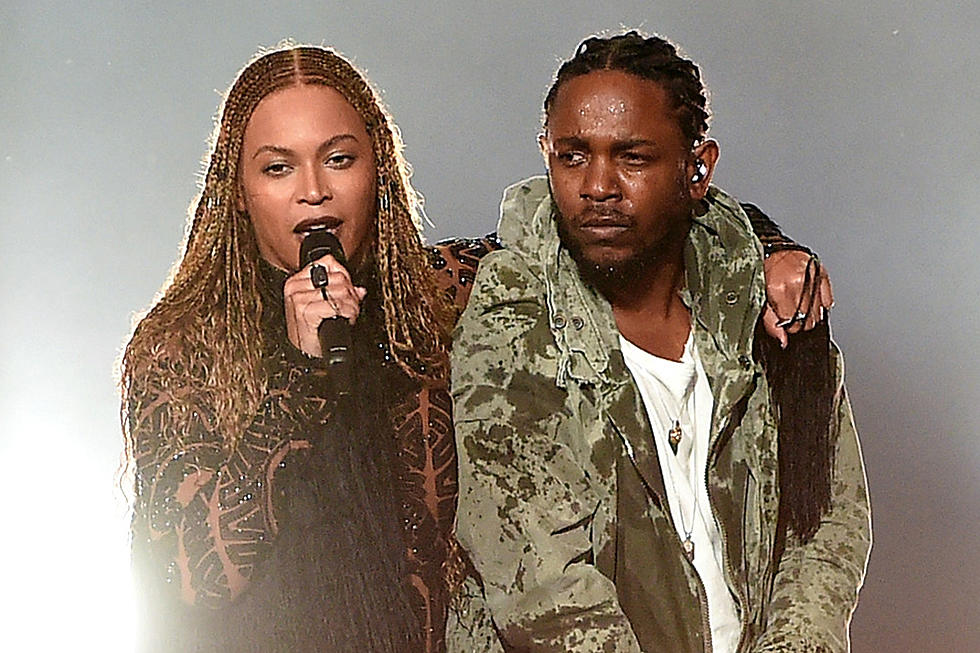 Kendrick Lamar Is Upset Beyonce Didn't Win Album of the Year at 2017 Grammy Awards
Kevin Winter/BET, Getty Images
Kendrick Lamar, like many observers, believes Beyoncé should have won the 2017 Grammy Award for Album of the Year. Top Dawg Ent. co-president Terrence "Punch" Henderson revealed that Kendrick is disappointed that Adele's 25 won over Beyoncé's Lemonade.
"I just spoke to kdot," Punch wrote on Twitter today (Feb. 13). "He's really up set about the Queen B not getting her album of the year trophy."
The sentiment was shared in many circles and even by the winner herself. During Adele's acceptance speech, the singer praised Beyoncé and said Lemonade should have won.
Beyoncé did not come away empty handed though. The "Formation" artist won the award for Best Urban Contemporary Album. She and Kendrick's collaboration "Freedom" was not lucky enough to win though. The song lost to Drake's "Hotline Bling" for Best Rap/Sung Performance.
One person that did get some big wins was Chance The Rapper. Kendrick was one of the many hip-hop artists to express his support for Chance's successful night, which saw him take home the awards for Best New Artist, Best Rap Performance and Best Rap Album.
"We rooting for u over here bro. Yeah!" Kendrick texted Chance. "Congrats bro. God is moving!"
Although Beyoncé was unable to win the biggest award of the night, she certainly made an impact. The singer wowed many with her performance at last night's ceremony, which was made all the more impressive since she is pregnant with twins.
12 Rappers Who Have 10 or More Solo Albums in Their Catalog