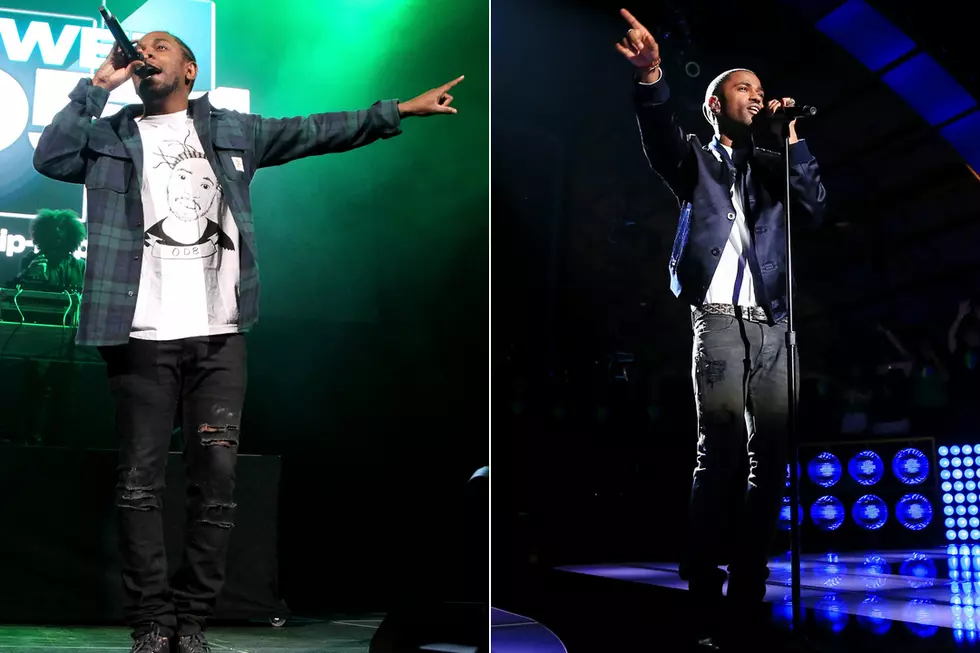 Kendrick Lamar and Big Sean Go Platinum After RIAA Makes Changes to Certification Rules
Bennett Raglin / Christopher Polk, Getty Images
Kendrick Lamar and Big Sean are among those who have benefited from the RIAA's new change. On Monday (Feb. 1), the Recording Industry Association of America announced a new methodology for their Gold and Platinum program, which will incorporate on-demand audio and video streams. The program will now count sales and streams for single and album certification.
This new methodology employed by the RIAA will see 1,500 on-demand video or audio streams counted as an equivalent to one physical album sale and 100 to 150 streams counted as an equivalent to a single track download.
"For nearly six decades, whether it's vinyl, CDs, downloads or now streams, the Gold & Platinum Program has adapted to recognize the benchmarks of success in an evolving music marketplace," RIAA Chairman and CEO Cary Sherman said. "We know that music listening – for both for albums and songs -- is skyrocketing, yet that trend has not been reflected in our album certifications. Modernizing our Album Award to include music streaming is the next logical step in the continued evolution of Gold and Platinum Awards, and doing so enables RIAA to fully reward the success of artists' albums today."
K. Dot and Sean each earned platinum plaques as a result of the new policy. Kendrick Lamar received his for the critically acclaimed To Pimp a Butterfly albumnand Big Sean collected his for Dark Sky Paradise. The other hip-hop artist affected was Wale, who earned a gold plaque for his album Ambition following the change.
See 40 Hip-Hop Albums Turning 20 in 2016