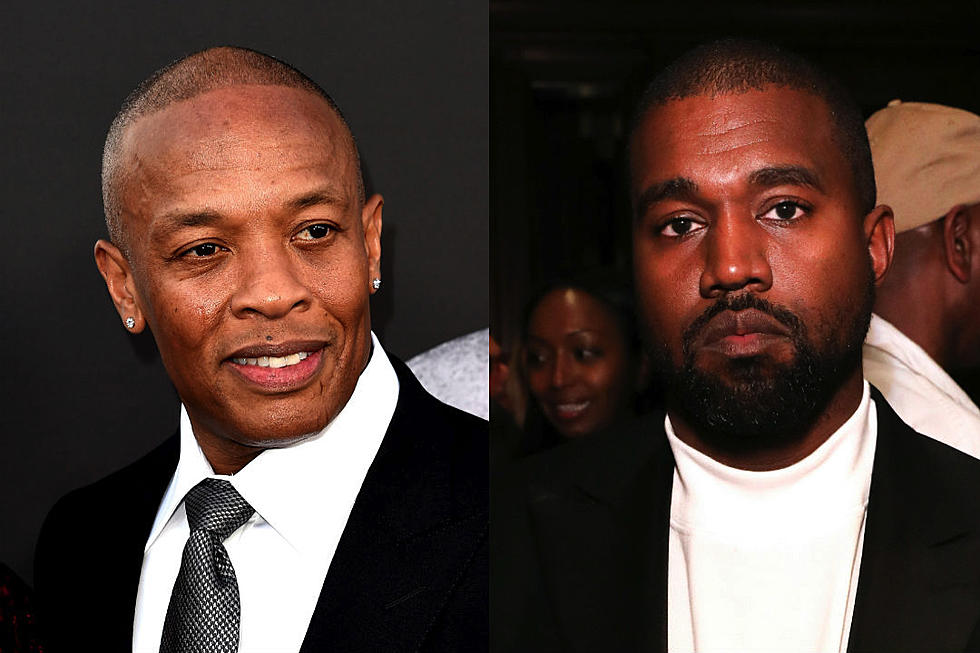 Is Dr. Dre or Kanye West the Better Producer?
Kevin Winter /  Robin Marchant, Getty Images (2)
XXL is back with another episode of Hip-Hop Moments of Clarity, a weekly podcast that breaks down the biggest news in hip-hop.
This week's episode features XXL's Editor-in-Chief Vanessa Satten, XXL's Executive Editor John Kennedy (a.k.a. JFK), and hip-hop entrepreneur, Rahman Dukes. As a reminder, the lineup of hosts can change weekly.
On Tuesday (Dec. 3), a video of Kanye West's Dec. 1 Sunday Service at Greater Emmanuel Temple Church in Lynwood, Calif. surfaced. In the clip, 'Ye can be seen telling the audience that it was because he'd made an album for God that he finally got Dre to mix the record, which will stand as the follow-up to his October effort, Jesus Is King.
"I used to spend all my time trying to make my beats be mixed as good as Dr. Dre, who knew all I had to do was do an album for God and then Dr. Dre would start mixing my beats," Kanye said. "Spend your time on God and he will handle the rest."
Yeezy and Dr. Dre's collaboration begs the question posed by Hip-Hop Moments of Clarity hosts: Who's the better producer? Considering both have made enormous contributions to the culture, there's no easy answer here, but that didn't stop hosts from trying to do so.
Hov releasing his entire discography on Spotify for his 50th birthday (Dec. 4) was also a huge topic this week. For years Hov's made his Tidal streaming platform the only streaming platform that includes his entire collection of songs, so fans with Spotify are definitely more than a little happy.
In other news, another hip-hop veteran and Hov's fellow businessman Master P decided that he liked ramen noodles so much he needed to make his own.
"If you ain't eating Rap Noodles, then you shouldn't be eating noodles," P said in an Instagram video showing him chowing down on his Cream Chicken Gumbo-flavored noodles. "'Cause this is the best of the best noodles."
Listen to XXL's Hip-Hop Moments of Clarity podcast on iTunes, Spotify, and Stitcher. Check out the latest episode of the podcast on YouTube below.
See Every XXL Freshman Who's Been Nominated For a Grammy