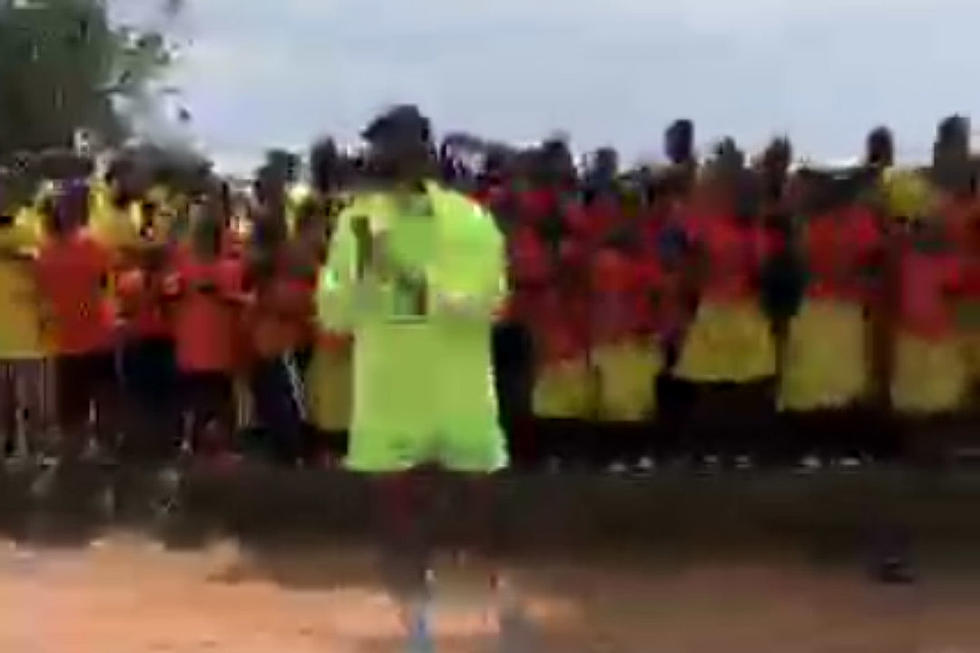 Kanye West Dances With Children in Uganda
@KanyeWest via Twitter
Kanye West recently traveled to Uganda to work on new music, but it looks like is also getting in touch with the people while in the Mother Land.
On Tuesday (Oct. 16), the rapper shared more videos from his excursion. In one clip, Kanye rides through the town up to a location where hundreds of people, most of whom are children, are awaiting his presence. 'Ye meets with some elders before he is treated to a song and dance by the large group of youths. The rapper and his team also give away a large amount of Yeezy shoes and are blessed with chants of "Kanye" by the crowd.
In follow-up videos, Kanye continues his travels through the town while documenting what he sees on his phone. At one point, he is swarmed by a flock of media. Later on, Yeezy dances with kids while his Teyana Taylor collab "We Got Love" plays.
President Museveni expressed thanks for the couple's presence on social media. "I welcome American entertainment stars Kanye West and @KimKardashian to Uganda," Museveni wrote on Twitter. "I held fruitful discussions with the duo on how to promote Uganda's tourism and the arts. I thank Kanye for the gift of white sneakers. Enjoy your time in Uganda. It is the true Pearl of Africa."
It is unclear how long West plans on visiting Africa. 'Ye traveled to the continent to finish putting together his Yandhi album, which is now slated to be released on Nov. 23.
Check out footage of Kanye interacting with locals below.
See Photos of Kanye West's Different Looks Over the Years