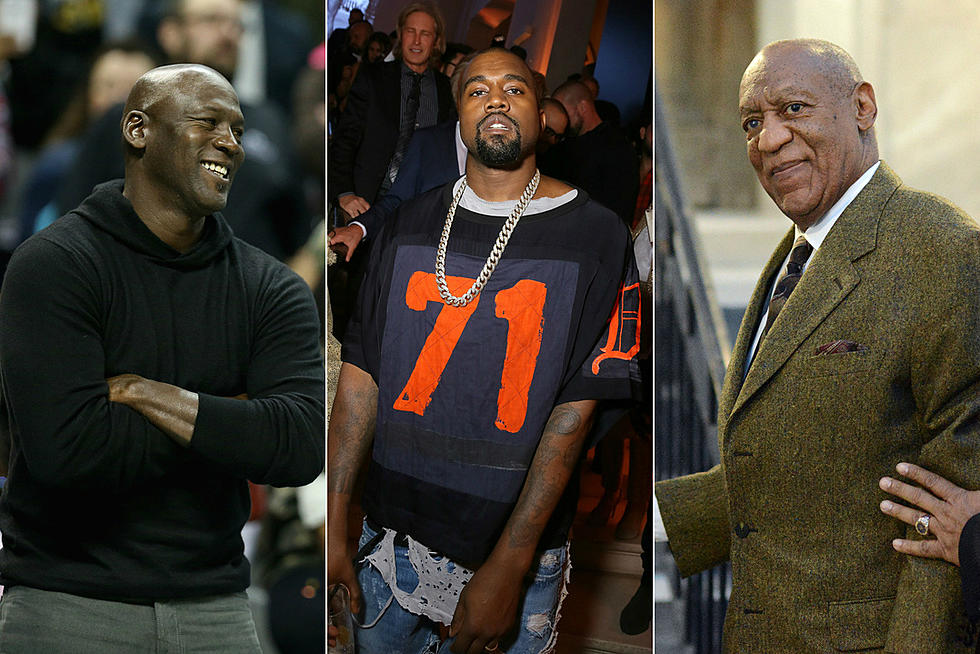 Kanye West Goes In on Twitter Again, Defends Bill Cosby and Apologizes to Michael Jordan
Streeter Lecka / Victor Boyko / William Thomas Cain, Getty Images
Kanye West took Twitter by storm today (Feb. 9) with a rant that was all over the place. The G.O.O.D. Music boss tweeted out an apology to Michael Jordan, dissed the Puma brand and even claimed that Bill Cosby is innocent of sexual assault charges.
The latest Twitter rant from Kanye West was capped off by his claim that Bill Cosby is innocent. Close to 60 women have accused Cosby of some type of sexual assault. The allegations date all the way back to 1965. This past December, Cosby was charged with three second degree felony counts of aggravated indecent assault from 2004 incident.
Before his declaration that Bill Cosby is innocent, Kanye West offered up an apology to Michael Jordan.
"I'm sorry Michael Jordan, I love and respect you," Kanye tweeted. "My beef was with [Nike CEO] Mark Parker. I respect you so much!"
This apology is likely in reference to a line from Kanye's song "Facts," which he dropped on New Year's Day (Jan. 1). "Yeezy, Yeezy, Yeezy just jumped over Jumpman," Kanye rapped on the track.
It wouldn't have been a vintage Kanye rant if he didn't do a little bragging and boasting though. One of the tweets Kanye sent out was a link to a USA Today piece discussing whether he is the greatest artist of the 21th century. "Now they know," Kanye tweeted with the link.
Kanye's entire rant was initially prompted by rumors that Puma was inking a deal with Kylie Jenner to became face of its brand. Kanye said that "1000% Kylie is on Yeezy team" and told Puma that Kylie would be giving them their money back.
It doesn't stop there, Kanye then shares his special invite list and that he's in the studio.
See 40 Hip-Hop Albums Turning 20 in 2016