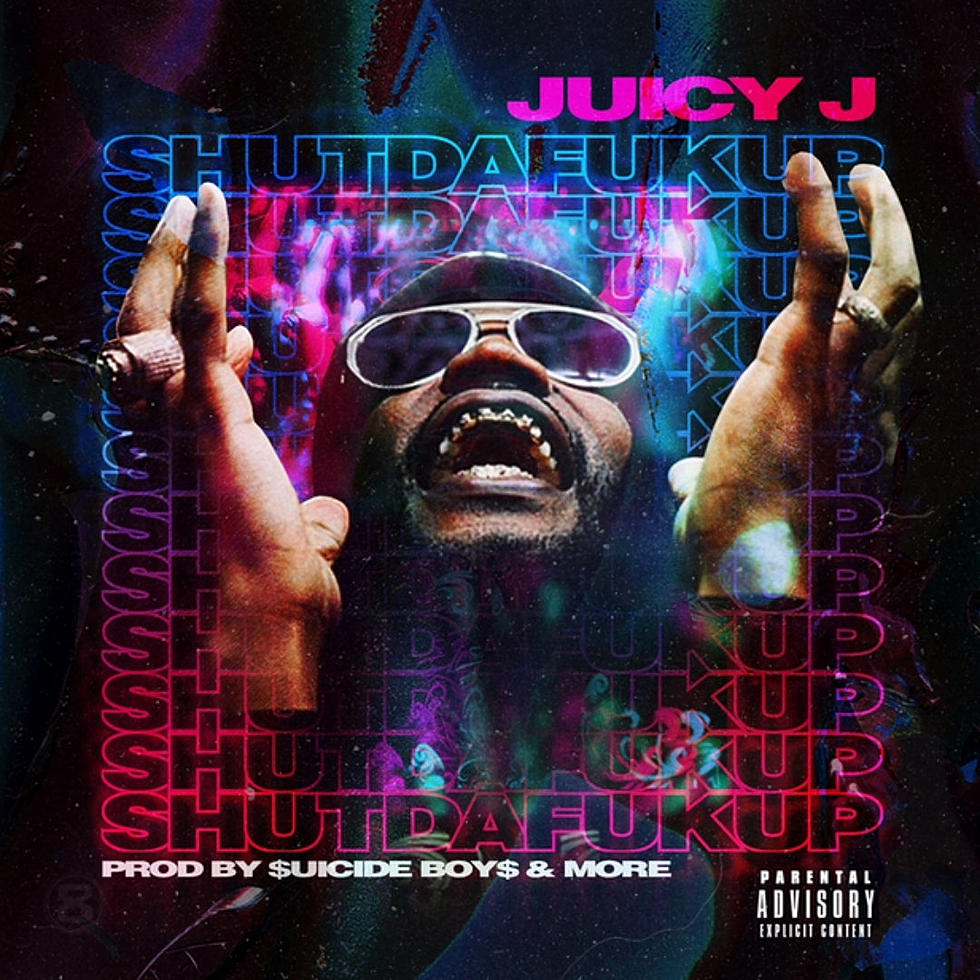 Juicy J Drops 'ShutDaF*kUp' Mixtape With Suicideboys and More
Kemosabe / Columbia / Taylor Gang
It's time to get trippy again. Today (Jan. 15), Juicy J drops his fourth project in the last year, releasing his $uicideboy$-assisted tape, SHUTDAFUKUP.
The mixtape comes in at 21 tracks. Wiz Khalifa, Lil Peep, Project Pat and more guest star on the offering. The New Orleans duo handled most of the beats on the tape, while getting a little help from Mike WiLL Made-It, Crazy Mike, Murda Beatz and more.
Juice and $uicideboy$ formed a lasting bond during the making of his Highly Intoxicated tape last year, which they produced numerous tracks on. "It just happened organically, man. And it was just amazing when I seen the response when I dropped the mixtape," the Tennessee rapper says of the friendship. "To me, they made that old Three 6 Mafia, they made it relevant as of today and by me jumping on those songs. I guess people, they wanted to hear some of that old school Juicy J back in the early 1990s and when I did that, it was just classic. That's one of my best mixtapes."
They ended up collabing on so many tracks STFU came into fruition. "They're just like me," the Taylor Gang rapper adds about the up-and-coming duo. "They'll go in the studio and their producer, man, he'll make like 200 beats a week. And these guys are super talented and if you ain't ever been to one of their shows, if you go to one of their shows, man, it's incredible. It's a whole new wave, I'm telling you. $uicideboy$ is like a whole new wave. Their sound has an old Three 6 Mafia feel and it's a whole new different style of music."
The Memphis MC recently boasted that the tape has a throwback feel. "I TOOK IT BACK 1995 STYLE," he recently captioned a photo of himself on Instagram.
Listen to the new Juicy J and $uicideboy$ mixtape below.
Juicy J's SHUTDAFUKUP Tracklist
1. "Hot Line" (prod. by $uicideboy$)
2. "Choke Hold" (prod. by $uicideboy$)
3. "You Know" (prod. by Slim Gucci & $uicideboy$)
4. "Funds Up" (prod. by $uicideboy$)
5. "We Cant Smoke No Mo" (prod. by Chase Davis)
6. "Working For It" (prod. by $uicideboy$)
7. "Broke Niggaz" Feat. Y.K.O.M. (prod. by Tay Keith)
8. "Kick Back" (prod. by $uicideboy$)
9. "Fanny Pack" (prod. by $uicideboy$)
10. "Advance" (prod. by $uicideboy$)
11. "Sauce Pic" (prod. by Murda Beatz)
12. "Got Em Like" Feat. Wiz Khalifa & Lil Peep (prod. by Ben Billions)
13. "Kamasutra" Feat. Cardi B (prod. by Resource x Mike Will Made It)
14. "Them Drugs" (prod. by $uicideboy$)
15. "Cut Em Off" (prod. by $uicideboy$)
16. "Only For You" (prod. by $uicideboy$)
17. "Play Wit My Gun" Feat. Project Pat (prod. by $uicideboy$)
18. "Don't Lie" (prod. by $uicideboy$)
19. "Dangerous" (prod. by $uicideboy$)
20. "Malia OG" (prod. by Juicy J x Crazy Mike)
21. "Trap Jumpin" Feat. Lil Pump (prod. by Danny Wolf)
See New Music Releases for January 2018