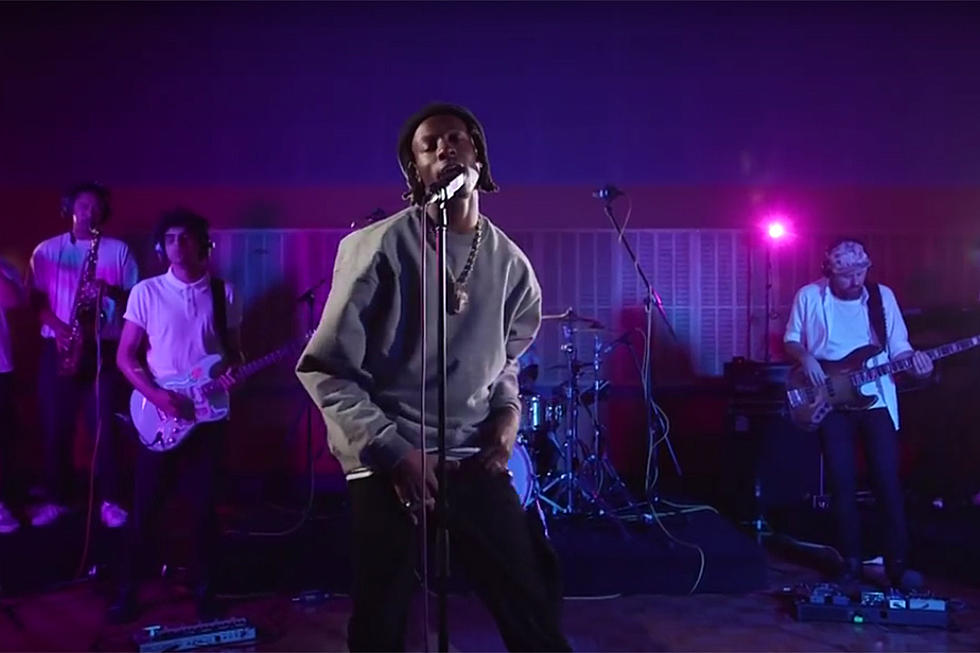 Joey Badass Flips a Prince Classic With "When Thugs Cry"
triple j via YouTube
Rappers don't often cover other artists' songs, so when Joey Bada$$ stopped by Australian radio station Triple J to try his hand at their Like a Version series, no one knew what to expect.
Opting for a classic, Joey took on Prince's "When Doves Cry," but put his own spin on the song, changing it to "When Thugs Cry." Backed by a full band with background singers and a horn section, Joey croons, "I just wanna be free."
The Brooklyn rapper then flips the song's lyrics to, "Maybe I'm just like my brother/He's never satisfied/Why do we shoot at each other/This is what it sounds like when thugs cry."
After showcasing his vocals for the hook, Joey does what he does best and spits two verses. "Can't explain the pain/All I know is chains/All I know is whips/And all I know is gang, gang, gang, gang/Don't even know my name, and the place from which I came/Niggas love to talk but niggas never change," he raps.
In related Joey Bada$$ news, when the rapper isn't covering Prince songs, he's inspiring Kanye West to create new music. Earlier this month, Joey revealed he was the inspiration behind Yeezy's "Real Friends" track from The Life of Pablo.
"I'm looking at this nigga like, 'Yeah, I heard 'Real Friends.' Who the fuck ain't heard 'Real Friends?' He was like, 'You inspired me to make that song, B.' I honestly couldn't even believe he was saying that shit," Joey said during an Instagram Live session. "The only thing I was thinking in my head was, 'Nigga, why the fuck you ain't put me on that shit? I could use the clout.'"
Check out Joey Bada$$' "When Thugs Cry" below.
See 50 of the Best Hip-Hop Projects of 2017