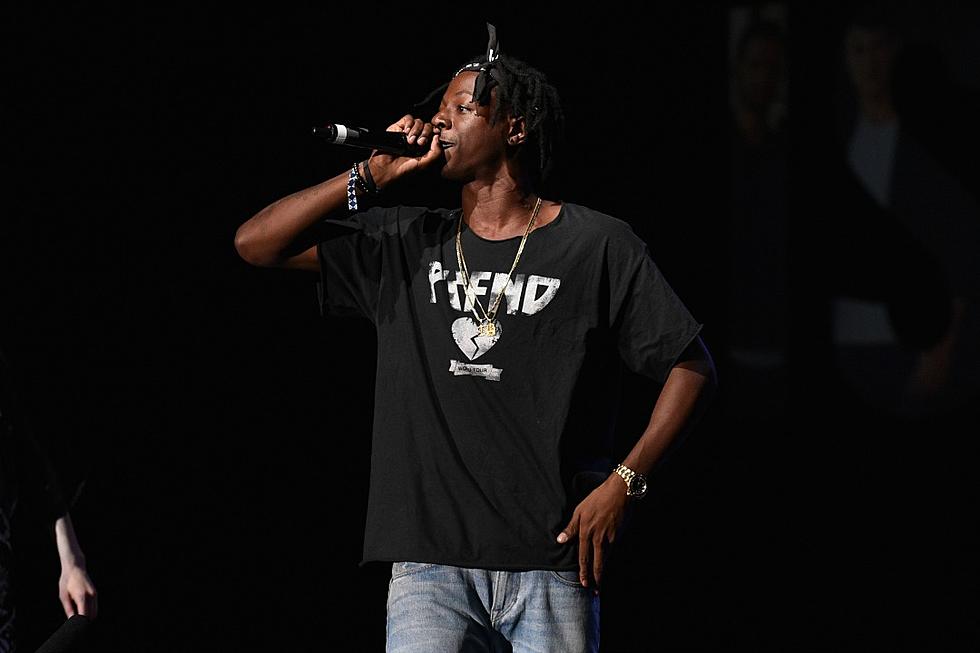 Joey Badass' 'A.A.B.A.' Album Is 90 Percent Done
Bryan Bedder, Getty Images
Joey Bada$$ is preparing to release his new album A.A.B.A. The 21-year-old artist took to Instagram Tuesday night (Oct. 25) and announced the project is 90 percent complete. You can view the Instagram photo above.
In case you missed it, Joey just dropped his newest single sampling the theme song from Narcos. "Front and Center" continues Bada$$' departure from his signature boom-bap sound. He spits, "I need all my bad mamis, front and center/It's a movie scene when I enter/Better get your man if he sentimental/If I don't get the memo, I'm sending metal/Cause we ain't just letting off the instrumentals no more."
In late September, Bada$$ spoke with Wild 94.1 and compared A.B.B.A. to vegetables. The Brooklyn rapper said, "This new project is very powerful. That's the best thing I can say about it: it's very strong music. It's like hella vegetables. It's hella good for you, and it's almost my hesitance with it: the fact that it's so good for you, because these kids these days want candy. 'Devastated' is almost like the organic candy because the message is still good for you."
He also addressed his fans' confusion about the new direction in his music. "You could have every song in [an artist's] catalogue. There [would still be] about 50 songs you've never heard from that man … It's just what I've exposed the world to is a certain type of sound, or direction of music. That's why when I do things that's not there, people are confused. They're like 'What's goin' on? That's not Joey. This is not the Joey that I know.'" Joey has one more stop in the Blank Face Tour alongside ScHoolboy Q. There is no release date for the album yet, but perhaps Joey is waiting until the tour is over to drop the project.
Here Are the Most Anticipated Hip-Hop Projects for the Rest of 2016