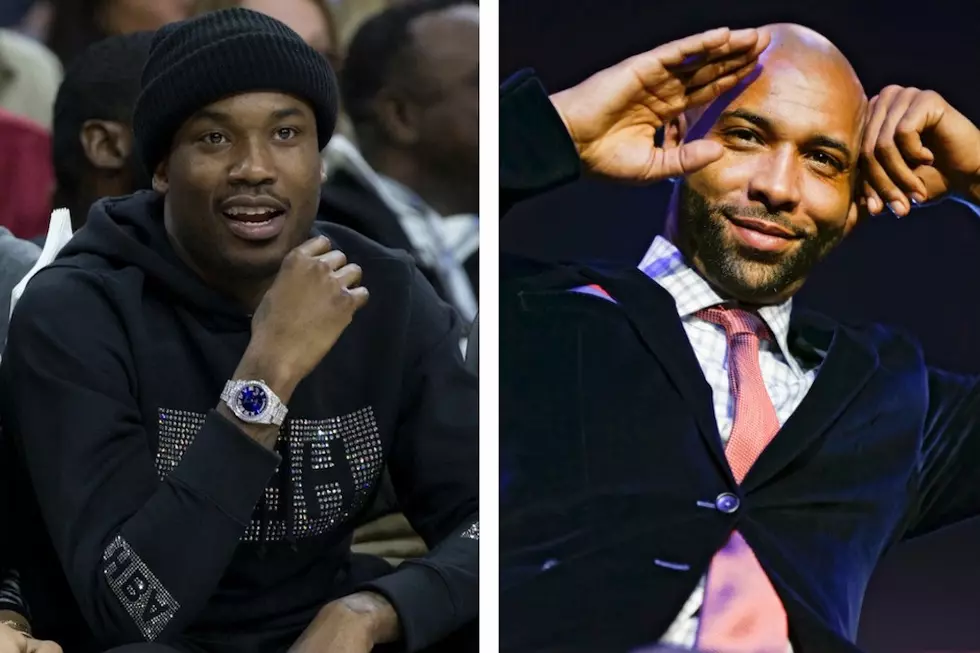 Joe Budden and Meek Mill Trade Jabs on Social Media
Brian Ach / Mitchell Leff, Getty Images
The same day that he stirred the rap beef pot, dissing Drake on "Making a Murder Part 1" in an effort to lyrically inspire the chart-topping rapper, Joe Budden set his sights on Meek Mill or rather, the two exchanged social media posts in reference to whether or not they will engage in a back-and-forth themselves. Budden has had words for Meek in the past, calling Nicki Minaj stupid for continuing to date the Philly rapper and curses him out on the intro of "Making a Murder Part 1," saying that his attacks toward Drake in no way signal an alliance with Meek.
For Meek's sake, he had said as recently as yesterday (June 30) that he had no intention of going at "that Shermhead/crackhead Joebuddens," but then the above Instagram post sprung up, reading, "He's been dead since 2003 it's evident .... We don't talk to dead people unless they presidents." While not a diss record, it's certainly an insult and Budden wassted no time chirping back. "Meek bout to die twice lol" he wrote on Twitter. "Just yesterday he wan't dissing a Crackhead.... Maybe his mood changed. Shrugs lol... He getting a good 4 bars from me if that...Meek bout to end me with all Watch brands lmao."
What's clear from the exchange is that Budden is ready to go to war, having said repeatedly that he digs Drake's music but has less love toward Meek. He's even showing his hand a bit with that last tweet, referencing Meek's constant references to watches in his raps. Whether the name calling here precede's actual records, only time will tell, but like two boxers jawing at a weight in, these two seem eager to scrap.
50 Great Albums From Rappers With Poetic Flows