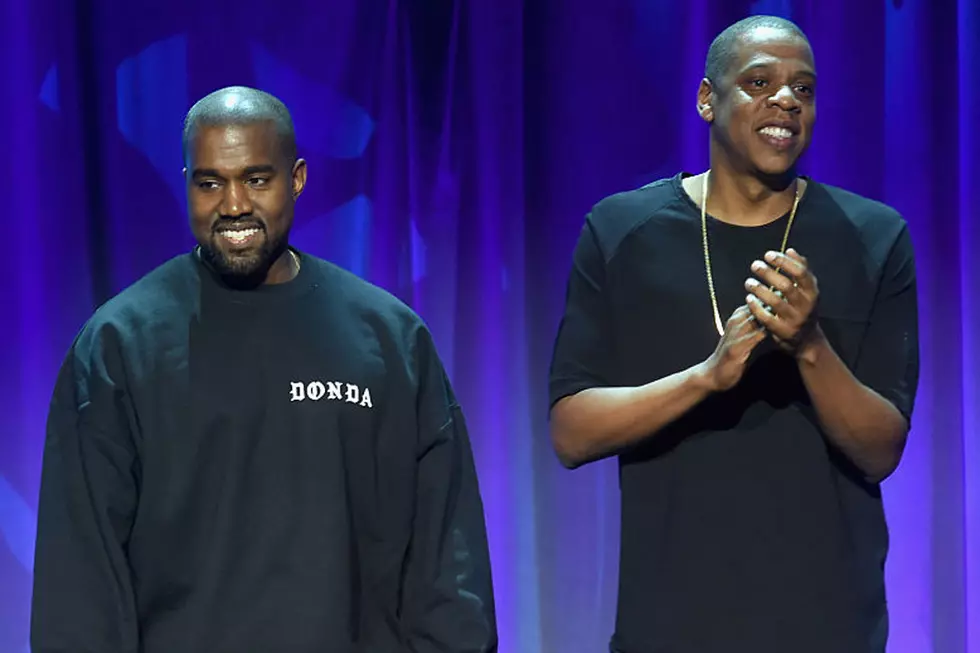 Jay-Z Admits He Has Genuine Love for Kanye West Despite Their Complicated Relationship
Jamie McCarthy, Getty Images
Although JAY-Z's had a two decades-long career full of piercing lyrical introspection, he took his bare honesty to unseen heights with 4:44, an album that finds the rapper discussing his flawed marriage with Beyoncé and his falling out with longtime friend and comrade Kanye West. Hov and Bey have welcomed twins since the release of her similarly revealing Lemonade album and his 4:44, so it feels safe to say they're all good. Now, we know it might be getting to that point with Yeezy and Hov, too.
In a recent sit-down with The New York Times, Hova touches on the dimensions of his strained relationship with Roc-A-Fella Records' biggest success story. At the time of the interview, which took place in September, Jay professed his love for Yeezy while revealing that he'd spoken to 'Ye a short time beforehand and "there's genuine love there."
"I [talked to] Kanye the other day, just to tell him, like, he's my brother," revealed Jay. "I love Kanye. I do. It's a complicated relationship with us." Hov says their business relationship added extra layers to their friendship.
"'Cause, you know—Kanye came into this business on my label. So I've always been like his big brother," says Hov, who gave Kanye a Roc-A-Fella chain mid-concert over 15 years ago. "And we're both entertainers. It's always been like a little underlying competition with your big brother. And we both love and respect each other's art, too. So it's like, we both—everyone wants to be the greatest in the world. You know what I'm saying? And then there's like a lot of other factors that play in it. But it's gonna, we gonna always be good."
Jay goes on to say that even though there's tension in their relationship now, he hopes he and Yeezy can look back at this period, the public part of which began with Kanye calling Hova out during a mid-concert rant a year ago and culminated with Hov's 'Ye name-drop on "Kill JAY-Z," and laugh. He also says he and Yeezy need to have a dialogue and make known their grievances with one another.
Elsewhere, Hov explains 'Ye came into the music industry as a more compassionate person than he was, and that Yeezy's willingness to help others has put him in precarious positions in the past.
In an equally interesting note, Hov reveals that he and his wife had been working on music for Lemonade and 4:44 at the same time. It was apparently supposed to be a joint album. He also hints that they still have some unreleased collabs from this time period.
"It happened—we were using our art almost like a therapy session," JAY-Z says of recording sessions for 4:44 and Lemonade. "And we started making music together. And then the music she was making at that time was further along. So her album came out as opposed to the joint album that we were working on. Um, we still have a lot of that music. And this is what it became. There was never a point where it was like, 'I'm making this album.' I was right there the entire time."
See Photos of JAY-Z's Different Looks Over the Years