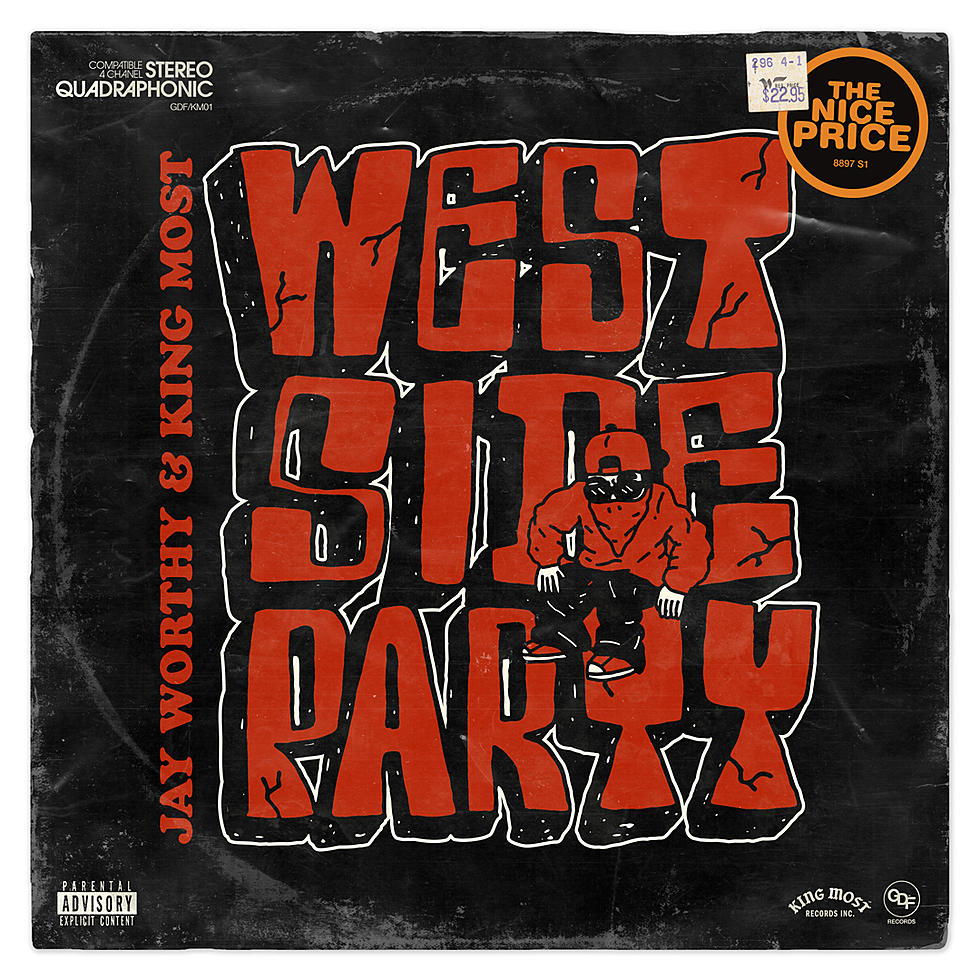 Stream Jay Worthy and King Most's 'Westside Party' EP
GDF Records
Jay Worthy is back in full effect. Today (March 16), the Canada-bred, Compton, Calif. native pulls up with Westside Party, a four-track King Most-produced EP premiering exclusively on XXL.
Featuring a litany of vintage R&B samples delivered by the Bay Area's King Most and Worthy's signature combination of grit and finesse, the new project is exactly the sort of nostalgic West Coast vibes fans have come to expect from the MC. That's pretty much what Worthy was going for.
"The inspiration for this EP for me was King Most's production," Worthy tells XXL. "It brought out another side of me had me on some storytelling shit. The beats had a nostalgic feeling [that] made me think of my childhood growing up listening to Hieroglyphics and early Ice Cube."
Those vibes ring through loud and clear on the EP's titular track, "Westside Party," and its accompanying video. The song sets the scene for a relaxing spring day in Southern California while the visual serves as the scene itself.
In the clip, which is directed by Worthy himself and shot by Will Azcona, we see the rapper posted up with some friends as they sip 40s and soak up the Cali sun, which shines down on some picturesque palm trees.
On the track itself, Worthy paints an image of life in Compton, where death is always around the corner, but so are the good times.
"But this the life of the Worthy, know my Sprite still dirty, thinking back when I almost got shot/It was me and lil Noah, heard 'em dump, I hit the floor, car full of bullet holes, but you know how it goes/In the streets...nigga anything can happen, a few hours later we was bool just laughing," he spits.
Westside Party is slim in the guest verse department. "The only feature I got is my day one homie Ski Mask Rambo," reveals Worthy, who dropped his Fantasy Island EP with Alchemist last summer.
"[Ski Mask Rambo] the reason I still rap," Worthy continues. "He never let me stop always gave me the courage, told me I was hard, believed in me when nobody did. Real family. That's my brother blood couldn't make us any closer. I got him on here because nobody like me and bro got that chemistry when it come to rapping over these oldies like this."
Jay Worthy's off to a good start to in the new year, but make no mistake, he's got much more in store. "2018 for me is looking crazy," Worthy offers. "EP's with Curren$y, Freddie Gibbs, Left Brain, Dam-Funk, Jake One, Cardo, Sledgren, Larry June, DJ Fresh. The list goes on, and they all done. I'm 'bout to start rolling a project out every month for the rest of the year."
Check out Jay Worthy's King Most-produced EP for yourself below. Watch his video for the project's titular track when you're done with that.
Jay Worthy's Westside Party EP Tracklist
1. "Westside Party"
2. "Summertime"
3.  "Prettybird" featuring Skimask Rambo
4. "Nose Dive"
See New Music Releases for March 2018