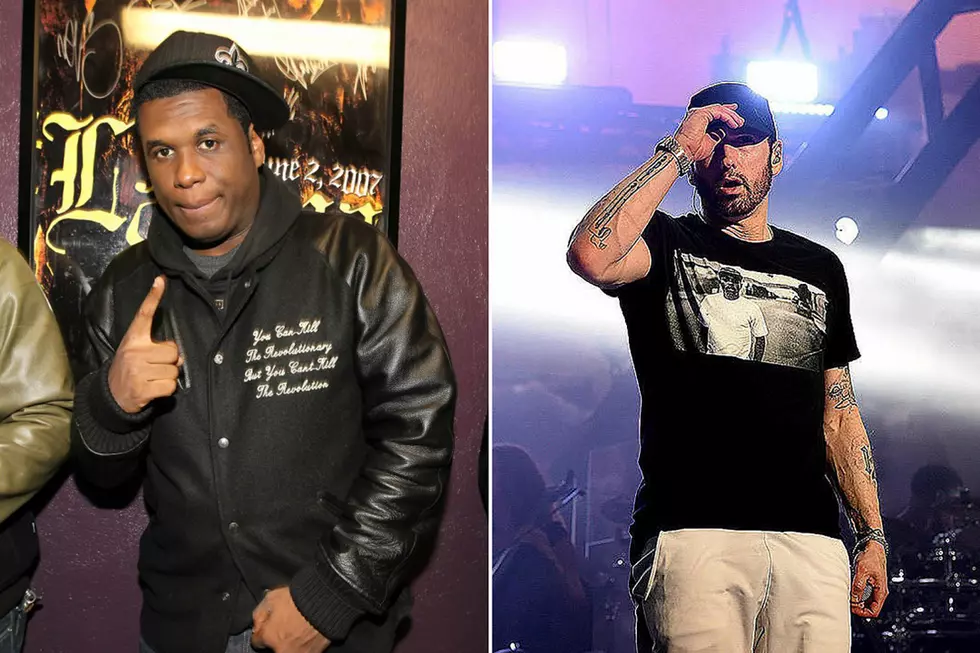 Jay Electronica Warns Eminem to Tread Carefully After Accusing Diddy of Having Tupac Shakur Killed
Christopher Polk / Kevin Winter, Getty Images (2)
Eminem has finally dropped his highly-anticipated response to Machine Gun Kelly's "Rap Devil," and the song is getting mixed responses online, including from Em's own peers. After Shady dropped "Killshot" on Friday (Sept. 14), Jay Electronica hopped on Twitter to warn the Detroit spitter after he accused Diddy of having Tupac Shakur killed.
"@eminem, how dare you accuse diddy of killing tupac while you completely look pass jimmy iovine and those who profited from his death the MOST," Jay Elec tweeted. "You best tread carefully Son, before i come tear your ivory tower down like Sulaiman done the Templar Knights. #ripProof."
On "Killshot," Em alleges that Diddy was responsible for getting Pac killed, rapping, "Killshot, I will not fail, I'm with the Doc still/But this idiot's boss pops pills and tells him he's got skills/But Kells, the day you put out a hit's the day Diddy admits/That he put the hit out that got Pac killed, ah."
In a separate tweet, Electronica shared a video of Minister Louis Farrahkhan and claims he had to check Eminem in the past when the minister tried to settle the beef between Ja Rule and 50 Cent.
"Remember this was the very video i had to check you on before for blaspheming the Minister in the midst of him trying to bring Jarule and 50 to peace. Tread carefully @eminem," the New Orleans rapper tweeted.
The tweet is a reference to Minister Farrahkahn's sit-down with Ja Rule in 2003 that aired on MTV and BET. While 50 was invited to the event, he decided not to go. Since then, Eminem has actually met with the minister in the past, sitting down for a dinner with him in Detroit in 2015.
Check out Jay Electronica's tweets below.
See Photos of Eminem's Different Looks Over the Years