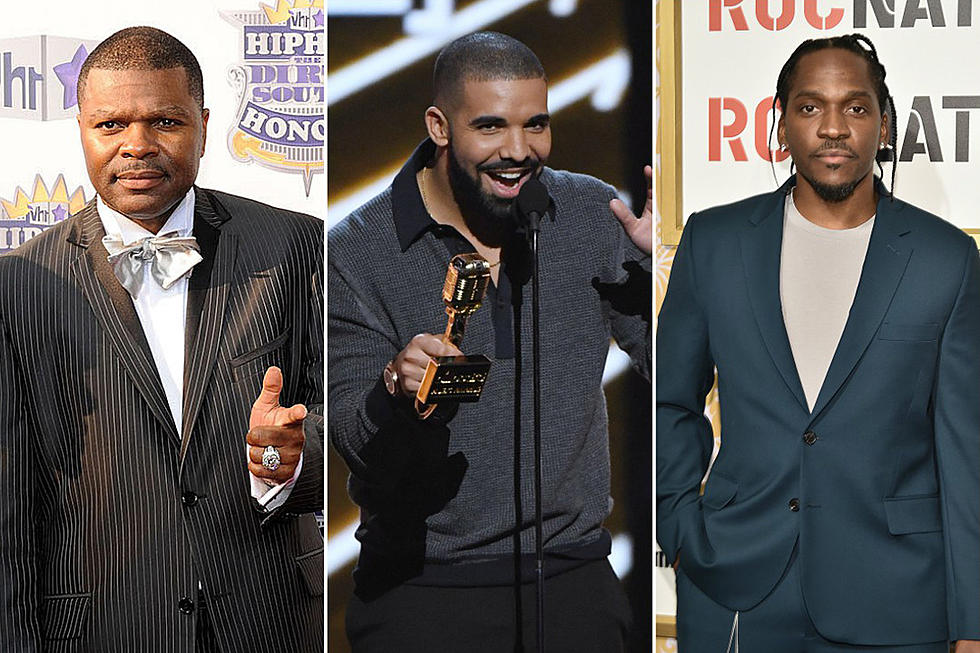 J Prince Insists He Called Drake and Told Him Not to Respond to Pusha-T
Jemal Countess / Ethan Miller / Steven Ferdman, Getty Images (3)
"I spoke with Drake," J Prince said. "I made an OG call to Drake this morning, telling him, 'I don't want you to respond to this...' We gon' put this to bed because we can't get in the pig pen with pigs because pigs turn into hogs and then hogs get slaughtered."
J Prince went on to say that responding to the scathing diss is out of character for Drake, adding, "We ain't work this hard to cheat ourselves over nothing. You know what I mean? So, that's the way that is."
Earlier in the interview, J Prince had some harsh words for Pusha-T, calling the rapper's diss track disrespectful and said the Daytona artist has a "pig pen mentality" for dissing those close to Drake.
While Push did namedrop a few people in his track who aren't involved in the feud, it was actually Drake who first brought up an outside party in his "Duppy Freestyle." In the track, Drizzy mentions Pusha' fiancée, Virginia Williams, rapping, "I told you keep playin' with my name/And I'ma let it ring on you like Virginia Williams."
The G.O.O.D. Music president later defend his bars on "The Story of Adidon," telling The Breakfast Club that all bets were off once Drake mentioned his fiancée. "All bets are off because of that," he said. "That alone causes all bets to be off. Everything else is fair game."
Although it now seems like we won't be getting a response from Drake, TMZ reports the rapper did have another diss track already recorded before J Prince made the phone call on Saturday.
Check out J Prince's interview below.
See New Music Releases for June 2018