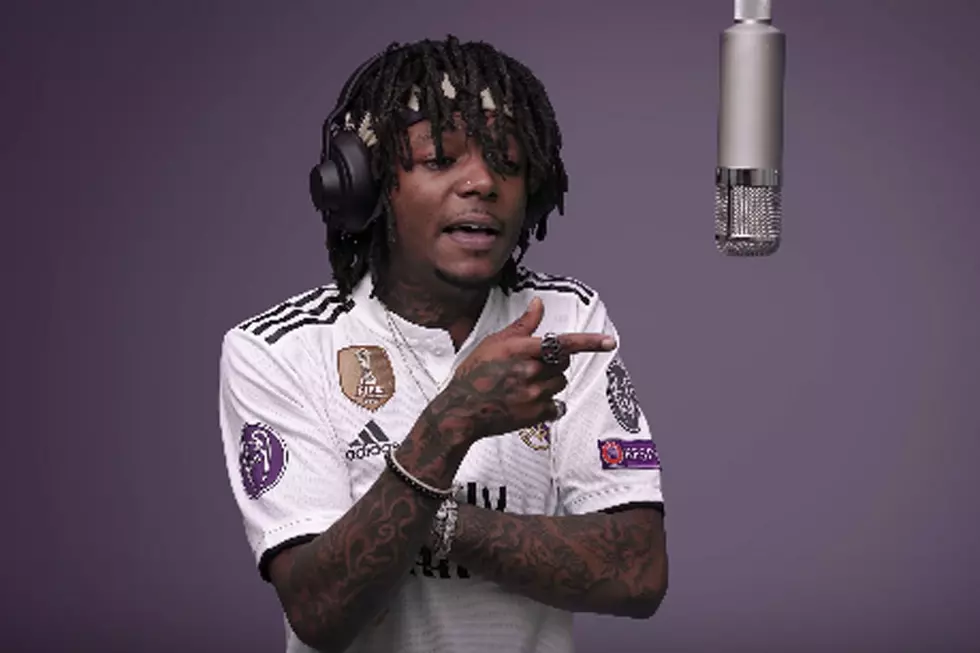 J.I.D "Working Out": Listen to His New Song
COLORS via YouTube
2018 XXL Freshman J.I.D continues making a name for himself as an artist to watch this year. Today (Oct. 3), the Atlanta native shares his latest song, "Working Out."
J.I.D debuted the song in a video on the Colors' YouTube channel, where he's seen wearing a Real Madrid jersey while rapping his lyrics in a purple-colored setting. He raps into the mic and gets into the flow of the song as his body moves accordingly. 
"On everything, I gave everything and got nothing back," he raps over a knocking, piano-driven beat. "Ain't looking for no pat on backs/Study how we got where the fuck we at/Mama call, 'Where the fuck you at?'/On the road and ain't coming back."
In other J.I.D-related news, he recently released the leading single off his upcoming mixtape DiCaprio 2, "151 Rum." The project, which has production by the late Mac Miller, is releasing in the coming months. After Mac's death, J.I.D revealed that the Swimming creator helped post-produce on DiCaprio 2. "Mac came thru and helped post produce and organize on almost every song on here," he said on his Instagram post.  "I worked on being a better writer, even outside of punchlines and shit."
In addition to his friendship with Mac, he cited being extremely grateful for the bond he's created with his fans. "...Plus me and you guys(us) have formed a special bond and that can't be taken lightly," he continued in the same Instagram post. "I appreciate every like, follow, message anyone that has ever sent, told someone about my music, trolled me, anything, thank u, hope you guys enjoy this trip we about to take."
Check out J.I.D rapping his latest song "Working Out" below.
See Photos of J.I.D Behind the Scenes at the 2018 XXL Freshman Class Cover Shoot