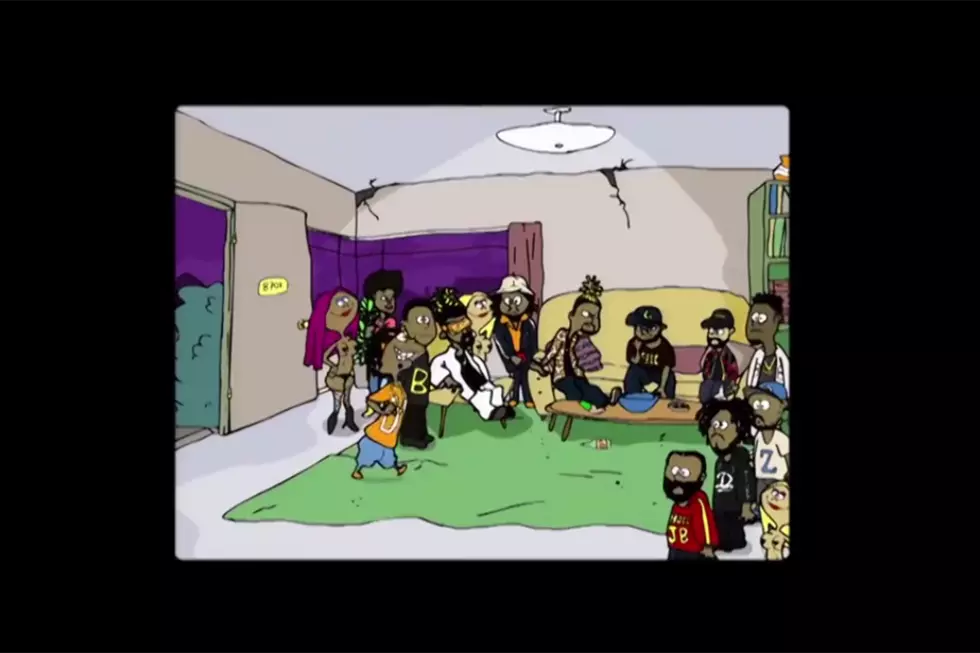 J.I.D Gets Animated With J. Cole, Earthgang and More in "EdEddnEddy" Video
JIDVEVO via YouTube
J.I.D is clearly a 1990's kid at heart and this can be seen in his latest animated video for the song "EdEddnEddy."
Inspired by the 1990s Cartoon Network series of the same name, the animated video finds the Atlanta rapper transported into the world of the cartoon. While the Fred Lozano-directed visuals may just seem like a tribute to the cartoon show, the "EdEddnEddy" video actually portray's J.I.D's satirical comment of the U.S.' current political climate, as the rapper has a run-in with police.
"This is more than a video, @FredLozano has created a world, and this video has so many subliminal factors, so I challenge you guys," J.I.D tweeted in January. "The #EdeddandEddy scavenger hunt, screenshot the subliminals through out the video, this should really go viral🕊it's so 🔥🔥."
Keen eyes will also notice animated versions of J. Cole, 6lack, EarthGang, Childish Major and more in the video, something J.I.D himself confirmed on Twitter.
"EdEddnEddy" appears on J.I.D's debut album, The Never Story. Released in March, the 12-track project features guest appearances from EarthGang, Mereba and 6lack and includes production from J. Cole, Hollywood JB, Childish Major and more.
XXL also caught up with the rapper in early 2017, where he told his plan to change the perception of Atlanta's sound. "People try to discredit our city," he said. "Our city has a lot of flavors and it's not all one type. It's a different scene, it's a different vibe and it's Black people everywhere. Black people are creative as fuck; we are a different type of people. So Atlanta having all these qualities, they emphasize one side of it, the trap, and the flashiness. It has been and it's people there who can do it and I just want to be on the forefront of that and this is what I came here to do."
Check out the "EdEddnEddy" video below.
Check Out the 2018 Hip-Hop Music Festivals You Need to See