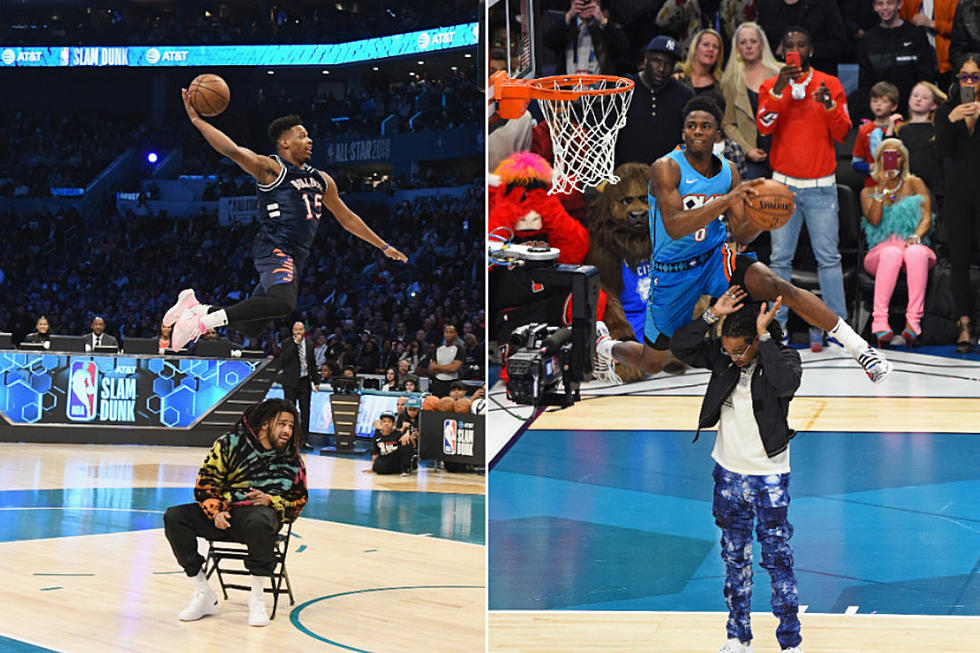 J. Cole and Quavo Assist With High-Flying Slams at 2019 NBA Dunk Contest
Kevin Mazur / Juan Ocampo, Getty Images (2)
Charlotte, N.C. has been the place to be this weekend as NBA All-Star Weekend has descended upon the Queen City. As usual, a number of rappers have been front and center for the events and festivities with some even participating. On Saturday night (Feb. 16), J. Cole and Quavo both had a hand in the 2019 NBA Slam Dunk Contest.
Several rappers were spotted at the event including Cole, Qua, Gucci Mane, 2 Chainz, Omen, Ludacris, and others, but the Dreamville head honcho and Huncho actually took part in the showcase by providing assists for dunks.
New York Knicks guard Dennis Smith, Jr. had a special homage to Cole for one of his dunks. He wore J. Cole's high school basketball jersey and jumped over the "KOD" rapper who gave the alley-oop while seated in a chair near the basket. Afterward, Cole tried to dunk himself but was unsuccessful. The crowd nearly lost its mind off Cole's attempt with commentator Chris Webber noting, "That might have brought the house down."
The ultimate winner of the contest was Oklahoma City Thunder guard Hamidou Diallo. For his contest-winning dunk, he called out Quavo from the crowd. Instead of throwing an oop, Quavo simply held the ball above his head. Diallo jumped over the Migos rapper and delivered a huge slam to secure the win.
See J. Cole and Quavo assist with dunks at the 2019 NBA Slam Dunk Contest below.
See Photos of J. Cole's Different Looks Over the Years