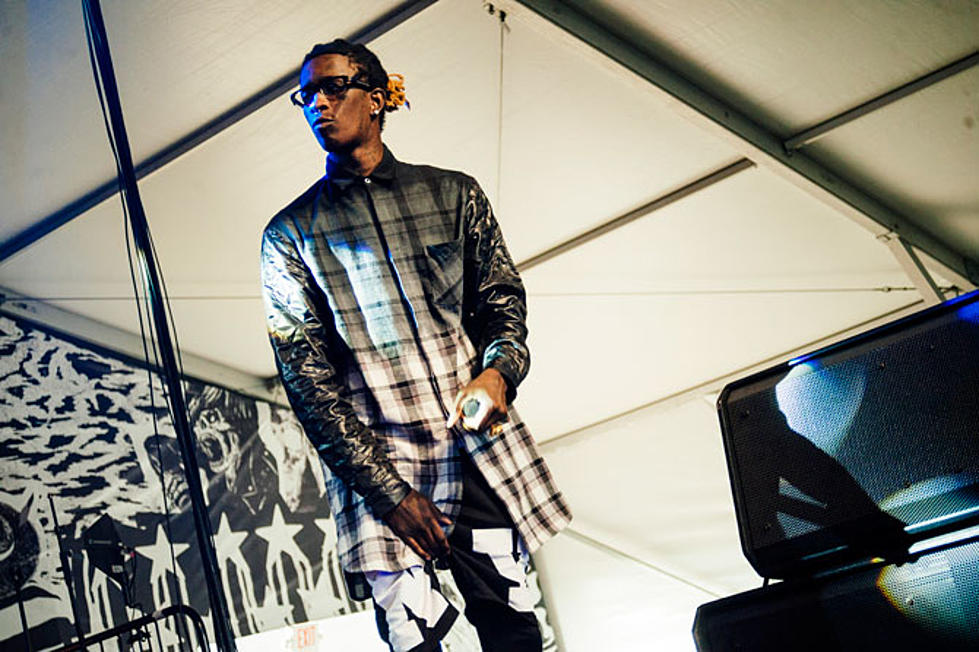 A Breakdown of the Indictment Involving Young Thug, Birdman And the Plot to Kill Lil Wayne
Photo Credit: Ryan Muir
After the arrest of Young Thug and raid of his home yesterday (July 15), reporter Mike Petchenik of WBS-TV uncovered a separate indictment against Thugger's road manager, Jimmy Winfrey, charging him with terroristic threats, violating the federal RICO Act, aggravated assault and more in connection to the shooting of Lil Wayne's tour bus on April 26. And while neither Young Thug nor Birdman are directly charged in this indictment, their involvement is very clearly detailed by police, who outlined the background surrounding Lil Wayne's issues with Birdman and Cash Money that boiled over into a beef with Young Thug. Let's just say the findings were very alarming.
The indictment points out that the night Lil Wayne's two tour buses were shot at on a Georgia Interstate (April 26), Young Thug and Lil Wayne were in each other's hometowns for performances (Thug in New Orleans, Wayne in Atlanta). After Thug was booed off stage by hecklers chanting Wayne's name in Louisiana, Winfrey, aka Pee Wee or Roscoe, and members of the Bloods gang associated with Thug jumped in cars, with Winfrey driving alone in a white 2015 Chevrolet Camaro, inside of which Atlanta police saw an assault rifle. Fearing gang violence, police escorted Wayne's tour buses out of Fulton County; after the escort left at the county line with Cobb County, the white Camaro pulled up alongside the two tour buses on Interstate 285 and fired shots from two handguns at the buses (In addition to the assault rifle, police found a 9mm handgun and a .40 caliber handgun in the Camaro). Cell phone records show that Winfrey "was in contact by cell phone with cell phones connected to" Young Thug, stopped using his phone until after the shooting, then after driving away began using his phone again to call a cell phone owned by Bryan Williams, aka Birdman. Read the excerpts below.
Winfrey is charged with 30 criminal counts in relation to the shooting of Lil Wayne's tour buses. The charges, brought by the State of Georgia and District Attorney D. Victor Reynolds, include three counts of Violation of the Racketeer Influenced and Corrupt Organizations Act (RICO), eight counts of Violation of the Street Gang Terrorism and Prevention Act, 12 counts of Aggravated Assault (one for each of the 12 occupants of the buses, which included Lil Wayne, Lil Twist and Wayne's alleged baby's mother Sarah Ballew), two counts of Criminal Damage to Property in the First Degree, one count of Possession of a Firearm during the Commission of a Felony and three counts of Possession of a Firearm by a Convicted Felon.
Read the full indictment here. —Emmanuel C.M. and Dan Rys