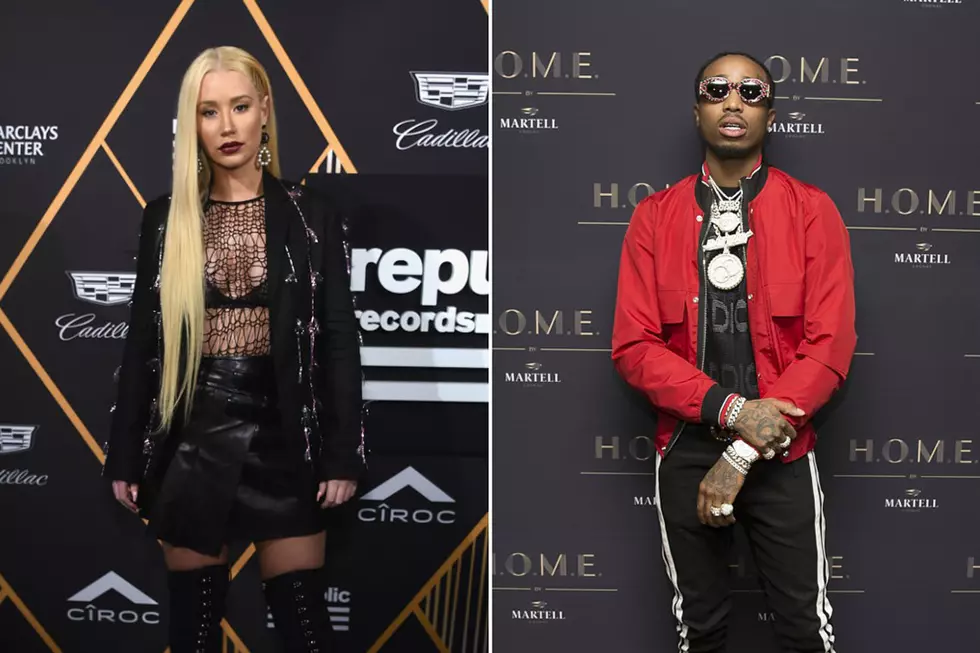 Iggy Azalea Shares Preview of New Song "Savior" Featuring Quavo
Jamie McCarthy / Bob Levey, Getty Images (2)
Rapping over an island-themed beat, the Australian rapper spits, "Wonder if you even notice/Lately I been feelin' hopeless/Easy to lose focus/But I'll wait for ya, wait for ya." An auto-tuned Quavo quickly follows Iggy, crooning, "I've been looking for a savior/I've been looking for a savior."
While it's uncertain if "Savior" will appear on Iggy's upcoming album, the rapper did reveal her project would be going by a new name. When asked in November if the album was still called Digital Distortion, Iggy said "nope" and added, "It's surviving the summer."
In related Iggy Azalea news, the "Fancy" rapper recently called out Recording Academy President Neil Portnow after he said women in the music industry need to "step up" if they want to be involved in the Grammy Awards. "Neil Portnow really has me heated with his 'women need to step up' Grammy-Boys Club bullshit statement," she tweeted.
"Or instead of being gracious and wearing white flowers on the carpet (bringing in the viewers for his telecast in designer gowns) women should consider if we NEED to take firmer action and stay at home in PJs next year... see how that works out for Neil," the rapper continued.
According to the teaser video, "Savior" is set to drop on Feb. 2. Check out the preview below.
See New Music Releases for January 2018