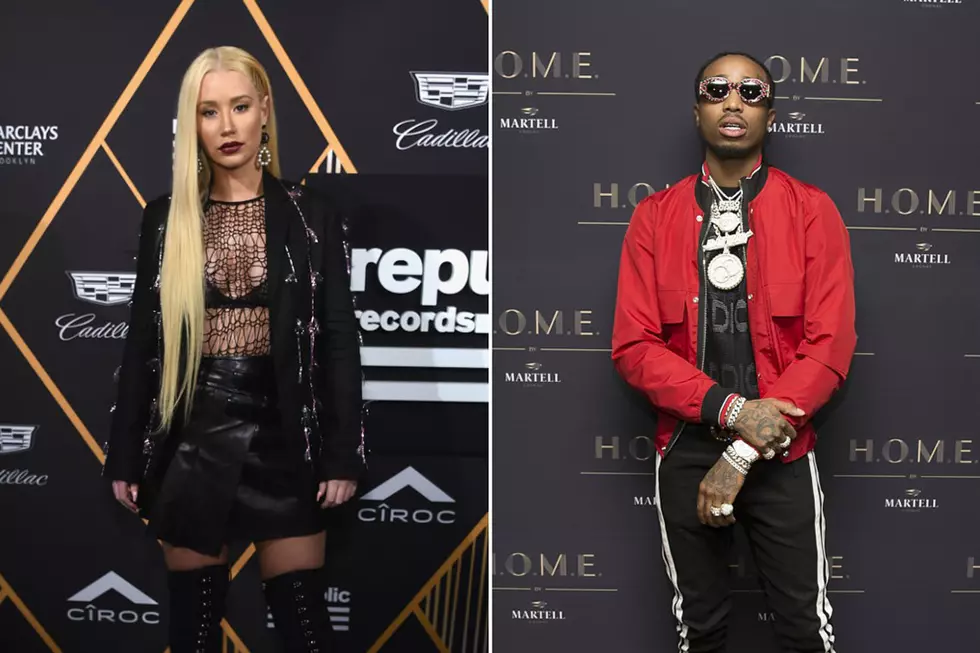 Iggy Azalea Shares That Quavo Has Supported Her When Others Don't
Jamie McCarthy / Bob Levey, Getty Images (2)
After finding major success initially, Iggy Azalea's career has hit some major speed bumps, as she went from one of the hottest artists in the game to an afterthought and the constant subject of ridicule. The Aussie MC now has a new lease on her career with a new label situation, and she remembers those who kept it real during the rough patches, namely Quavo.
The Migos member is featured on Iggy's latest single "Savior," which has served as a boost for her career. During a sit-down with Billboard on Friday (March 30), the "Fancy" rhymer talked about how G Huncho kept it with her.
"[Quavo] gains nothing for being on ['Savior']," she said. "Everybody's probably just like, 'Oh, but she sucks,' or 'Oh, he just did it for money.' No, he hit me up and we sent music back and forth, and he wanted to do that song."
Iggy continued on to say the "Walk It Talk It" rapper is one of the few people that have stayed 100. "If I'm being honest, the only people who have been there for me are Quavo, Kesha and Demi [Lovato]," she added. "And everyone else has pretty much acted like I don't exist."
Iggy's relationship with Charli XCX apparently isn't exactly what it used to be either. "People like Charli, I'll see them in passing and say hi, there's no bad blood about that," she revealed. "But there definitely have been some people that I feel like, 'Okay, wow, you're really gonna completely disassociate because of other people's perceptions?' Which is kind of wack as fuck, but I try not to dwell too much on those things, because I understand — you guys have your own brands, and you're just trying to protect yourself. I try not to take that personally."
Iggy is currently working on her sophomore album, Surviving the Summer, which is slated to drop this year.
Check Out the 2018 Hip-Hop Music Festivals You Need to See