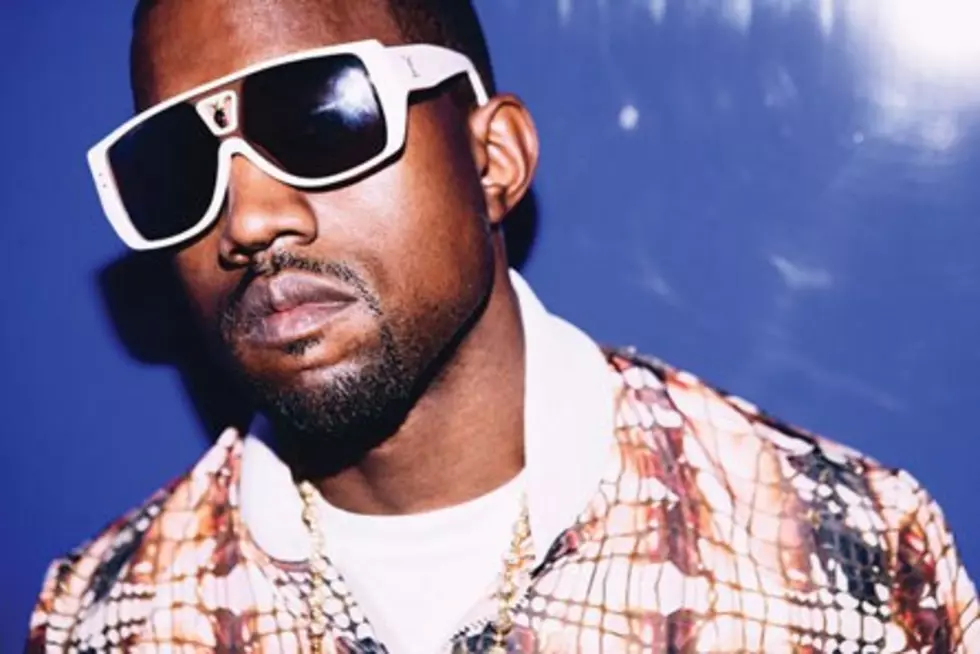 How Good Is Kanye West's G.O.O.D. Friday Series? [AIM & Fire]
Thank God it's Friday. Not only does that signal the end of the school and work week, but, of course, it means another addition to Kanye West's weekly G.O.O.D. Friday Music series. For the past seven weeks, the Chicago producer/rapper has been holding true to his word and been blessin' his fans with new music every Friday. Ever since the series kicked off on August 20, you can't walk down the hallways of the XXL offices without hearing someone rockin' out to that G.O.O.D. Music. But how do these new songs rank in the grand scheme of things? A few of the XXL staff jumped on AOL Instant Messenger to rate Mr. West's latest tracks and speak their piece on all things G.O.O.D. Fridays related. Peep game. 
Jesse Gissen: Aight everybody, you ready to talk about some Kanye? As you all know, this week's discussion is on Kanye's GOOD Friday tracks
Jesse: First off, what is everyone's general consensus of the songs so far?
Matt Barone: Pretty much the best new rap songs we've heard over the last couple months
Rob Markman: So far the GOOD Fridays leaks are shaping up to be better than most albums that dropped this year
Adam Fleisher: He's raising the bar for everyone
Matt: On a consistent basis
Adam: Every song is like 6, 7 minutes and dope throughout
Anslem: Kanye makes the game exciting. From the songs with big names, beats and the SNL performance
Brooklyne Gipson: Awesome... Everything has been dope so far
Jesse: Anyone think the songs are overrated?
Thomas Golianopoulos: Not trying to be a contrarian but are these songs better than his old albums?
Matt: I think they can be overlong at times, but they feel like tracks made more for the fun of it, so their lengths don't bother me
Rob: Right, these GOOD Friday leaks sound like they come from bigger sessions where anything goes
Thomas: Are they better than "Can't Tell Me Nothin'?" "School Spirit?" "The Glory?" …nope
Jesse: My only concern is that i think some of the songs dont equal the sum of its parts
Anslem: Put these songs together for a mixtape when it's done and you won't skip much. Imagine if these are his throwaways wtf does he have for the album
Jesse: Does anyone else think some of the artists don't belong on some of the tracks?
Matt: I'm mad that Rza's part on "I'm So Appalled" is unbearable to listen to, and that's coming from the biggest Wu-Tang fan around
Anslem: Fo sho. Like Lloyd Banks #NoShots didn't bring much to "Christian Dior" IMHO
Thomas: I thought he was the best on that song
Matt: "I'm So Appalled" is my favorite of the bunch, despite the awful Rza part
Anslem: What was wrong with RZA's part all he did was the hook
Matt: I wanted him to rap, and it seemed unnecessary for him to be on it
Matt: I'm just too critical because i was hoping to hear some of his raps that I love and most others don't, Haha
Adam: I loved RZA just shouting on the end of that actually. 30 WHITE BITCHES...THIS SHIT IS RIDIKALOUS
Matt: Actually, "Monster" is one of the songs, right? That's the best of the bunch, if so
Rob: Actually "Monster" is THE BEST of the bunch. I Agree with Matt
Jesse: What do you guys think? What is the best GOOD Friday song so far
Brooklyne: "Monster"... but who had the best verse? (You know who my vote goes to)
GO TO LAST PAGE TO VOTE FOR FAVORITE G.O.O.D FRIDAY TRACK
Jesse: i think everyone agrees nicki freaking murdered monster - best verse of the summer
Matt: I'm not even the biggest Nicki Minaj fan, and i'll agree that she had the best verse
Jesse: Best verse of all the Good Friday tracks IMO
Thomas: It's a good Busta Rhymes verse
Rob: Nicki had the best verse hands down. One of the best verses of the year
Jesse: Busta wish he spit that…Rondell, what u think?
Rondell Conway: Nicki did body the track
Thomas: Can we talk about Jay-z's verse on "Monster"
Brooklyne: What about it? I think Ye's was better than Jay's
Thomas: I'm sick of him complaining
Rondell: I think 10 years from now that one may go down as her signature verse
Adam: I think he does it creatively at least
Brooklyne: Creative complaining?
Thomas: Yeah, on "Some People Hate," that song came out in 2002 or "what more can i say" that song came out in 2003
Matt: That song title says it all
Rondell: Jay been complaining since The Black Album
Rondell: He was upset people didn't like BP2
Thomas: Nah, BP2 was all about how people hated on him, he was complaining on BP2
Rondell: I don't remember BP2. I've erased it from memory, that and Kingdom Come
Jesse: Here's something to think about --- the best verse so far from Good Friday is Nicki and the best beat is from Bink – "Devil In A New Dress"
Thomas: OK, what's your favorite line on "Monster"
Matt: Kanye brought an amazing word into the hip-hop conscious, though: "sarcophagus"
Matt: When drunk in a club, that's the part of the song that I'll chant the loudest
Matt: I bet Kanye wrote that entire verse just as an excuse to say "sarcophagus" in a song
Brooklyne: **Everyone starts playing the song in their headphones**
Jesse: "And I'm all up all up all up in the bank in the funny face" LOL! I die everytime
Brooklyne: It's the "sarcophagus" line by far
Thomas: "Just killed another career, it's a mild day" I think Nicki's voices and all that are bells and whistles, smoke and mirrors
Matt: I agree that Nicki's voices are wearing a bit thin
Thomas: I think they take away from what is a very good verse
Anslem: Thats why she's singing now
Rob: I don't mind the voices, it adds entertainment value. Nicki's voices > Eminem's voices
Thomas: If we are impressed just by people using weird accents and voices...
its a solid verse…confident, creative, clever
Jesse: I don't think it takes away - I think if anything it adds to it
Matt: Eminem's verses with voices > Nicki's verses with or without voices (haha)…I had to say it
Matt: That was an alley-oop
Rob: Plus props to Nicki for the Tony Matterhorn reference, reppin' for the West Indians
Adam: Would people throw things at me if i said I like "I'm So Appalled" more than "Monster"? Only slightly, but I do
Matt: I may be alone in this, but I think the hook on "Runaway" is a bit hokey
Rob: My second favorite song is "Lord, Lord, Lord"
Brooklyne: I'm with you Matt
Jesse: Yo Charlie Wilson > John Legend
Rob: LOL! Word. Sorry John
Adam: Pusha T has been a standout
Jesse: I was real impressed with Cyhi's verse
Matt: Haha I forgot Pusha T was even on "Runaway"
Adam: Cyhi's voice and delivery are unique which is part of what i like about him
Jesse: What's the best 'Ye verse so far?
Brooklyne: "Power (Remix)"
Adam: I'm thinking "Monster," maybe "Power (Remix)"
Rob: Yeah Kanye's "Power (Remix)" verse was dope: "They say as-salamu alaykum, say alaykum as-salam/That's no Oscar Mayer bacon you should run and tell your moms,"
Jesse: What's the consensus on "Devil in a New Dress"
Matt: "Devil in a New Dress" is awesome. The whole feel of it
Rob: The beat for 'Devil in a New Dress" is dooope. Bink did his thing. Its a cool Kanye joint.
Matt: Bink should produce more
Rob: But that Joell Ortiz freestyle over that beat? GOOD LORD
Jesse: I think thats actually my fav Good Friday joint
Rob: Hey Kanye, can we get Joell on a GOOD Friday joint? Can the Latinos get love
Rob: Oh wait he had Banks on a joint
Matt: Hey Kanye, give J. Cole a call
Jesse: I'm not sure what i think of "Christian Dior Denim Flow." I think it got bogged down by features
Matt: I'm actually pretty unimpressed by "Christian Dior." Sounds a bit messy
Rob: Cudi killed the hook on that
Adam: Speaking of Cudi killing hooks...We havent even talked about [the song] "Good Friday" yet. Guess people dont love that one?
Jesse: I love the beat - its old school Kanye
Matt: That one was cool, yeah
Rob: Hold up though— how much guts does Ryan Leslie have to be rhyming on a joint with Ye, Pusha and Banks
Adam: That shit was a fail. Stop
Brooklyne: I'm just happy we agreed that Nicki had the best feature. We're gonna piss some haters off with that one
Jesse: OK so we are all at the consensus that Nicki had best feature and "Monster" is the best track
Jesse: Bink should do more beats
Jesse: Charlie Wilson > Legend
Jesse: And Jay needs to stop complaining
Adam: Kanye needs to keep making music
Rob: I love Crooked I, but Kanye has the best weekly series of all time
Matt: Yeah... welcome back, Kanye
Jesse: That's all folks thanks for playing AIM & Fire