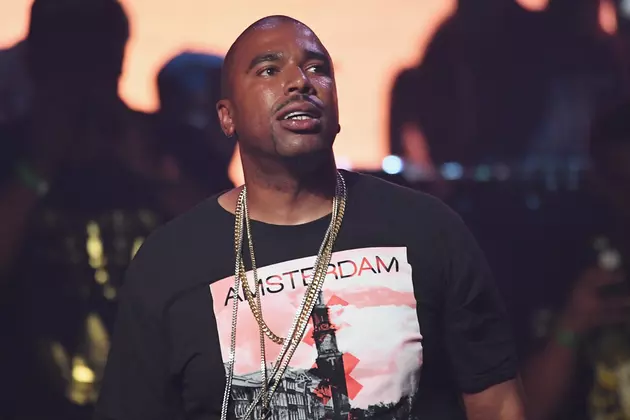 12 Memorable Hip-Hop Stories Told on N.O.R.E.'s 'Drink Champs' Podcast
Shahar Azran, Getty Images
N.O.R.E. has stories for days. A listen to the seasoned rapper's podcast, Drink Champs, proves it. As a result, N.O.R.E.'s been producing some of the best content in hip-hop since he launched the podcast in March.
After breaking into the rap scene as part of the duo Capone-N-Noreaga — better known as C-N-N — the New York native has over two decades of experience in the game. Throughout his time, Noreaga has amassed a ton of fame, money and respect from his peers, the latter of which makes getting guests on his widely popular Drink Champs show an easy feat.
Seven years ago, N.O.R.E. cashed in on the idea of being a personality outside of a rapper when he hosted the Sirius XM radio show Militainment Crazy Raw Radio alongside DJ EFN between 2009 and 2011. Now he's struck gold with Drink Champs.
On the first episode of Drink Champs, Fat Joe revealed the title of his joint album with Remy Ma. Listening to the show, it's clear fans get an inside look at what goes on in rappers' inner circles. The biggest distinction separating Noreaga's podcast from the rest out there are the stories rappers share in each episode.
We sat down with N.O.R.E. in September to discuss how the unique memories his guests share put Drink Champs in a league of its own. "If people really listen to Drink Champs, the shit has nothing to do with hip-hop," he said. "It's about the person that's in hip-hop. It's about Snoop Dogg meeting Nas for the first time. Everything is hip-hop but it's the least amount of what's important, it's the people. I'm like the Feds, I ask you a question and I already know the answer to it. Sometimes it's pure me being a fan. I listen to myself during the 50 Cent interview and I literally hear myself sounding like a little kid. I was just so open I couldn't believe he came."
XXL takes a look back at the best hip-hop stories from Drink Champs. Check it out below.
Fat Joe Goes Into Detail About His Joint Album With Remy Ma

Episode 1

N.O.R.E. and Dame Dash Discuss History of Working Together

Episode 34

Bow Wow Explains Why He Didn't Initially Like Jermaine Dupri

Episode 33

E-40 Breaks Down Slang, Tells Stories About 2Pac and Biggie

Episode 31

Snoop Dogg Shares Untold Story About How Nas Almost Got Shot

Episode 23

50 Cent Discusses His Early Mixtapes and 'Get Rich or Die Tryin' Album

Episode 21

Lyor Cohen and Kevin Liles Talk About Early Def Jam Days and the Music Industry

Episode 41

Ja Rule and Jadakiss Get Drunk and Talk Life Before Fame

Episode 2

Peedi Crakk and Oschino Open Up About State Property Fallout

Episode 35

Royal Flush Reveals How Freaky Tah From the Lost Boyz Died

Episode 38

DMX Gets Candid About His 25-Year Addiction With Drugs

Episode 3

Bun B Tells a Never-Before-Heard Story of "Sippin' on Some Sizzurp"