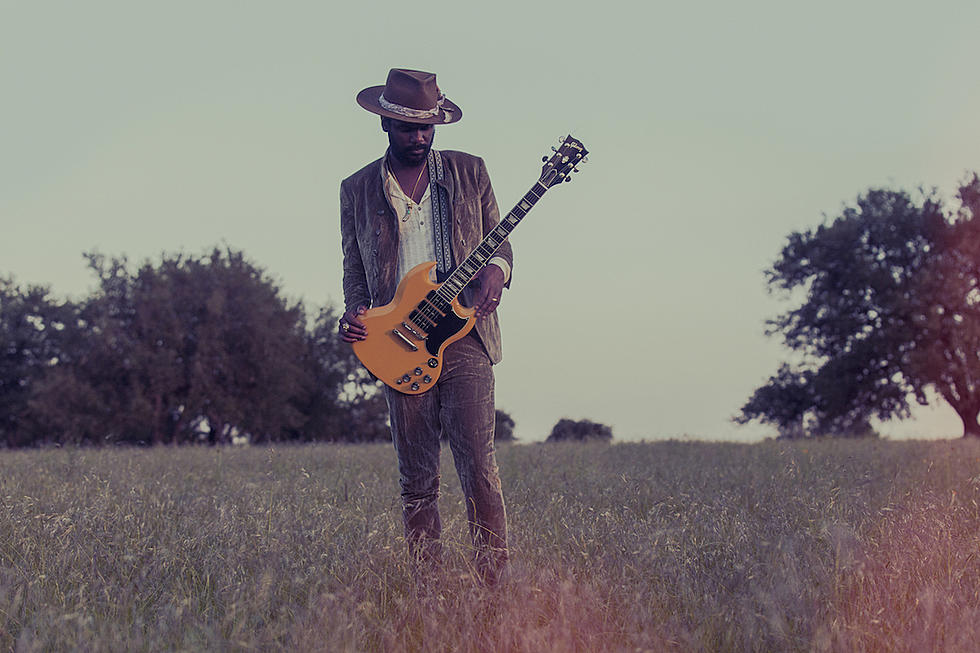 Hip-Hop Junkie: Blues Singer Gary Clark Jr. Pledges Allegiance to Rap Music
Frank Maddocks
[HIP-HOP JUNKIE]
No Better Blues
Guitar hero Gary Clark Jr. channels hip-hop when bringing the funk in his own anthems.
Words: John Kennedy
Editor's Note: This story originally appeared in the Winter 2018 issue of XXL magazine, on stands now.
Gary Clark Jr. is the bridge between blues, rock and rap music. The genre-bending singer and musician has garnered comparisons to Jimi Hendrix since early in his career, all while laying down guitar licks for the likes of Childish Gambino, Tech N9ne, Bun B and Big K.R.I.T. The 34-year-old Austin, Texas native continues to push his sound in adventurous ways on his upcoming third studio album, This Land, a political statement that borrows aggressive energy and hard drums from his hip-hop bedrock. Gary Clark Jr. phoned XXL to discuss his hometown rap scene and OutKast's everlasting impact.
XXL: Did you listen to a lot of hip-hop growing up?
Gary Clark Jr.: Yeah. The first hip-hop records I heard was [Dr. Dre's] The Chronic and Snoop Dogg's Doggystyle. I wasn't allowed to listen to it; my mama wasn't having it. I couldn't have that in my house, so I would make these tapes, dub 'em and name 'em something else. I was listening to Warren G, DMX, Tupac [Shakur]. I started playing guitar in 1996, so I was just listening to everything.
OutKast was incorporating a lot of guitar around that era, too.
"SpottieOttieDopaliscious" was the first time I really knew who OutKast was. The Aquemini record cover reminded me of old stuff that my pops used to listen to—the horns, the wah wah guitars. OutKast changed my life. I actually bonded with my dad listening to "Liberation" on a long trip. I played that and he tripped out. It was undeniable. It reminded him of Parliament-Funkadelic. It was like bridging the gap.
When did you discover the local Texas hip-hop scene?
I wasn't really aware of a local music scene; I was just a kid listening to the radio. It wasn't until I got to high school that I got to hear Lil Keke, Big Moe, Lil Flip, Paul Wall, Chamillionaire, Bun B, Pimp C, UGK. My uncle would play Geto Boys and Scarface but I didn't realize they were from Houston until later, when I started doing my research and trying to figure out where all of this came from. For me it was like a funkier thing; it had that beautiful element of funky guitars. And chopped-and-screwed [music], I was experimenting with things that fit into that type of music.
How hip-hop impact your music when you were younger?
I liked the sound, the tempo around 90 bpms. I'd always go to the guitar store to get some strings, look at the guitars and amps [but] I'd [also] go to the DJ equipment, drum machines. I started collecting them. I'd study turntables, mixers, MIDI keyboards. Making beats—Common's Like Water for Chocolate was a big influence as far as producing. It was the soul. It had blues elements.
Your song "Don't Wait Til Tomorrow" from This Land is reminiscent of Drake's music. Would you say that's an influence there?
Drake obviously inspired the sound. I'm not gonna lie and say [Noah] "40" [Shebib] hasn't been an influence on me. I like the fact that they mix a lot of genres, not just the singing and rapping, but certain references, influences and samples. It's obviously effective because they're the biggest artists, sold platinum albums multiple times. That's what music is supposed to do, cross boundaries, raise the bar and take it to the next level.
What present-day hip-hop music are you excited about?
I love what Big K.R.I.T. does. Producer, songwriter, rapper; he does it all. We collaborated on the latest Bun B album [Return of the Trill] on a couple of records. I've been listening to Jay Rock's latest [Redemption]. King Los is undeniably talented. Kendrick [Lamar], J. Cole. I'm ready for the next ScHoolBoy [Q] album. Vince Staples is really dope. I like a lot of the West Coast stuff. On another note, salute and much respect to Mac Miller as well. I respect what that guy did a lot.
See 65 Hip-Hop Albums Turning 20 in 2019