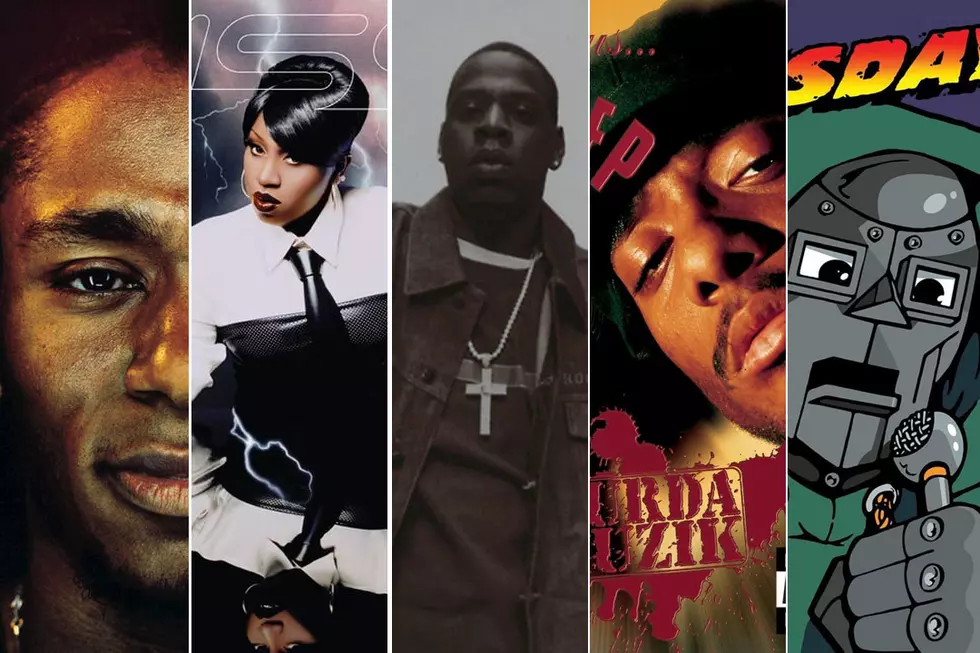 65 Hip-Hop Albums Turning 20 in 2019
Rawkus Entertainment LLC/Elektra Entertainment Group/Roc-A-Fella Records/Loud Records LLC/Fondle 'Em Records
The albums released in 1999 are just as monumental as the year itself. Burgeoning underground acts like MF Doom and Tech N9ne both dropped their studio debuts, marking the beginning of two beloved careers. Meanwhile, Mos Def, Q-Tip and Project Pat, who had already made a name for themselves in the early 90's, dropped their influential solo projects, Black on Both Sides, Amplified and Ghetty Green, respectively. All three albums proved the artists could hold their own without the support of their established groups.
That same year, Eminem did historical numbers with his major label debut, The Slim Shady LP. Marshall's jaw-dropping 16's and comical punchlines propelled him to platinum status just 10 days after the release. The album notably entered the Billboard 200 at No. 2 and sold 283,000 copies its first week.
1999 was also the year of compilation albums from New York City's biggest labels. Terror Squad, Violator and Ruff Ryders all dropped the first of many projects that showcase their rosters' talents. The latter collective's Ryde Or Die, Vol. 1 features tracks with The Lox, Drag-On and Ruff Ryders' First Lady, Eve. "Ryde or Die," "Kiss of Death" and Jay-Z's "Jigga" helped push it from No. 53 to No. 1 on Billboard's Top R&B/Hip-Hop Albums chart, where it spent two weeks in the top slot.
The last year before the new millennium also introduced music listeners to Ludacris, who released his independent debut, Incognegro, in summer 1999. Luda's raunchiness on "Ho" and "What's Your Fantasy" with Shawnna served as a slingshot to his illustrious 20-year-long career, with the latter peaking at No. 21 on the Billboard Hot 100.
See 65 Hip-Hop Albums Turning 20 in 2019