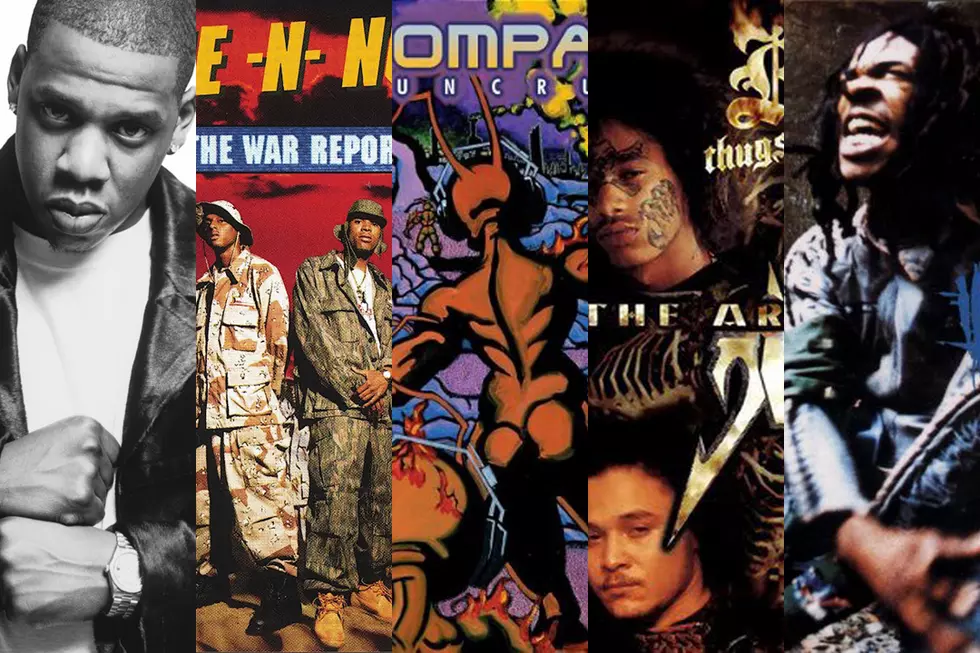 40 Hip-Hop Albums Turning 20 in 2017
Roc-a-Fella / Def Jam / Penalty Recordings / Rawkus Records / Ruthless Records / Elektra Records
Hip-hop in 1997 was all about variety. As the genre that was once dubbed too raw for TV was finally flourishing in mainstream media, hip-hop began to diversify like never before. From mafioso to rap-rock to horror core to G-funk, hip-hop subgenres were evolving with rapid speed. Naturally, regions throughout the country staked their claim and what started as healthy competition quickly escalated to something more dire.
The East Coast vs. West Coast beef consumed fans in the early 1990s. While 2Pac and The Notorious B.I.G. were the flag bearers for their coasts, violence claimed both MCs by 1997. Even in their deaths, the estates of each rapper dropped posthumous albums. Biggie's sophomore album, Life After Death, was released just 16 days after his death in March of 1997 and immediately went No. 1 on the Billboard 200.
Later that same year, Puff Daddy & The Family dropped the compilation album No Way Out, which also featured vocals from the fallen MC. The songs "Hypnotize" (off Life After Death) and "Mo Money Mo Problems" (off No Way Out) marked the first and only time in Hot 100 history that a deceased rapper was featured on two No. 1 charting singles in one year. And while the death of 2Pac was not as fresh in the music world's mind, Interscope Records and Afeni Shakur continued to drop 'Pac's posthumous work and fans continued to eat it up. 'Pac's '97 album, R U Still Down? (Remember Me), was released in November and by December, was certified four times platinum.
With the East vs. West Coast hip-hop beef coming to a quell through the deaths of these greats, the South emerged as the clear winner in 1997. Though Master P's independent label, No Limit Records, was founded three years prior, 1997 was the year they proved to be a force to be reckoned with. Thanks to a partnership with Priority Records, No Limit gained momentum to drop what would soon be rap pillars: Mystikal's Unpredictable, Master P's Ghetto D, TRU's Tru 2 da Game and Mia X's Unlady Like just to name a few.
Not to be outdone, Birdman's Cash Money Records had been in the business of pumping out albums for years. Juvenile unleashed a hood classic with Solja Rags and B.G. proved he was still in the big leagues with his third LP, It's All On U, Vol. 1. Still, it was in 1997 when Birdman decided to form the group the Hot Boys, made up of Lil Wayne, Juvenile, B.G. and Turk, and push them into the spotlight with their debut album, Get It How U Live! The Hot Boys would go on to be one of Cash Money's most platinum-selling acts.
Twenty years later, hip-hop is filled with plenty of classic material. Check out 40 dope rap albums that are celebrating a 20th anniversary in 2017 in the gallery above.