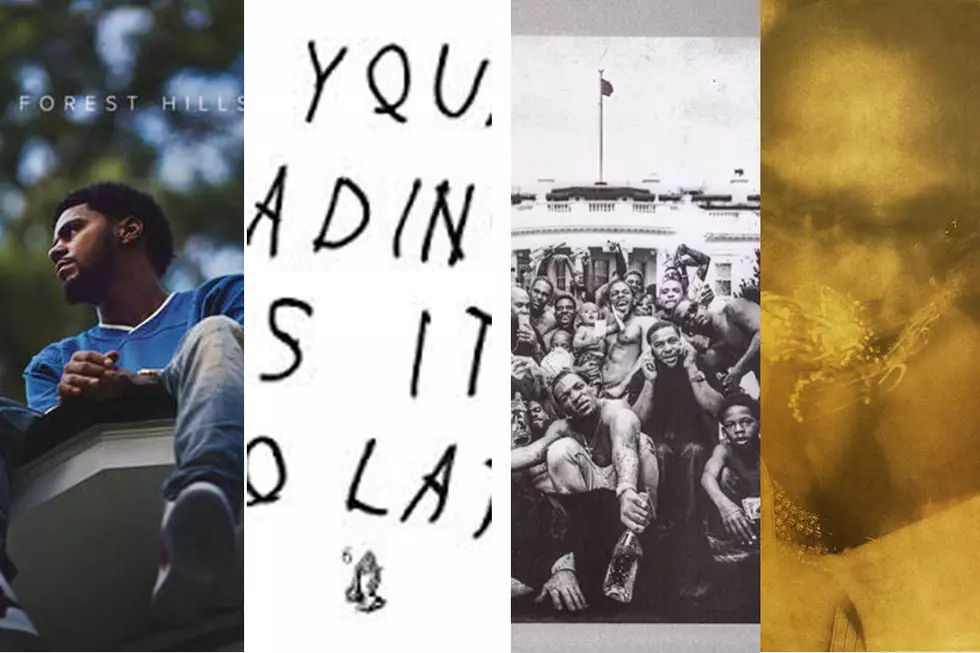 16 Hip-Hop Albums With the Shortest Rollouts Over the Years
Dreamville / Roc Nation / OVO Sound / Young Money / Cash Money / TDE / Aftermath / Interscope / Freebandz / Epic Records
The music industry is always changing. These days, when it comes to dropping albums, artists have turned from giving months as notice in the form of a concrete release date to putting out music without much warning at all. In hip-hop specifically, rappers have had to adapt their promotion and rollout strategies to adhere to the rapid-fire, media-saturated world their fans live in, where streaming services like Spotify, SoundCloud, Apple and Tidal are all at their fingertips.
Whether an OG in the game or the hottest new talent, a hip-hop star has to keep immense faith in their respective fan bases in order to test their devotion by dropping a project with little and, in some cases, no promo at all. In the last five years, it was Jay Z who was one of the first rappers to set the precedent for albums with extremely brief rollouts thanks to his 12th studio LP, Magna Carta Holy Grail, in 2013.
Though there were whispers of a Jay album on the way throughout that year, the Brooklyn MC made the official announcement that the project was dropping on June 16, 2013, only 18 days before the release date of July 4. A true business man, HOV struck a deal with Samsung to exclusively premiere Magna Carta Holy Grail on the brand's devices on his release day. With Samsung and the short notice creating excitement for the project, MCHG debuted at No. 1 on the Billboard 200, moving 528,000 copies in the first week.
Fast forward to 2017, when ATL sensation Future dropped two back-to-back albums, FUTURE and HNDRXX, a week apart from one another. The rapper announced each project with a simple tweet and cover art. Since Fewtch has a heavily vetted internet-era fan base and is known for creating melodic, radio-ready tracks, songs from both albums effortlessly climbed the Billboard charts, proving that he too was capable of releasing a project without extensive promo.
From Jay Z to Kendrick and more, check out which rap albums have had the shortest rollouts before being released over the past few years. Even with little notice, these projects have been great success stories nonetheless.