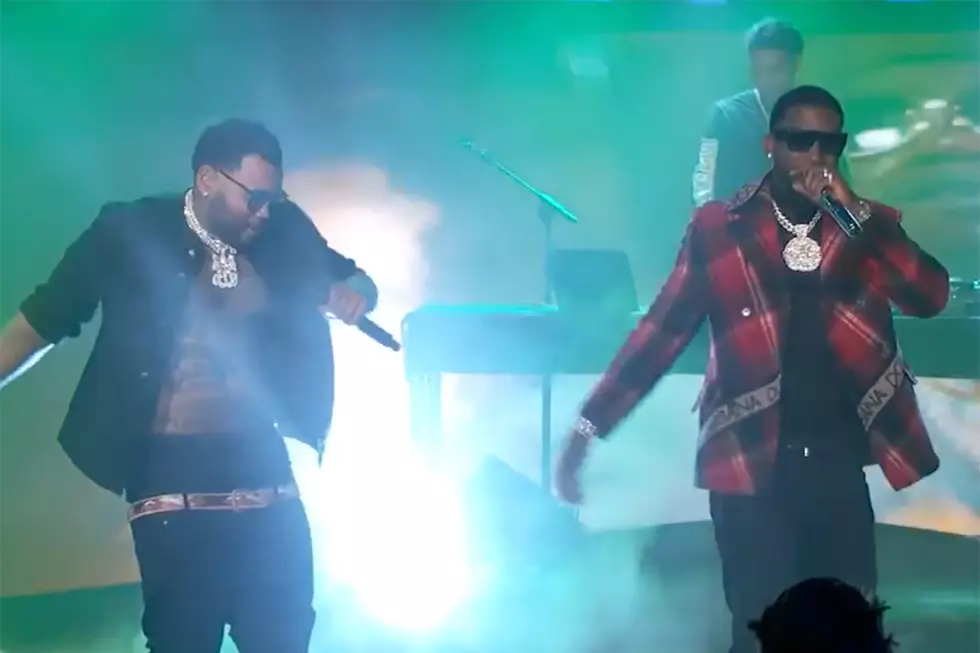 Gucci Mane and Kevin Gates Perform "I'm Not Goin'" on 'Jimmy Kimmel Live!'
Jimmy Kimmel Live Via YouTube
We are just days away until Gucci Mane delivers his new opus Evil Genius. To promote his new project, the "So Icey" rapper stopped by Jimmy Kimmel Live! on Tuesday (Dec. 4) to perform "I'm Not Goin'."
Joining Gucci was none other than Kevin Gates who also appears on the Sool Got Hits & Murda Beatz-produced track. The rap tandem were both dripped out in diamond-encrusted necklaces and the finest threads money can buy. Gucci was rocking a Dolce & Gabbana red-and-black plaid blazer, while Kevin was draped in black shirt - with his belly out - and his matching jeans sagging nearly to his knees.
Both men delivered their tough bars to the crowd but when Kevin started spitting his verse, a line of joyous screams erupted from the audience.
"I'm a CEO, I keep it cordial with an artist, I just don't politick/These women been giving me compliments/Focused, I can't acknowledge this/Astonishment," the Louisiana rhymer rapped to the crowd.
"I'm Not Goin'" is the latest single from Gucci's Evil Genius album, which drops on Friday (Dec. 7). The project boasts an all-star list of guest features including from 21 Savage, Lil Skies and Quavo, along with production assists from Southside, Metro Boomin, and many others. Last month, Gucci dropped his cool video for "Wake Up In The Sky" featuring Kodak Black and Bruno Mars.
Check out Gucci and Kevin's performance of "I'm Not Goin'" below.
See Photos of Gucci Mane's Different Looks Over the Years