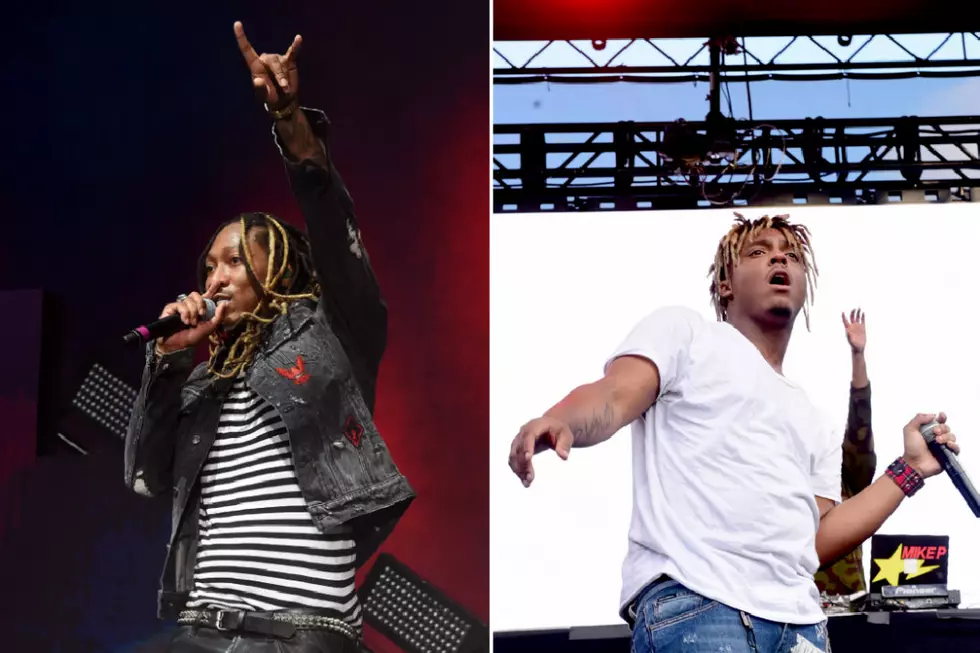 Future Teases Tracklist for Joint Project With Juice Wrld
Kevin Winter / Lisa Lake, Getty Images (2)
On Monday (Oct. 15), Future and buzzing Chicago artist Juice Wrld delivered the collab track "Fine China," but, apparently, there's more where that came from. A lot more.
On Wednesday (Oct. 17), Hendrix hopped on Instagram and revved up the hype machine with what seems to be a tracklist for a joint project with Juice titled Wrld on Drugs. The tracklist is handwritten out on a dry-erase board and includes the "Fine China" banger. Other titles included "Jet Lag," "Red Bentley," "Different," "Afterlife," "Ain't Livin' Right" and "Transformer."
Adding more details, the Atlanta rapper captioned the post, "Pluto x Juice #WRLDONDRUGS." There are no more details about the joint project in the post, other than the trio of questions, "Whatever you addicted too? Social? $$$ is a drug?" Engineer Alex Tumay, who mixes most of Young Thug's music, has announced he mixed most of the records on this project as well.
Check out the tentative tracklist for Future and Juice Wrld's upcoming joint project below.
See Photos of Future's Different Looks Over the Years