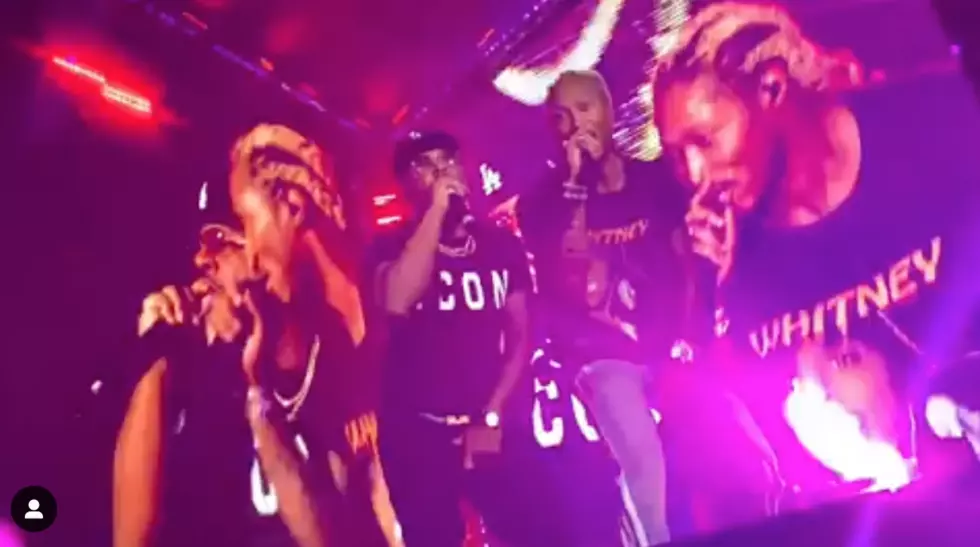 Future and Rocko Reunite, Officially Squash Beef on Stage: Watch
edsdaboss via Instagram
Nearly two years removed from the day Future settled the lawsuit between himself and Rocko, the two have publicly called it quits on their beef.
Just as Drake and Meek Mill did before them, Hendrix and Rocko symbolically ended their conflict with an onstage reunion. For the performance, which was part of the Sunday night (Sept. 22) Atlanta stop of Meek and Future's Legendary Nights Tour, they performed "Chosen One," a Rocko-featured 2013 track from Future's Freebandz label compilation, F.B.G: The Movie.
This performance effectively marks the public end of a long-running beef that stems from a lawsuit. If you can recall, Future was signed to Rocko's A1 Recordings label back in 2010, but the relationship between the two Atlanta artists soured after Rocko filed a $10 million lawsuit against Future in 2016.
The lawsuit claims that Future was meant to release his first six studio albums under Rocko's record label. However, Future signed a side deal with Epic Records in 2011, and that made things murky on Rocko's end. Years later, in the lawsuit, Rocko claimed he was entitled to 25 percent of the multi-million-dollar advances Future received for signing the Epic deal. Rocko also said he was entitled to an additional 20 percent of revenue Future got from touring and endorsements.
Soon after the suit was filed, things got really heated between the two, with Future dissing Rocko on Twitter and then in an Instagram comment two years ago. The case reportedly settled out of court in December 2017, but there were never any official reports on the dollar amount awarded to Rocko. Things had been quiet on their beef since, and now, it looks as though any issues they had have been resolved for good.
Check out their reunion for yourself just below.
In other parts of his set, Hendrix made it a point to acknowledge a rising Atlanta star. For the moment, he brought out Lil GotIt, an artist whose next to come up out of Atlanta. Together, the two performed GotIt's bubbling single, "Da Real HoodBabies."
In other recent Future news, an Illinois high school student was reportedly suspended for singing lyrics about a gun from Future's single "Draco." The rapper has yet to comment publically about the student's suspension.
See Photos of Every XXL Freshman Ever Inducted Into the Freshman Class Over the Years