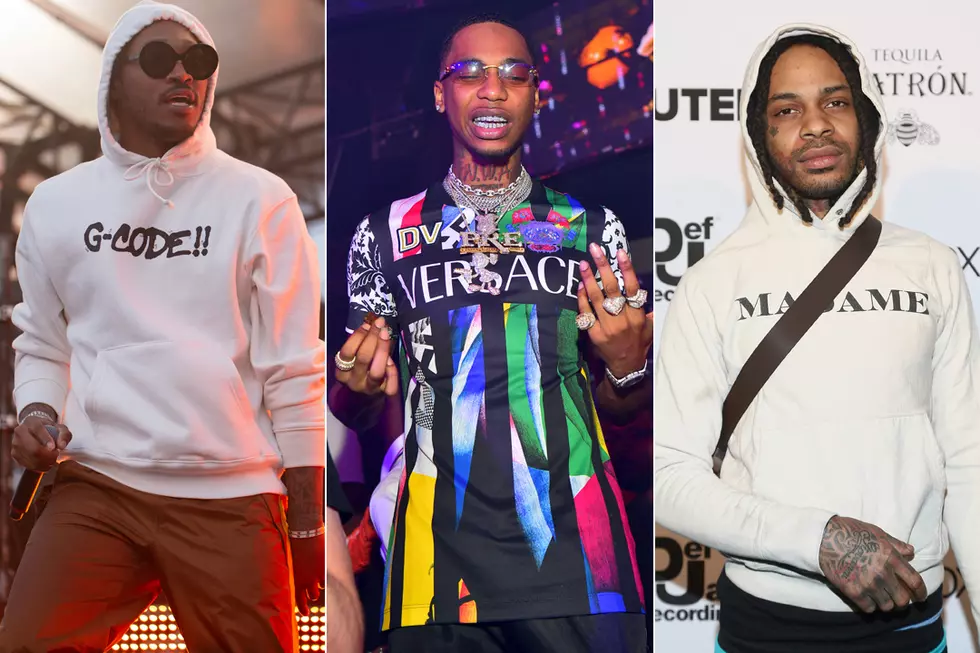 Future, Key Glock, Valee and More: Bangers This Week
Matthew Sperzel / Prince Williams / Tommaso Boddi, Getty Images (2). WireImage
New month, new songs. June is here and the summer will be in full swing in no time. With that said, there will surely be more rap songs coming down the pipeline, all vying for that elusive "song of the summer" designation. With any luck, a few songs from this week will take off and become all you hear over the coming months. Enjoy this week's roundup.
Future dropped his surprise EP Save Me this week with little warning; as per usual, the Internet took notice. The project's first track is the somber "Xanax Damage," where Future sings about how drugs affect his mood and his views on romance. The pain permeates through the song, revealing the layers of the Atlanta superstar.
Through hard work, Key Glock has made himself into a name to watch, finding a way to stick out in a circuit of hip-hop that's teeming with young talent. His brand-new track is "Spazzing Out," a spin on the classic sound of Memphis hip-hop, aided by production from the inimitable Juicy J. Teaming up with a legend like the Juice Man was a great choice and gives a peek into how the young rapper is branching off into different styles, as he flows over the beat with ease. The video also features a clip of his arrest in Miami; he bounced back well.
Valee is a very low-key rapper, popping up only when he needs to, releasing music at his own pace. This strategy has made his music sought after, as you never know when it'll drop. Surprising fans this week with his new EP, Runnin' Rich, the project is packed with solid songs, but "John Doe" sticks out. Rhyming over what could be described as an airhorn mid-apocalypse, Valee brandishes the off-kilter flows and eye for the obscure that's gotten him to where he is now.
"Fried Rice"

Bas featuring J.I.D

"No Face No Case"

Lil Reese

"Shake Dat Jello"

Salaam Remi and Joell ortiz

"Turn The Levels"

Kool Keith

"Ladbroke Grove (Remix)"

AJ Tracey featuring General Levy and Novelist

"Haute"

Tyga featuring J Balvin and Chris Brown

"Framed Checks"

Childish Major

"Raised A Fool"

Kembe X featuring Zacari, Jay Rock and Ab Soul

"Be Nice"

Black Eyed Peas featuring Snoop Dogg

"Suge Freestyle"

Jose Guapo

"Opp Pack"

Lil GotIt featuring Slimelife Shawty

"Look At The Kid"

Madeintyo

"Kitten"

Kash Doll featuring Lil Wayne

"Young Grizzley World"

Tee Grizzley featuring YNW Melly and A Boogie Wit Da Hoodie

"K.R.I.T. Here"

Big K.R.I.T.

"Stop Playin"

Casey Veggies featuring Dom Kennedy

"Shoot Shoot"

ILoveMakonnen

"U Say"

GoldLink featuring Tyler, The Creator and Jay Prince

"Birthday"

Fetty Wap featuring Monty

"Calabasas"

Rod Wave featuring E-40

"G Walk"

Lil Mosey featuring Chris Brown