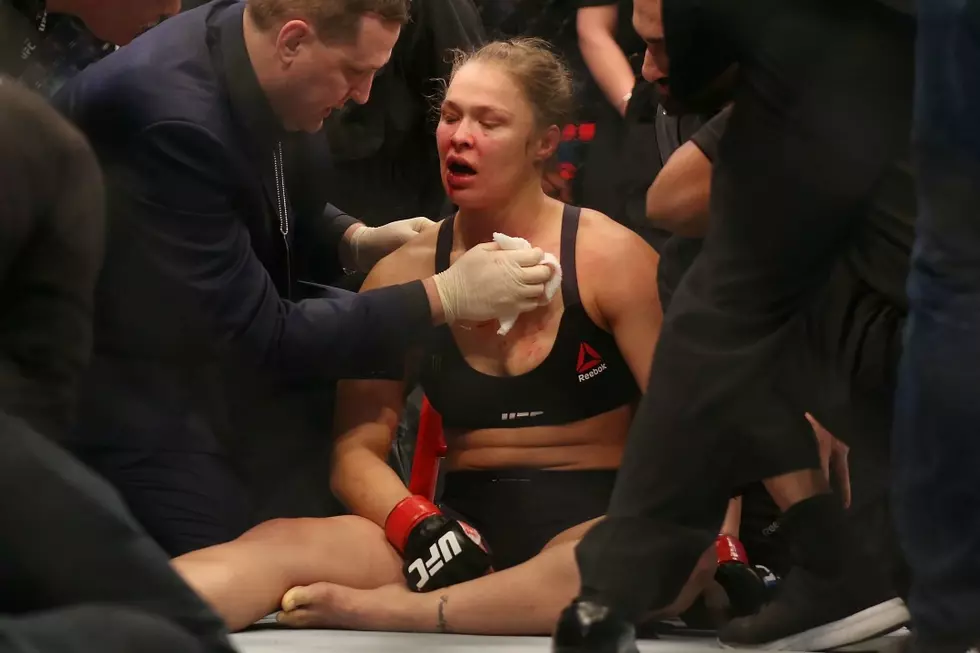 Floyd Mayweather Denies Telling 50 Cent to Mock Ronda Rousey
Quinn Rooney/Getty Images
On Saturday night, MMA fighter Ronda Rousey took two major L's. The obvious, of course, was the beatdown she took in the octagon at the hands of new champ Holly Holm. The other loss she took was in the online battle, where she became the brunt of jokes and the subject of countless memes on social media. 50 Cent, who chimes in on everything via his Instagram page, posted a meme taunting Rousey for the loss with the caption "LMAO Floyd [Mayweather] told me to post this, he want me to do the dirty work":
Fifty has had a long, strange relationship with Mayweather and Floyd has also engaged in a verbal spat with Rousey since the MMA fighter said she could take and beat Floyd in a fight. After Rousey's loss, Mayweather took the high road was very complimentary of of the MMA star. In an interview with Fight Hype, the retired boxer denied telling 50 Cent to mock Rousey and even offered to help her train when she is ready to get back to fighting.
"That's not true at all. I haven't really spoke to anyone about the Ronda Rousey situation, just to set the record straight," Floyd responded after being asked about 50 Cent's Instagram post. "I don't have anything against MMA fighters. It's just like boxing; you win some, you lose some. A true champion can take a loss and bounce back..."I don't think it's cool how everyone is trolling her on social media. Certain things you have to learn. People will love you on Friday and then Sunday morning, it's nothing but negative comments and people making jokes and people making fun about you, which I don't think is cool. I've never been on the other side, so I don't know how it feels. I'm pretty sure she's a very, very strong person, but we still have to take into consideration that she has feelings.
I want Ronda Rousey to hold her head up high and don't let this discourage you. If you need help as far as with boxing, I'm here to help you. It's all about timing and inches. Her ground game is unbelievable. She'll be okay."