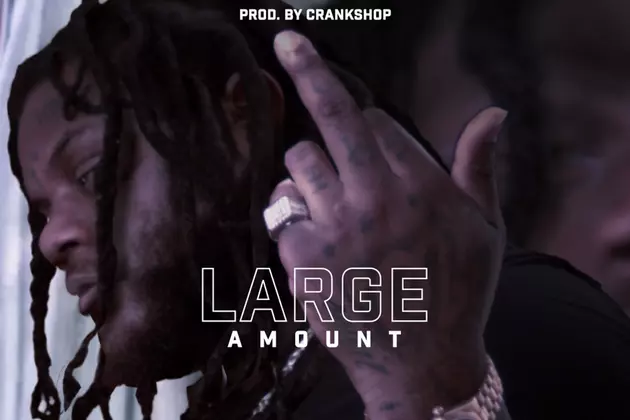 Fat Trel Marks His Return With New Song "Large Amount"
Fat Trel
As he prepares for the release of his Finally Free mixtape, Fat Trel drops off his latest song, "Large Amount."
Produced by Crankshop, the track finds the Maybach Music Group rapper spitting about the drug business over a bouncy beat. "I just wanna count/Count me up a large amount/Bitch, stop running in and out my trap house/Break 'em down an ounce/I just finger-fucked a pound/You should come and get it now before it's sold out," Fat Trel raps.
The inspiration for the track stems from his sober outlook on life. "Due to my parole, I get drug tested regularly," the rapper tells XXL. "So my only high right now is listening to dope beats and writing rhymes. 'Large Amount' was just one of those days where I was in a zone, knocking out records to whatever beat was speaking to me."
"Large Amount" will appear on Trel's forthcoming Finally Free mixtape, which is one of three projects he's dropping this year. Following Finally Free, the rapper will release Big Homie featuring young, talented artists buzzing in the DMV. "Finally Free is just me," Trel shares. "I had a lot of time during my prison stint to put pen to pad and I'm just trying to get those ideas out."
"Getting back to the money, of course. Getting back the streets, the love from the streets. Getting back in the strip club, you know, the strippers love me, I love the strippers," he said. "Just getting back to everything and becoming a new person, too. I wanna talk about some of the shit I learned, being mature, and how I disappointed a lot people and let my fans down. I'ma touch on all that."
Along with new music, Trel is also putting past beefs aside. Shy Glizzy and Trel had a falling out several years ago, the reason of which isn't quite clear, but the two rappers know what kicked it off. They've pushed forward, squashed any beef and even have new music on the way. "We squashed that beef a while ago," Trel admits. "We linked up in the studio and chopped it up. We did a couple records too that I'll be releasing soon. He brought me out at a recent show so the public can know everything is good on our side."
While a release date for Finally Free has yet to be revealed, a new single like "Large Amount" is a good sign of things to come. He also recently dropped the video for "Low Life," which you can see below. Following the mixtape release, Trel plans to stay busy this year. "I'm sitting on a lot of music I want to drop," he says. "I'm going to make my presence felt in 2018."
Listen to Fat Trel's "Large Amount" below.
See New Music Releases for April 2018