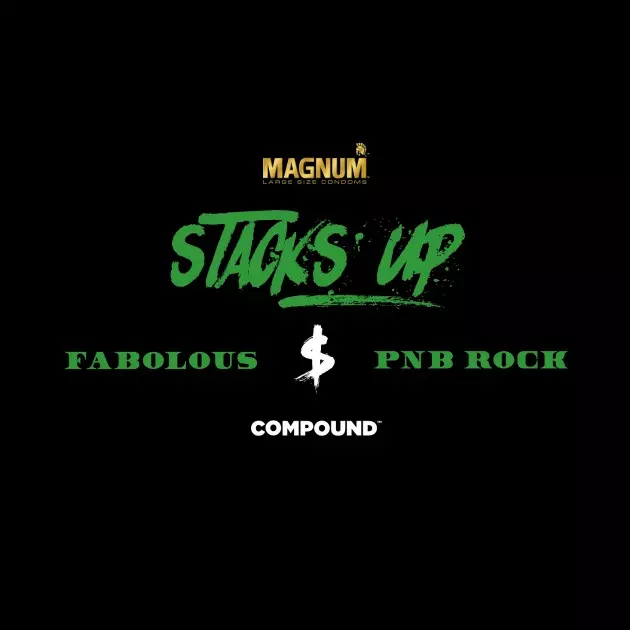 Fabolous and PnB Rock Link on New Song "Stacks Up"
Compound Project
A Young OG links with a future one on "Stacks Up," a RubiRosa-produced flexing anthem featuring Fabolous and 2017 XXL Freshman, PnB Rock. Check out the new track, which is presented by Magnum™ Large Size Condoms and Bronx-based creative arts studio, the Compound, below.
With a relaxed, but energetic instrumental, a melodic hook from PnB and Fab-O's casually boastful lyrics, "Stacks Up" paints a vivid portrait of the high-life while evoking the relentless confidence of today's aspirational go-getters. It's a lifestyle track that falls right in line with the Compound Gold Project, which is an ongoing collaboration between Magnum™ Large Size Condoms and the Compound.
"The Compound Gold Project brings together the Magnum™ Condoms brand and the hip-hop community to celebrate the gold standard in music and Magnum™ Live Large lifestyle that unites us both," says Bruce Weiss, Vice President of Marketing for Trojan™ Brand Condoms.
Conceived last summer, the project has orchestrated collabs between rising stars like Joey Bada$$, Dave East, BJ The Chicago Kid and hip-hop veterans like Jim Jones, Jadakiss and Beanie Sigel last summer. Today marks the beginning of the next chapter.
"We're excited to continue our partnership with Magnum™ Condoms and continue bringing great music to fans everywhere," said Set Free Richardson, founder and creative director of the Compound. "Pairing artists directly with the brand allows for an authentic collaboration and music that the Magnum™ consumer wants to listen to."
See Behind-the-Scenes Photos of PnB Rock at 2017 XXL Freshman Shoot