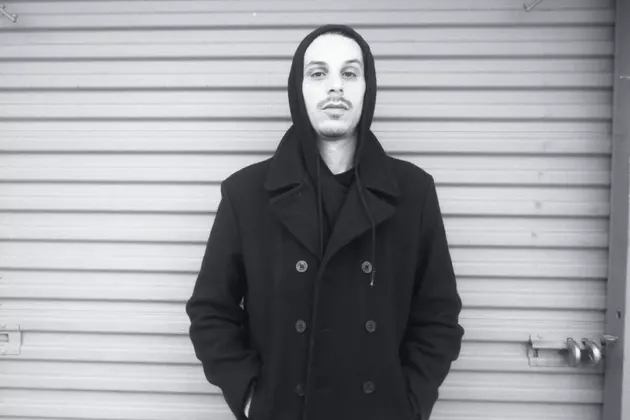 Evidence Thinks Hip-Hop Will Turn Toward Idiocracy in 10 Years
Steven Vanasco
Dedication
Evidence knows the rap game inside and out.
Words: Robby Seabrook III
Editor's Note: This story originally appeared in the Spring 2018 issue of of XXL Magazine, on stands now.
As both a rapper and producer, Los Angeles' own Evidence has been in the game for over 25 years. With a career that starts with being a member of Cali rap crew Dilated Peoples before breaking out on his own as a solo act, Evidence has always marched to the beat of his own drum. Through all of that time, his main motivation was always staying true to himself, creating music that embodies his love for the genre. Sitting down with XXL, the Rhymesayers Records artist discusses his fifth solo album, Weather or Not, new rappers that he supports and the course of hip-hop's next evolution.
XXL: The title of your latest album, Weather or Not, comes from a popular line you used in the past, correct?
Evidence: There was a song I had on 2000's The Platform, which is our first Dilated Peoples album, where I said, "Some think I'm clever/Others think I'm the one who makes too many references to weather." That's when it got brought to my attention that I was kind of talking about it a lot. I just put it in a rhyme and then when I would say that, the next line would be "Or not." I would always point the mic at the crowd and they'd always go, "Or not!" All my song titles for my albums have been from previous lyrics.
What does the phrase "whether or not" mean to you?
It's really coming to a place where I don't care what they think anymore. I still do care what DJ Premier thinks a little bit, you know what I mean? I was watching this interview with [producer, composer and performer] Mtume—he did this interview with Red Bull Japan in 2014—and he's talking about the three stages of this whole shit: imitation, emulation, innovation. He said imitation is when you copying, how we all start. Look at this painting. I wanna do something like that—that's imitation. Emulation comes along, and you're not looking at this anymore while you're painting, but you're still thinking in the guidelines of what made it. You're still considering. Then you move into innovation. I think innovation in the music business is a little dangerous. Probably why I never ventured all the way into it. I was on Capitol Records. I was trying to participate on my own terms but still play the game. And now I'm just at a point where, what do I have to lose? I'm on an indie that's letting me say whatever I want. I've been blessed enough to have built some fans up to where I'm able to support myself. I think just being more, just humanizing is the way to go for me in the future, without being emo. It's a fine line.
Are there any newer rappers you're a fan of?
Yeah, I put Mach-Hommy on the album—really big big fan of him, right now.
What do you think of modern hip-hop, the game, right now? From musically, to business-wise and everything else?
It's just big business, and I think, formulaic. I think labels have figured out how to fuckin' package a rap song up and sell it really well.
After trying for a really long time.
For a really long time. There's so many Dilateds and [Talib] Kwelis and things that got deals that made it through the radar, without knowing how to fuckin' step on it correctly. They just didn't figure it out. Now there's a pop-rap formula, a way to make a song, there's something that sounds like obvious, now, rap. Alchemist said to me a long time ago, "It's funny we liked Gang Starr and EPMD, and here we are later with a 20-year career." It's like, you get what you ask for. Maybe if we were into bigger things, we'd be bigger artists. But it wasn't genuinely what we were fuckin' with. So, yeah, I don't have hopes and aspirations to be like, somebody who's on top of the charts right now. Unless it was Kendrick [Lamar] or J. Cole, or someone who's gonna do it their way. Plus, it'd be just too burnt, it's too late, I missed the window for all that shit, I have no tattoos.
I'm into career mode, but it's interesting because I still really love it. There's gonna be growth, even at this point in my career, which you're gonna see [with] other artists, where life got in the way. It wasn't that their skill set fell off; it's just that they couldn't be adolescent like I can still be adolescent. Maybe the grown-up society caught up.
Do you think the lower barrier of entry to hip-hop is helping or hurting?
Gift and a curse. You're gonna find a lot of bullshit, then the one great thing's gonna pop up. The diamond's gonna rise from the shit. That's how you're gonna find the next great one, and that's also how you're gonna have 500 bullshit ones before that one comes in. It's a sifting process. I dig through records all day; it's the same thing. And then, the good thing is, the evolving publicly thing is different. You're gonna get a microphone. You're gonna do what you feel at 14. You're gonna do what you feel at 16. You're gonna do what you feel at 18. Your style, voice, everything's gonna be changing, and you have a chance to document. Whereas before, you kinda had [to] prep [more] to be what you're gonna become and you come out as one thing and stay that. I think the beauty of this is we're gonna get to watch people do their artist training publicly.
Yeah, because artist development isn't really a thing anymore.
Artist development, publicly. We'll get to watch the evolution, not watch the evolution behind closed doors and come out as something really polished. 'Cause that's kinda tight.
Where do you see hip-hop evolving to in the next 10, 20 years? Where do you see it going and where would you like to see it?
I see idiocracy—just keep getting more watered down. The difference of the older rapper and the newer rapper is the melody. There are very few non-melodious rappers anymore who are having success. Rap kinda turned into R&B a little bit so that's what happened. If you comin' out spittin', it's like, Who's this weird unicorn over here? What is this? A skill set? You wrote that shit down on a piece of paper, you fuckin' nerd? We just freestyle and drink shit.
I would like more artistry to come back in, but then there's torch holders for that as well. I think it's gonna get worse and worse and worse until it just...you know where I would like for it go now? I would like for it to...we need subgenres. It needs to be country, it needs to be heavy metal, it needs to be punk with rock'n'roll. We need genres in rap, man. I ain't doing the same fuckin' thing this guy is doing over here, you know what I'm sayin? Except that something rhymes but all songs can rhyme, all music rhymes. Yeah, there should be indie rap, there should be punk rap, there should be turn up rap, there should be backpack rap, there should be...I don't mean these are the real names for 'em, but I mean there should be subgenres. I would like to see that happen.
See Photos from G-Eazy and 21 Savage's XXL Magazine Spring 2018 Cover Shoot