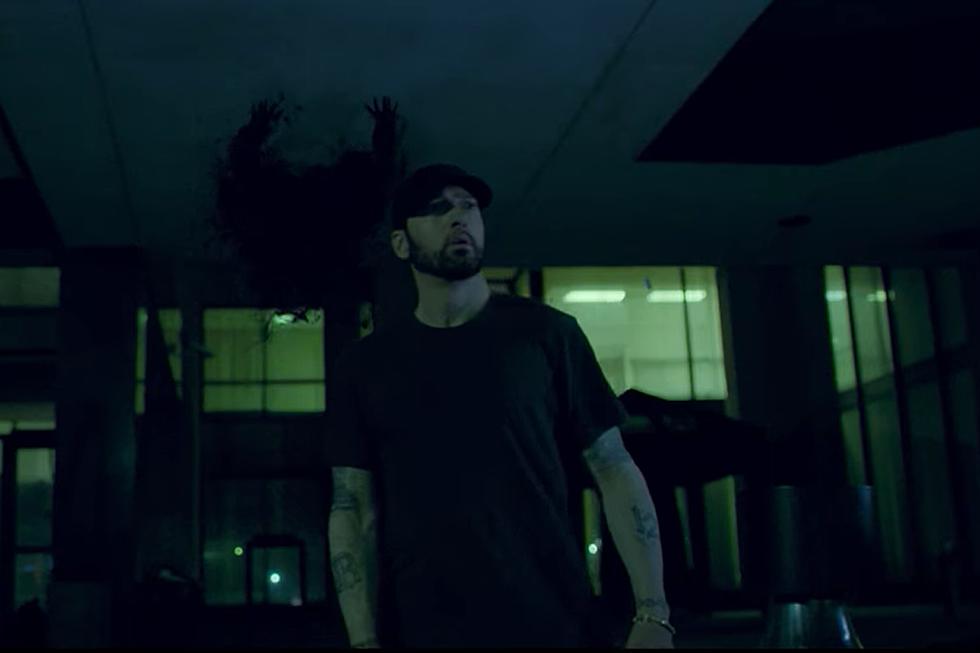 Eminem "Fall" Video: Watch Shady Evade His Demons
EminemMusic via YouTube
Eminem just dropped his surprise album Kamikaze on Friday (Aug. 31), but he's already shared the visual for one of the standout tracks of the album, "Fall."
The video starts out on Shady riding around in a car checking out his phone as he's bombarding by criticisms about his last album, Revival. "Revival is dead on arrival," reads one message. "Will the old Slim Shady please come back?" reads another. Eventually he gets so angry that he leaves his phone behind and runs through an abandoned building, where a shadowy figure chases him as he recites his verses.
Though Tyler doesn't appear to have responded to it, some rappers have spoken out about being dissed on the album. Machine Gun Kelly in particular felt the need to defend himself from Shady, and dropped off a diss track in response titled "Rap Devil," which has been received well by the rap community.
Regardless of the criticisms against Kamikaze, it is gunning towards commercial success. According to a midweek update, the album is set to debut at No. 1 in the United Kingdom, making it his his ninth consecutive British No. 1 album, breaking the record for most consecutive No. 1 albums there.
Watch the video for "Fall" below.