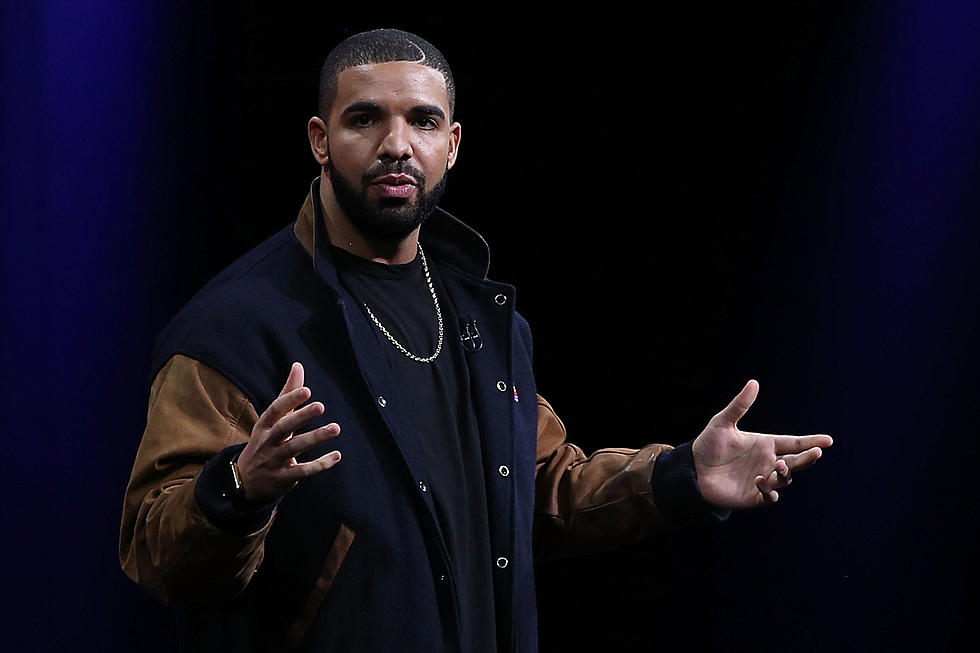 16 Times Drake Showed More Love to the U.K.
Justin Sullivan, Getty Images
Drake has always had a love affair with the U.K., but in 2017, it's turned into a full-on obsession. In the last few years, Drake has managed to elevate his status from Young Money's artist on the rise to a rap star with worldwide recognition and that's thanks in part to the support of the United Kingdom. Though the MC scored his first Billboard No. 1 last year with "One Dance," Drake has more No. 1 songs by U.K. chart standards with tracks like "Hotline Bling" and Rihanna's "Work" (which features a guest appearance from Drizzy) claiming top spots.
The Toronto-bred act continues to set himself apart from the competition not only with his bars, but with his delivery and musical influences. The OVO co-founder has made it clear on his last two projects—2016's Views and 2017's More Life—that he's switched his focus to incorporate other genres like afrobeat, reggae and U.K. grime into his music. Drake has become friends with prominent U.K. rappers like Skepta, Giggs and Section Boyz and has made an effort to credit English singers like Jorja Smith, Sampha and Dave whenever they collab with him and fans aren't complaining about the results.
Since Drake plans to open his fourth OVO clothing store in the country, bring his famed OVO Festival across the pond and star in the upcoming season of London's crime drama Top Boy, take a look back at where his obsession with English culture began in XXL's list below.
1

Says That He'll Move to London

June 2010

Drake gave his first Tim Westwood interview in 2011, after performing at London's Hammersmith Apollo Theatre and expressed his intense love for the U.K.

2

Gives a Shoutout to Grime Rapper Sneakbo

April 2012

During a 2012 interview in the U.K., Drizzy said he discovered grime rapper Sneakbo while in the studio. Drake even said Sneakbo inspired the way he rapped on "Cameras" and "Take Care," off his 2011 album, Take Care.

"What I loved was he was rapping over dancehall beats," said Drake. "I couldn't believe the pockets he was finding and the consistency of his flows, the choices that he was making...and I became very intrigued with this character that they call Sneakbo."

3

Works with Sampha on Nothing Was the Same Album

September 2013

The OVO general linked up with one of the U.K.'s most soulful crooners, Sampha, on the rap ballad "Too Much."

4

Uses U.K. Slang

December 2014

Drake posted a Vine video of himself boasting about shutting down a club for his homies, saying, "Man's never been in Marquee when it's shutdown eh? Trust me, daddy!"

Skepta later used this soundbite as the intro to his 2015 song, "Shutdown."

5

Goes on a Grime Binge

January 2015

Drake goes down a YouTube hole of grime videos and documents the descent on his Instagram.

"Watching Skepta vs Devilman is a true reminder that whenever you think you're good at what you do there's most likely 2 people out there that will yam your food. #Classic #LordOFTheMics #GoOnThen," Drizzy says of a rap battle between MCs Skepta and Devilman.

6

Thanks Skepta in the If You're Reading This It's Too Late Credits

February 2015

Although Skepta didn't have an official verse on Drake's 2015 surprise tape, the Canadian crooner/rapper thanked the U.K. rhymer in the credits section.

OVO Sound/Young Money/Cash Money Entertainment

OVO Sound/Young Money/Cash Money Entertainment

7

Brings Out Skepta at Wireless Festival

July 2015

During his headlining set at Wireless Festival 2015 in North London's Finsbury Park, Drizzy made the U.K. crowd go wild when he beckoned his friend Skepta on stage to perform his song "Shutdown."

8

Appears on Wizkid's "Ojulegeba Remix" With Skepta

July 2015

Skepta introduced Drake to the Nigerian singer and the rest was SoundCloud history.

9

Gets a 'BBK' Tattoo

October 2015

Proving that his friendship with Skeppy was more than just skin-deep, Drake got a tattoo of Skepta's label, Boy Better Know, in the fall of 2015.

10

Says He's Signed to Skepta's BBK Label

February 2016

Drake popped up as a special guest at a U.K. show for Skepta's BBK label signees Section Boyz. Later that same night, Drake put up a photo of the performance on Instagram with the caption including details that he was the first Canadian signed to BBK.

11

Drops "One Dance"

April 2016

Drizzy hit it out of the park when he dropped the summer banger "One Dance" in April 2016, which only increased the anticipation for his fourth studio album, Views. The song, which would go on to be Drake's first U.S. Billboard No. 1, samples a 2008 club song from British producers Crazy Cousinz, British singer Kyla and African singer WizKid.

12

Remixes Dave's "Wanna Know"

October 2016

Though the official remix didn't drop for streaming until 2017, Drake premiered his version of U.K. singer Dave's "Wanna Know" on OVO Sound Radio in October 2016.

13

Says He's Bringing OVO Fest to London

February 2017

During a London tour stop of the Boy Meets World Tour, Drake announced to the crowd that he loved how the U.K. has held him down throughout his entire career and that he was moving his OVO Festival, which has always been held in his hometown of Toronto, to London in 2017.

14

Drops More Life Playlist

March 2017

After teasing the project since December 2016, the 6ix God finally unleashed the 22-track More Life playlist, complete with U.K. influences all throughout the music. England-bred artists who snagged a feature on More Life include grime rappers Skepta and Giggs and singers Jorja Smith and Sampha. The Boy even titles songs "Blem" and "Gyalchester" as a nod to U.K. slang.

OVO Sound/Young Money/Cash Money Records

OVO Sound/Young Money/Cash Money Records

15

Announces the Opening of OVO Store in London

April 2017

Aubrey Graham and the OVO Firm have taken their namesake merch game to the next level by opening up store fronts in Los Angeles, New York and their hometown of Toronto. But in April 2017, Drake announced the fam would be taking the hustle international by opening up a show in London's Soho neighborhood. GQ reported the storefront will be open by the end of the year.

16

Will Star in the U.K.'s Top Boy

April 2017

According to the Daily Mirror, the platinum-selling star is set to take on a major role in Top Boy, a U.K. crime drama based on life in London housing projects. Drake bought the rights to the show after it was dropped by Broadcaster Channel 4 last year. Drake stans know that the artist name-dropped the show on his 2015 mixtape, If You're Reading This It's Too Late, rapping, "This is that nasty flow/Top boy in this shit, I'm so international," on the song "Know Yourself.

Drizzy, along with Skepta, will have a role in the show's upcoming season three, due to premiere on Netflix in 2018.