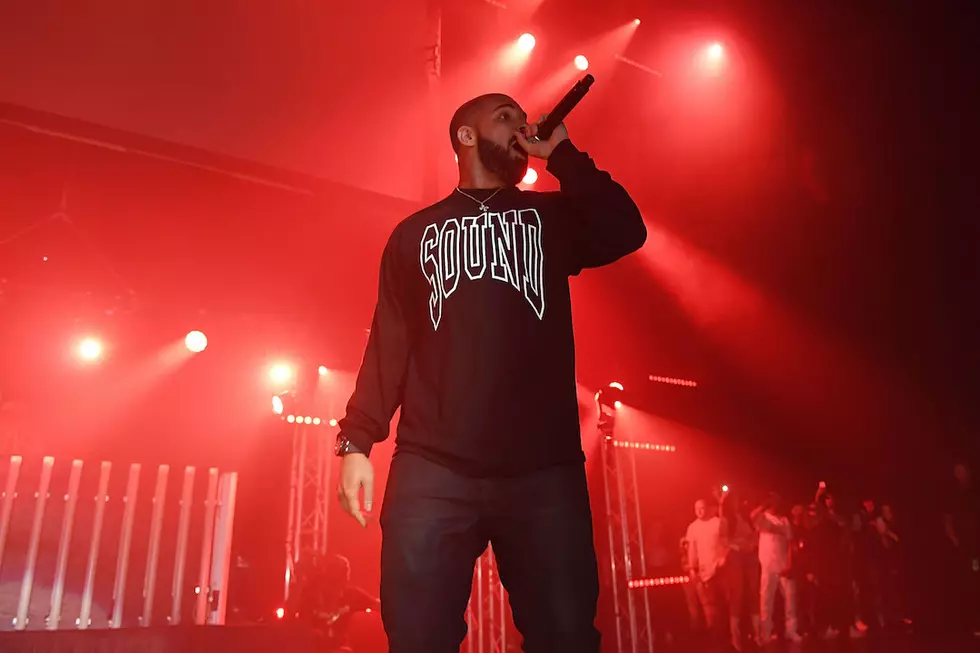 Drake Phone Memes Throw Twitter Users Into a Craze
Paras Griffin, Getty Images
Twitter is having a ball with a picture of Drake looking at his phone in shock as they add their own commentary. Naturally they're running with the "when she..." template, but check out some of the funniest ones above.
Drake's had an interesting last week or so. Over the weekend, Six God changed the lyrics to "Back to Back" to call Meek Mill a pussy. Not long after, he rolled into Meek's hometown of Philly and boldly performed the diss song yet again. This time, he had some words for the MMG spitter after: "And just remember, when you watch that video over and over tonight, it's not about your city. I love your city," Drake said, seeming to talk to Meek. "You did that shit to your motherfuckin' self, boy!"
Apparently, Meek's team had issued a warning to Drake not to throw any disrespect before he even stepped foot in Philly. That reportedly set the Toronto MC off, causing him to call Meek a pussy.
On the more positive side, it seems like Diddy and Drizzy have buried their beef after Puff showed up at the Greensboro, North Carolina stop of the Summer Sixteen tour. After Diddy put hands on the "0-100" rapper for allegedly stealing that bet, seems like everything's gravy between them now.
The Best Drake vs. Meek Mill Memes
[gallery ids="510573,510538,510536,510542,510548,510558,510472,510473,510406,510403,510404,510405,510407,510456,510457,510458,510459,510460,510461,510462,510468,510469,510470,510471,510474,511846,511847,511848,511849,511850,511851,511852,511853,511854,511855,511856,511857,511858,511859,511860,511861,511862,511863,511864,511865,511866,511867,511868,511869,511870,511871,511872,511873,511874,511875,511876,511877,511879,511884,511885,511886,511887,511888,511889" template="xxl" galleryid="812:510352" galleryindex="0" showthumbs="yes" enablefullscreen="no" ]